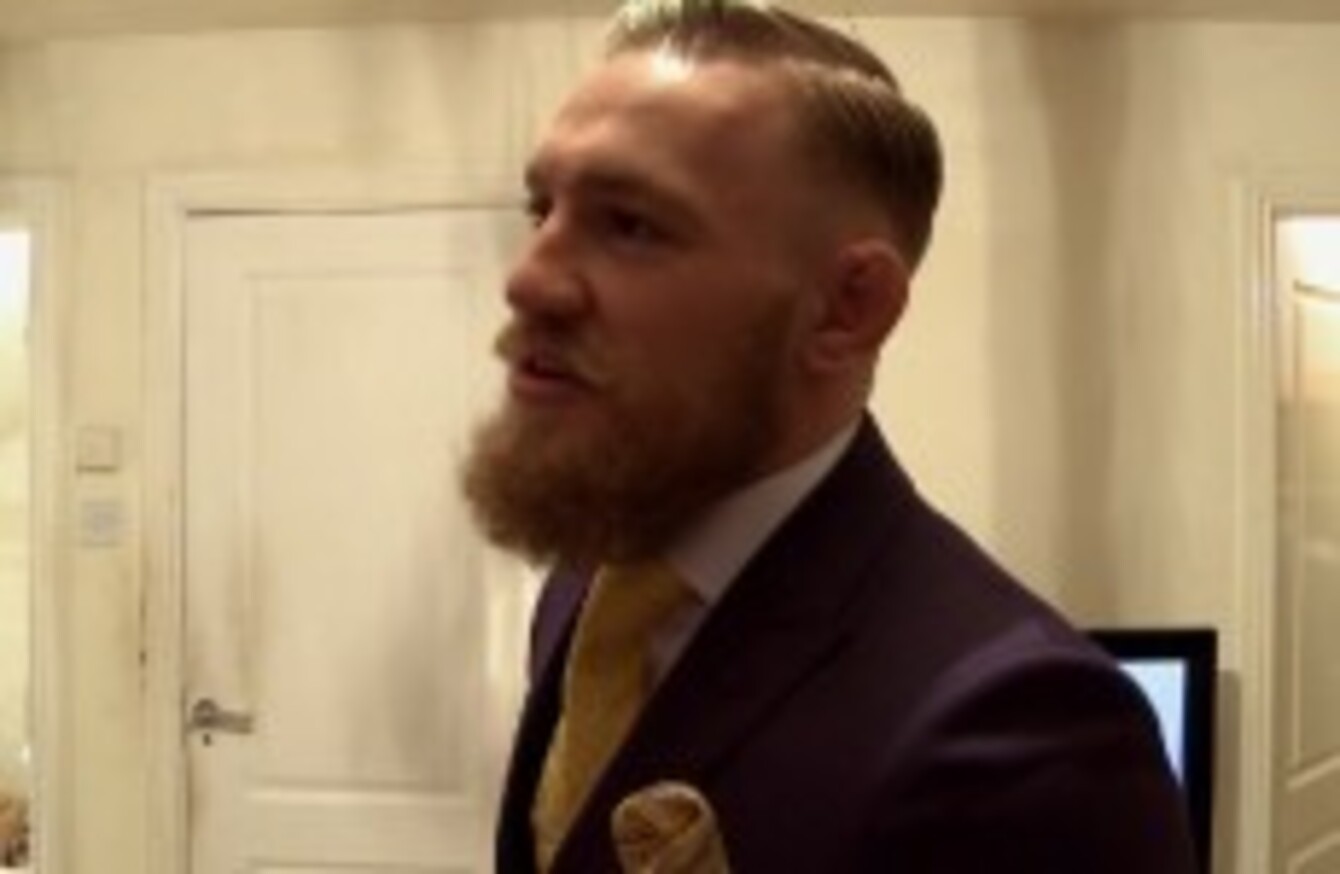 McGregor.
Image: jamieleedalton
McGregor.
Image: jamieleedalton
HIGHLY-ANTICIPATED DOCUMENTARY 'The Notorious' airs for the first time tonight on RTÉ Two (9.30pm).
It tells the remarkable story of Conor McGregor, who last year went from a well-respected Irish MMA fighter "on the dole" to UFC stardom after securing victory in his Octagon debut with Marcus Brimage in just 67 seconds.
With the help of producer Jamie D'Alton, the guys behind SevereMMA.com (Graeme McDonnell, Patrick Timmons-Ward and Gavin Fitzgerald) followed Dublin-born McGregor for six months — getting behind-the-scenes footage of his family life, a visit to Las Vegas and his second UFC bout in Boston.
"We started filming with a general documentary on SBG and Irish MMA in mind in 2012," McDonnell told TheScore.ie.
"We filmed Cage Warriors fights involving Conor McGregor, Cathal Pendred and Chris Fields. Then when Conor got the UFC, RTÉ were interested in doing something.
"But the UFC don't want you mentioning other promotions so that footage went out the window.
"We got some really good stuff though. We were given really good access to his family and the UFC gave us great access in Boston. It was a great experience and I'm really happy with it."
Overflowing with confidence and extremely charismatic, it comes as little surprise to hear that McGregor adapted easily to being shadowed by a camera crew.
He loves the camera," says McDonnell. "He is just the same as he usually is. Most people get awkward in front of the camera but there was never any of that. He is just a natural in front of it."
McGregor is currently on the road to recovery after undergoing knee surgery last September and plans to make his return in front of his home fans in Dublin's O2 Arena when the UFC returns on 19 July.
"When MMA fighters are out injured, people tend to say 'when he is going to stop talking and start fighting?'," adds McDonnell. "Once Conor fights again he will remind everybody why the hype is there.
"People have this false impression of Mixed Martial artists. They are just normal, nice guys who are trying to get on it in life. As Conor says, it's UFC or peanuts."
Check out 'The Notorious' tonight at 9.30pm on RTÉ Two. Here's the trailer:

YouTube credit:
Jamie D'Alton