– Paul Dollery reports from Las Vegas
IF CONOR McGREGOR had his way, we'd be seeing a lot more of him in the octagon.
Speaking at yesterday's UFC 194 open workouts at the MGM Grand Garden Arena in Las Vegas, McGregor lamented the fact that he hasn't been competing as often as he'd like.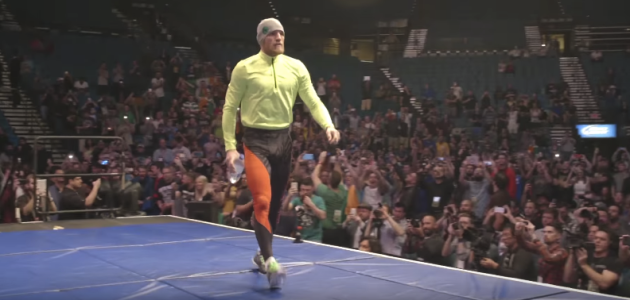 Ultimate Fighting Championship Conor McGregor working out in front of the fans yesterday at the MGM Grand Garden Arena. Ultimate Fighting Championship
McGregor, who defeated Dennis Siver in January and Chad Mendes in an interim featherweight title bout in July, will aim to become the undisputed 145lbs champion tomorrow night when he faces reigning kingpin Jose Aldo.
When asked about having more control over when he fights and if one of his goals is to be a co-promoter with the UFC, McGregor said: "I feel I'm already eye-to-eye. I don't feel like an employee, I feel like a business associate."
With a five-month gap between his next and most recent fights, McGregor explained that he was keen to take on Urijah Faber — his opposing coach on The Ultimate Fighter — at UFC Dublin in October. He also offered to step in and face Dustin Poirier in that event's headliner after Joseph Duffy was forced to withdraw due to a concussion.
"I think one of the reasons why maybe [the UFC is] hesitant to let a fighter have a say in when or where he does not fight is because a lot of them don't want to fight. They make it out like they want to fight, but me, the reason I want to do it is because they're not letting me fight enough," said McGregor, who has competed six times for the UFC since his April 2013 debut.
"I wanted to have, like, three fights by now. Urijah Faber, I asked for. The Duffy-Poirier fight, I asked for. Now we're here. I would love the freedom to pick and choose my own fights, of course. I want to stay busy while I'm young, fresh and healthy, and then we can make that money."
After going through a short workout with his movement coach Ido Portal and striking coach Owen Roddy in front of a few hundred vocal Irish fans, McGregor reiterated his belief that Jose Aldo's reign at the top of the featherweight division will end tomorrow night.
"I feel that he feels like he's handcuffed," the Dubliner said. "He's handcuffed and forced into this. He doesn't want to be here. He is forced. He is confused. He doesn't know where he is. He doesn't know what's going on. He just cannot wait for it to be over and that's what I saw when I looked at him yesterday."
On the back of a tense, year-long build-up to the fight, during which there were several flashpoints, McGregor said that Aldo will have to earn his respect this weekend. The Brazilian withdrew from their scheduled bout in July with a rib injury.
"Respect, for me, is earned through battle. If he shows up, fights with his heart, he will have my respect. But I cannot respect a man that has run and has evaded. If he stands opposed from me and gives me the exchanges he says he can, he will have my respect."
Aldo and McGregor will weigh in ahead of their highly-anticipated bout tonight at 11pm Irish time. When compared to his clash with Chad Mendes, the cut down to 145lbs appears to be running much smoother for McGregor on this occasion.
His coach John Kavanagh admitted recently in his exclusive column here on The42 that the uncertainty surrounding Jose Aldo's involvement at UFC 189 had hampered McGregor's preparations, which had a detrimental impact on his weight-cut.
Minus the gaunt look on his face that was clear to see before he took on Mendes, the Irish fighter looked fresh and lean at yesterday's workouts. This time, everything is on track.
"I wasn't lying when I said I had a hell of a lot of adversity to overcome in that last camp. The training was tough, it made the cut even tougher. So here you are, you're seeing my in my prime," McGregor said.
"I came in prepared. And that's what you're seeing the day before weigh-ins, one of the most tough times for any competitor, and I feel good in my body, look good in my face. So I put the work in. Saturday, I will reap the rewards."