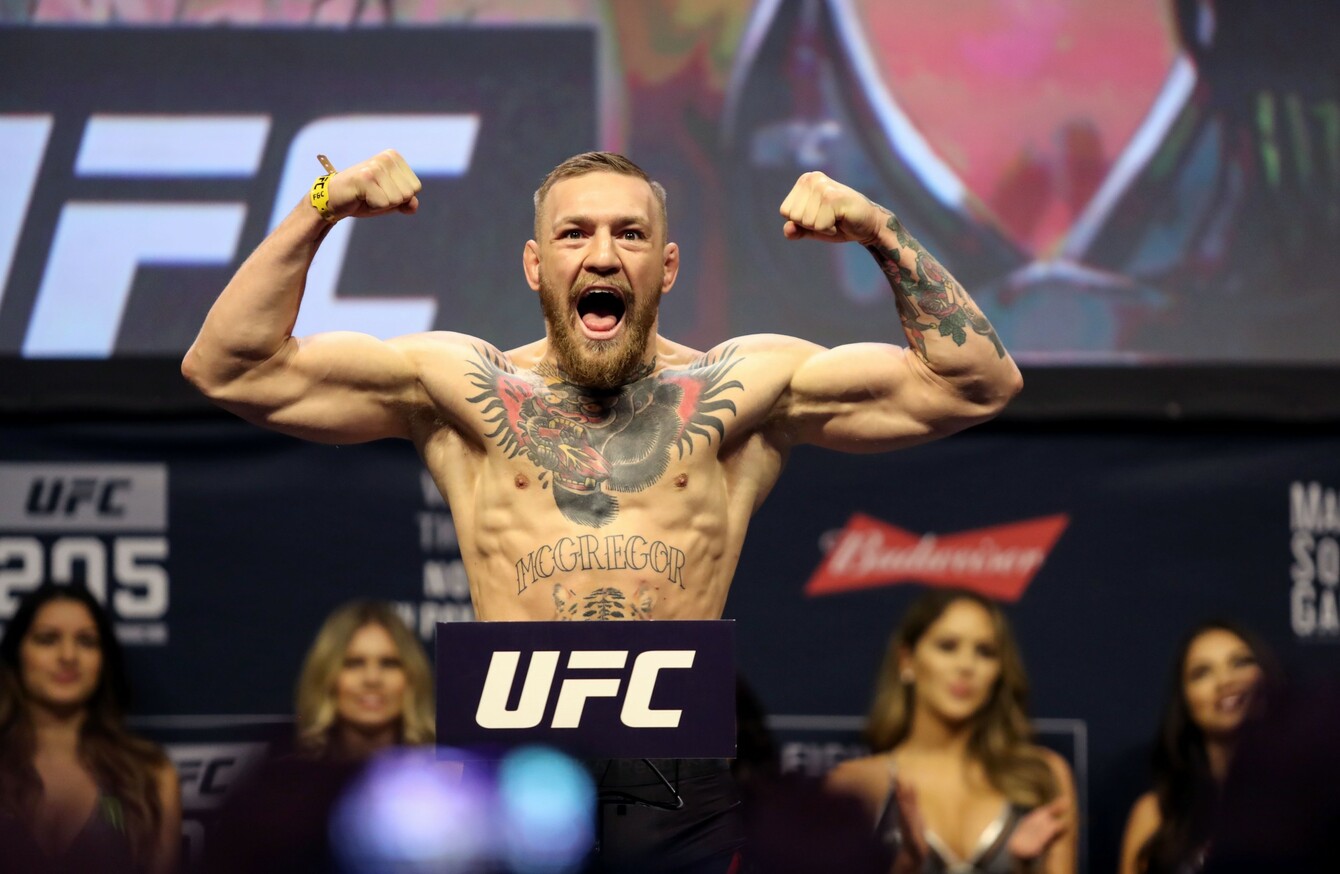 Conor McGregor.
Image: Tom Hogan/INPHO
Conor McGregor.
Image: Tom Hogan/INPHO
LAST NIGHT, IT was confirmed that Conor McGregor will face Floyd Mayweather in a boxing bout in August.
After months of rumours, both fighters will face off in at the T-Mobile Arena in Las Vegas on 26 August.
Ultimate Fighting Championship (UFC) President Dana White last night appeared on a Facebook Live video on the UFC Facebook account to share details of the event.
In doing so, he said that McGregor — the current lightweight champion — will fight in the UFC before the end of the year.
"Conor will defend his belt," he revealed. "Conor will actually turn right around and fight again this year after the Mayweather fight."
White confirmed that the McGregor-Mayweather event will be co-ordinated by Mayweather Promotions, and it will feature an undercard of just boxing bouts, no MMA. The pair will contest a 12-round fight with 10-ounce gloves.
When asked by fans if McGregor stands a chance, White seemed pretty confident in the Dubliner.
"I think that whenever two guys get in there and start throwing punches, anything is possible. If you talk to Conor McGregor, he'll make you believe that he'll win the fight."
Some fans in the comments section accused White of hyping the fight up for the money, to which he responded:
"This is the fight that everybody wanted. I didn't make this fight up. Every fan and every media outlet on earth wanted this fight, and Conor and Floyd wanted this fight.
"Is it gonna make money? It's absolutely going to make money. But this wasn't my idea.
"I'm excited about this fight. I didn't love it in the beginning, but you know what?"
That said, when asked if this may pave the way for more MMA and boxing crossed events, 'God, I hope not,' was his reaction.
The UFC President also noted that there won't be a UFC event that weekend.
The42 is on Instagram! Tap the button below on your phone to follow us!