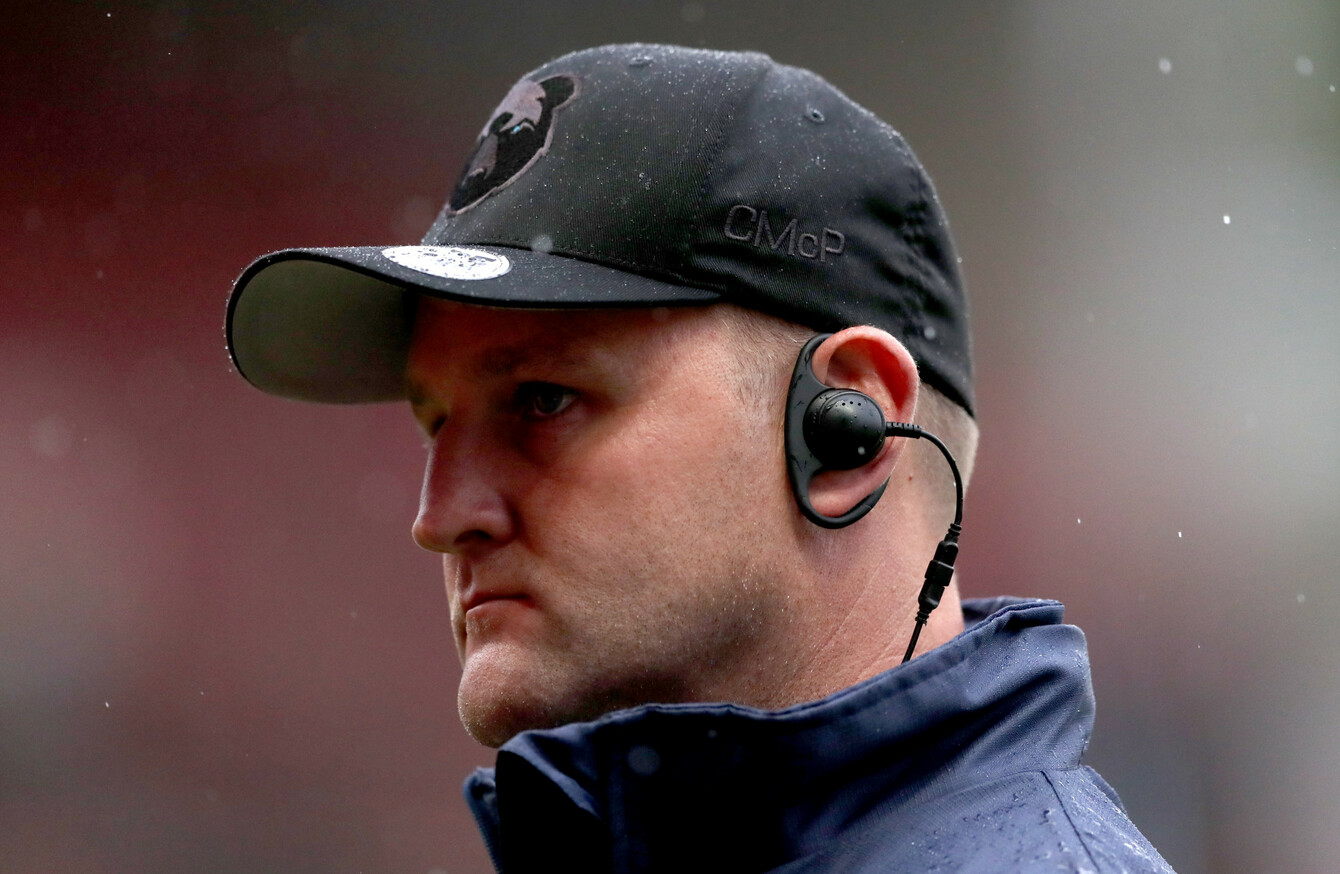 McPhillips: Bristol "want to play with no fear" under Pat Lam.
Image: James Crombie/INPHO
McPhillips: Bristol "want to play with no fear" under Pat Lam.
Image: James Crombie/INPHO
A YOUNG MAN by professional coaching standards, Conor McPhillips speaks with maturity grounded in the comfort of where he now sits; enthusiasm for where he could eventually get to.
His comparative youth – 37-years-old – also allows the odd jibe at training.
"There's a few players that are older than me here which I remind them of," Bristol's assistant coach says with a chuckle.
If that doesn't work, there's always his exploits as a national record holder in the 100m and 110m hurdles.
"I'm not scared to remind people I used to be a hurdling champion, that's for sure. I was trying to dig out a few videos because I don't think many people believe I did it. I'd probably need a pole vault now to get over them."
Some nine years ago, McPhillips was smart enough to begin his transition from playing to coaching.
Knowing when to pull the pin is never easy but, at 28, he put his next career in motion.
After 120 appearances from 2003 to 2008, Connacht did not renew the utility back's contract.
Offers from Italy and the English Championship arrived which would have allowed him to continue playing at a decent level abroad but McPhillips instead returned to Dublin and St Mary's where for, two years, he mixed playing and coaching the U20s.
And so began his next rugby chapter.
He knew the longer he spent outside the professional ranks, the harder it would be to break back in.
So when the chance to return to Connacht arose, even in a role which he had no experience of, he packed his bags.
It helped, of course, that McPhillips had played alongside then-coach Eric Elwood and team manager Tim Allnutt. Both knew his keen eye for the game.
Appointed Connacht's first video analyst, at least there were no expectations.
"I was kind of bluffing it for a while with the analysis side but I always backed my rugby and player knowledge," McPhillips recalls.
"I was a bit of a nause when I was a player – I always used to know all the Southern Hemisphere players so they used me a bit for the recruitment side of things as well, trawling through footage to find value for money."
McPhillips grew into the analyst role, one Joe Schmidt among others once held elsewhere.
When Pat Lam arrived in Galway, his coaching career took off.
The analyst is like the head coach's right hand man. You almost know what he wants before he tells you. When a lot of head coaches move around the world ,they often bring their analysts with them. That brought me close to Pat and I told him from day one when he came in I wanted to be a coach.
"I earned his trust and showed him I could do it. He constantly reminds me that if I wasn't under contract with Connacht, he would have brought his Auckland analyst with him."
Not thrust in the deep end as many ex-players turned coaches are, McPhillips progressed steadily under Lam.
By the time Connacht achieved their memorable Pro12 triumph in 2016, McPhillips doubled as assistant attack coach, earning further promotion to backs coach the following year.
Memories of Connacht's title-winning campaign – arriving at Murrayfield with thousands cheering the team bus into the stadium – remain vivid as ever.
"At the start of the year no-one could have predicted it but it was Pat's third year and you could really see what he wanted from the start coming to fruition. We were all on the same page.
"The last couple of weeks before we won the final… everyone knew in the back of their minds… we didn't say it but we almost knew we'd win. Especially against Leinster, we had no fear and we played almost like it was a training session."
Leaving Connacht, where he arrived at 22 and went on to spend 15 years, to follow Lam, his mentor, to Bristol made sense.
Bristol provided three years of security, while uncertainty clouded his future at Connacht.
"It's still a place very close to my heart."
McPhillips, his wife Niamh, and twin seven-year-old boys Nathan and Dylan – in school picking up English accents "which is not ideal" – are embracing Bristol.
On the field, McPhillips is helping implement a fearless approach that management believes can not only see Bristol avoid relegation, but vie for the Premiership top six this season.
"We're in the business of winning but if you've got loads of players from Bristol and you're playing an attractive brand, it can only make local people want to wear the jersey.
"There are teams who play very conservatively. They might go quite well but they won't win European Cups; they won't win championships and beat your Clermonts and Leinster if you have one style of game. You have to have that ability to cut loose and play ball or you'll never have a brilliant season.
We want to play with no fear but we don't want to be crazy with that.
"Sometimes we can get a bit pigeonholed as Bristol 'run from everywhere' and play a high-risk game but we also train that if it is not on, you find Row Z or kick long and take the pressure off. I like to think we'll get there eventually."
During his playing career McPhillips fell short of gaining a Test cap for Ireland. He came close, representing the national U21s, sevens, Ireland A, and going on a senior tour of Japan in 2005 without taking the field.
For now, he is content continuing to learn to coach week in, week out in the Premiership.
Long term, though, the same dream applies.
"For me as a player I always wanted to play for my country. As a coach I have aspirations to coach at the highest level too. Hopefully I have 10 to 20 years before I'll be thinking about that but it's about reaching for the stars and becoming a better coach."
The42 is on Instagram! Tap the button below on your phone to follow us!