THE HOPE WILL be that Ian Madigan doesn't have to slot into the scrum-half position at all during Ireland's World Cup campaign, but Joe Schmidt can rest assured that the 26-year-old has been preparing well for the possibility.
First-choice scrum-half Conor Murray has every confidence in his friend's ability to fill in at nine for Ireland should himself or Eoin Reddan pick up any niggles or injuries during the tournament.
Billy Stickland / INPHO Madigan has been working hard on his scrum-half skills. Billy Stickland / INPHO / INPHO
Munster man Murray says he's been working with Madigan over the course of the pre-season, both on the pitch in terms of skills work and off it through discussions about the tactical side of scrum-half play.
"I'm good mates with Mads, I know him from underage stuff so we'd be chatting about it quite regularly," says Murray.
"He's been doing the core skills of a scrum-half, so box kicking and passing off the deck. We've been having those general chats here and there over pre-season, just little things.
He sees it from 10 anyway so he'd have a good idea of what he wants his nine to do. He'd just ask about certain situations in a game, would you slow it down or what happens when it gets panicky.
"The natural thing for him there might be to play or move it quickly, whereas sometimes you've got to keep the ball in the ruck and wait until your forwards get back, set a screen and kick. All these things that he wouldn't be used to.
"But he has a good idea of it and he's done this with Leinster a few times before. I think he's well capable of doing it."
Along with those controlling elements needed from Ireland's scrum-half, Madigan has been working on the fundamental skills such as passing off the ground and box kicking.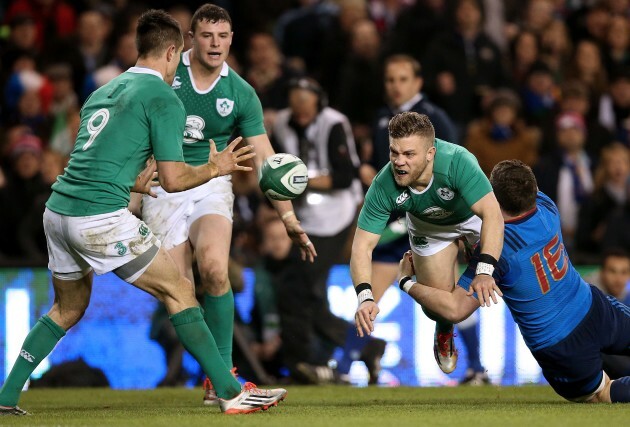 James Crombie / INPHO Madigan offloads to Murray during the Six Nations. James Crombie / INPHO / INPHO
There is, of course, a strong overlap with the Leinster back's skills in those general areas when playing at out-half or inside centre, and Murray says Madigan has handled the minor tweaks well.
A strong passer on the move, Madigan has adapted well to having to scoop the ball off the deck.
"He's been out there box kicking and he's very good at it, you know how skillful he is," says Murray. "Mads is really talented.
He's got a big bag of tricks. Joe has said it to him to concentrate on that side of the game and it is a different style of pass, but the actual mechanics aren't that different.
"He's well able to do it and I've seen him whipping them off the base. He's got a real wristy kind of pass anyway, so it suits his style."
Nonetheless, having only two recognised scrum-halves in the Ireland squad means Schmidt and his coaching team will have their fingers firmly crossed that Murray and Reddan don't pick up any injuries.
The sight of Murray taking a blow to the head against England, lying unmoving on the Twickenham turf before passing a Head Injury Assessment, was worrying. Schmidt opted not to send him back on and Murray has come through his return-to-play protocols with no setbacks so far.
He will be fit for the opener against Canada in just over a weeks' time, barring any hiccups in the meantime.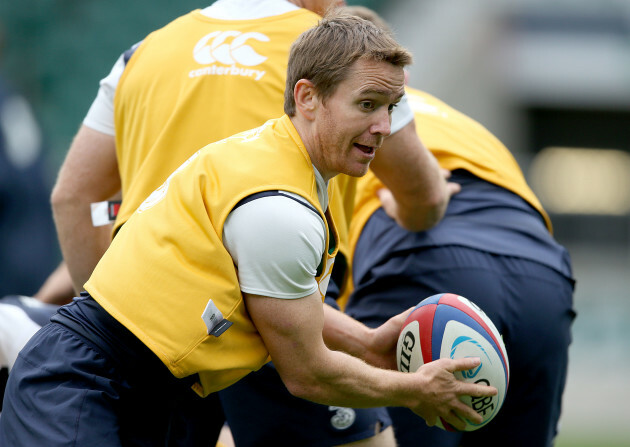 Dan Sheridan / INPHO It appears Reddan and Murray will be involved in every game. Dan Sheridan / INPHO / INPHO
"It's good for me and Reds, there's a chance we'll be involved in most games," says Murray of what looks like being a heavy workload in the World Cup.
"It means there should be lots of game time to build momentum, which is what I like and I'm sure is what Reds likes as well. You get a flow of games and get up and running.
The way our fixtures are lined out (with relatively long intervals between each of them)  is pretty good and I'm sure Joe has a few ideas in his head of how he might want to manage the squad.
"We've finished week 10 of our pre-season and I got the full thing. I feel fit and strong. The body fat scores are in the right place, I've put on muscle and I feel like we're covering the ground easier than we were at the start of the season.
"If I could play every game, I'd feel great doing that, but there's a way of doing it best. That's up to Joe."