IRELAND HEAD COACH Joe Schmidt said he and his squad would take a deep breath and enjoy Sunday's win over England and he was as good as his word.
Scrum-half Conor Murray was still feeling the effects of an intense contest today as he filled the second of three days off with a brisk photo-shoot.
Despite the sun in Portmarnock, it was a bitterly cold day to be wearing shorts while doing minimal exercise. As he sits in the car to chat with The42  he rubs his hands and asks for the heating to be put on full blast so that he can bring enough dexterity back into his fingers to at least make a quick check for texts on his phone.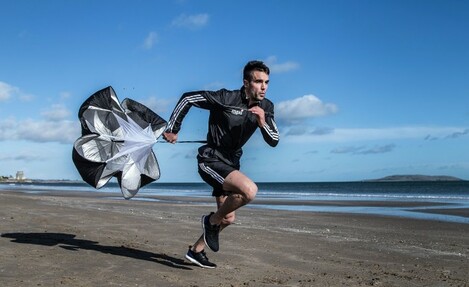 Source: Dan Sheridan/INPHO
He can rightly look back fondly to Sunday night. He knows full well that when he re-joins the squad in Belfast on Wednesday night, it's time to clock back in again.
"We spent the evening together back in The Shelbourne, Hermitage Green played a couple of songs and we just enjoyed each other's company. Because there was a lot of pressure in the lead-up to it: we knew it was  the biggest game we'd had since Joe came in and it was nice to get that pressure release and just relax a while after doing a good job."
Though the 19 – 9 victory over England was the first Murray and many others in the squad has experienced over Auld Enemy, there was no sense of euphoria or elation post-match. Instead the satisfied sentiment of 'a good job, well done' is just about the perfect summation of the 10-point win. While the scrum-half credits his pack for providing consistently clean and quick ball from the ruck, the moment that finally put the game beyond the visitors was the 53rd minute try by Robbie Henshaw.
Be part
of the team
Access exclusive podcasts, interviews and analysis with a monthly or annual membership.
Become a Member
Source: James Crombie/INPHO
Before Henshaw could show off his incredible athleticism, however, the score required quick-thinking and a deft touch from Murray, to hit a mark 15 metres away with three defenders making obstacles of themselves along the way.
Murray admits it's a high-risk manoeuvre that's best saved for when the referee has an arm extended horizontally to signal a penalty advantage:
"It was kind of a pressure-off type play. I think Robbie mentioned that I just caught his eye and I give him a point over the top of the ruck and put it in the space. There wasn't much space back there. Alex Goode was under the ball, Robbie did really well to get up above him and get the score which is fantastic.
"They are high risk plays when you don't have advantage, but they're very rewarding when they do come off. That got us beyond seven points and put us in a nice position in the game."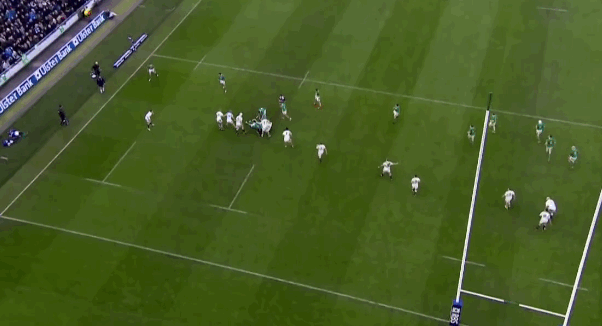 Source: RBS Six Nations
Murray was also the provider for a similar style of try in the November Tests when Tommy Bowe latched on to a bouncing ball to score against South Africa. The end result may have been the same, but the play was made in a much different situation.
In November, Murray was taking advantage of a Springbok sin-binning and executing a play off the drawing board. On Sunday, he was working off the cuff.
Source: AnLaighin King/YouTube
"It wouldn't be a go-to play, but we were just so close to the line and there was a bit of freedom with a free play – no real risk because we could come back for the penalty.
"But it's a type of play we use when we don't have advantage — like Tommy's try against South Africa wasn't off a penalty advantage, that was a pre-planned two-phase move. So it can come up in all areas of the pitch and it's just great we have fellas like Tommy, Robbie and Zeebs that can get up after high balls like that and make them their own more often than not."
It was a damning post-match admission from the England camp that they had been left unsurprised by any of Ireland's tactics and yet looked so powerless to stop it. However, despite the difficulties that those of us outside the elite international bubble may have in identifying areas to improve on, Murray has already finished that deep breath Schmidt ordered and internally has taken a harsh look back over his own game.
Improve
"There was a tackle on Billy Vunipola I let slip and he managed to get a bit of a counter-ruck," he says with a straight face while The42 ponders the physical mismatch between the number eight and nine.
"It was quite frustrating and had the game been a bit tighter it could have been a big mistake. I'm sure, you talk to every other player they'll have something similar. Joe will have a look at that and I'm sure there's something that we need to look at as a team and improve on."
Ireland's leading sports nutrition brand, MaxiNutrition is fuelling Conor Murray to be at his best in 2015, For more information, visit www.maxinutrition.com/