AFTER A LANDMARK victory over South Africa in November, Italy head coach Conor O'Shea has urged his players to back it up during the upcoming Six Nations and end the debate over relegation and promotion.
The former Harlequins boss guided Italy to a historic first-ever win over a southern hemisphere nation at the end of last year but the real litmus test will be provided over the next two months.
Having lost all five of their matches — including a 67-14 hammering to Wales — 12 months ago, there were renewed calls for the Six Nations to introduce a relegation/promotion format which would bring countries like Georgia and Romania into the equation.
However, O'Shea has insisted his side deserve their place in the championship and pointed to the exploits of Connacht as an example of how quickly fortunes can change in rugby.
"Italy earned their right to be in the Six Nations, and if there are changes to the rules in years down the line that will be for other people to discuss," he said at this morning's launch in London.
"Our job is to look after ourselves now. If ever that were the case, who knows who would be at the bottom by the time that comes.
"Italy has absolutely earned the right, god knows I played against enough Italian sides and was on the wrong end.
"We just have to make sure we harness what is great and make sure we don't have those conversations. Because Italy has earned every single right to be part of the Six Nations.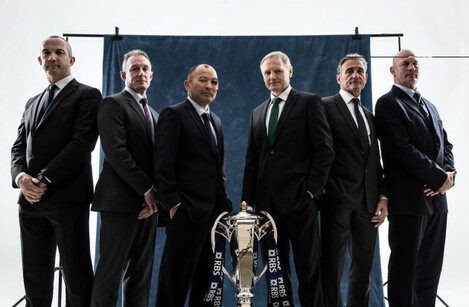 O'Shea and the other head coaches in London. Source: Billy Stickland/INPHO
"We just want to earn people's respect this year, and see where that takes us."
Ahead of their opening fixture against Wales in Rome on 5 February, O'Shea did admit there is still a lot of work to be done.
"We have so much to do, it's ridiculous how much there is to be done," he added.
"But we'll just focus on the performance of the team and work away behind the scenes.We have to be willing to change as well. That's just as important as wanting to change. They are completely different things.
"We've got a really good system in Italy. There's some really good young players too, and if we support them properly, then very, very quickly we can change things.
"Just look at Connacht, Glasgow, the growth of Scottish rugby. We can change things very quickly. And we owe it to rugby. We need a strong Italian nation, we need a strong Romania.
"This is a country steeped in rugby history, and we're fortunate to have the greatest player the country's ever produced – and he [Sergio Parisse] wants to win, and win now."
O'Shea had previously stressed the significance of the Azzurri's 20-18 victory over the Springboks in Florence as a result which changed people's beliefs and perceptions towards the sport in the country.
With three home games against Wales, Ireland and France, O'Shea acknowledges that this is a 'pivotal' time for Italian rugby.
"I'm fortunate I'm working in a country steeped in tradition, but we're very aware of its future," he explained.
"With my Irish hat on, Munster beating the All Blacks in '78 is something that's always spoken about.
"But we know how much we have to learn, but we showed the potential the team has if we play with that intensity and passion.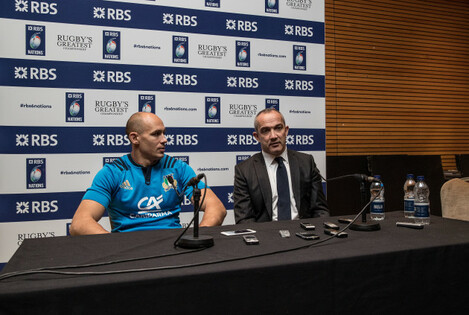 Sergio Parisse skippers the Italians again. Source: Billy Stickland/INPHO
"The win over South Africa could be like that (Munster) for us, but only if we make that the case.
"You give people something to cling on to, you give them hope, a match they can look at and realise it's not mythical.
"The heroes who did it are on the pitch, so they are there for people to look up to, that will inspire future generations.
"I'm just honoured to be given the opportunity and responsibility to take this forward at this moment.
"Because it's a pivotal, pivotal moment in Italian rugby and we have to make sure we make the right decisions and put Italian rugby on the right path again.
"We've got the players, but it's just such negativity thrown at us all the time. So we have to break the cycle first of actually people supporting the country rather than putting it down.
"That will make a massive difference itself. If you keep on being told you're rubbish at something on a regular basis, you will begin to believe it.
"Sport changes quickly and hopefully we can make changes quickly as well. But all we want to do now is prepare to try to beat Wales."
– With reporting by Murray Kinsella in London
The42 is on Instagram! Tap the button below on your phone to follow us!