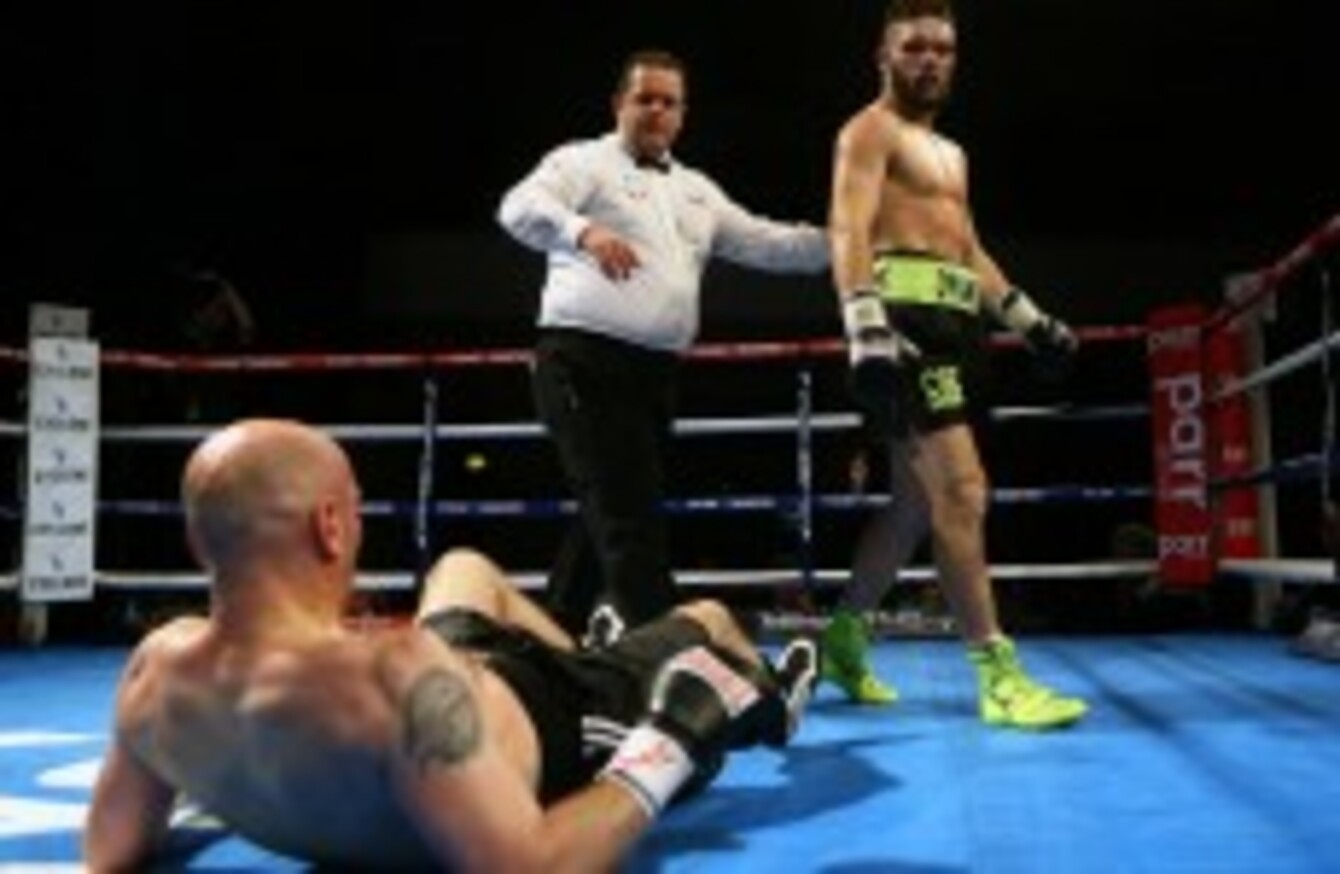 Image: Presseye/William Cherry/INPHO
Image: Presseye/William Cherry/INPHO
BARRY McGUIGAN CLAIMS he will guide Conrad Cummings down the same path to world glory as Carl Frampton ahead of the Tyrone middleweight's first title clash.
Cummings (7-0) is set to meet Belfast rival Alfredo Meli (11-0) at the Waterfront Hall in the northern city on November 20th with both fighters putting their undefeated records at risk on the 'All on the Line' promotion.
The fight will represent Cummings' toughest test as a pro since turning over to the paid ranks after a promising amateur career while starring in the pro-am-style World Series of Boxing.
McGuigan, who guided Frampton to the IBF world super-bantamweight crown with his win over Kiko Martinez last year, now hopes to replicate that success with middleweight prospect Cummings as he challenges Meli for the Celtic title.
"I really believe he is a big-occasion fighter. He's a guy who will blossom into title fights and he can't wait to get out," McGuigan told The42. "It's a bit like Carl Frampton, we got him in to fight for a Celtic title in his eighth fight so we'll do exactly the same with Conrad."
"He's had his trouble with journeymen because he tends to be a little bit bull-headed at times but that's changed now. He's more intelligent about what he's doing and he's hitting tremendously hard.
"I see so much of myself in him and he's incredibly driven. He really puts so much into his training sessions so that's like me. He's got a great left hook to the body, he's a great pressure fighter and he hasn't yet shown the power that he has."
Cummings is looking forward to the first of what he hopes will be a number of domestic duels, with the Coalisland native regularly linked to a future clash against amateur rival Jason Quigley.
"You have so many fighters who are 20-0 and they've fought nobody, you look at me and I haven't been fighting world beaters but I've been fighting genuine fighters,'" said Cummings.  "The boys have been matching me competitively and I feel it's going to stand to me. Alfredo Meli is another step up – he's fit, strong and he's game – but come November 20th you're going to see a big show from me."
The consistent talk of a future fight down the line between Cummings and Quigley is beginning to grate with the 24-year-old, who believes he is fighting at a higher level than his Donegal nemesis.
"I don't like using that man's name because I'm sick of hearing it, to be honest! He's doing his thing and I'm doing my thing, but if the fight ever happens so be it," said Cummings on a showdown with Quigley.
"I go about my thing and he goes about his, but the difference is I'm fighting people that throw punches back and this is going to be a good fight for everyone."
Tickets for Cummings-Meli ALL ON THE LINE go on sale tomorrow at 9am, Thursday the 1st of October. For tickets call the Waterfront Hall Box Office on +44 (0)28 9033 4400 or go to www.cyclonepromotions.com