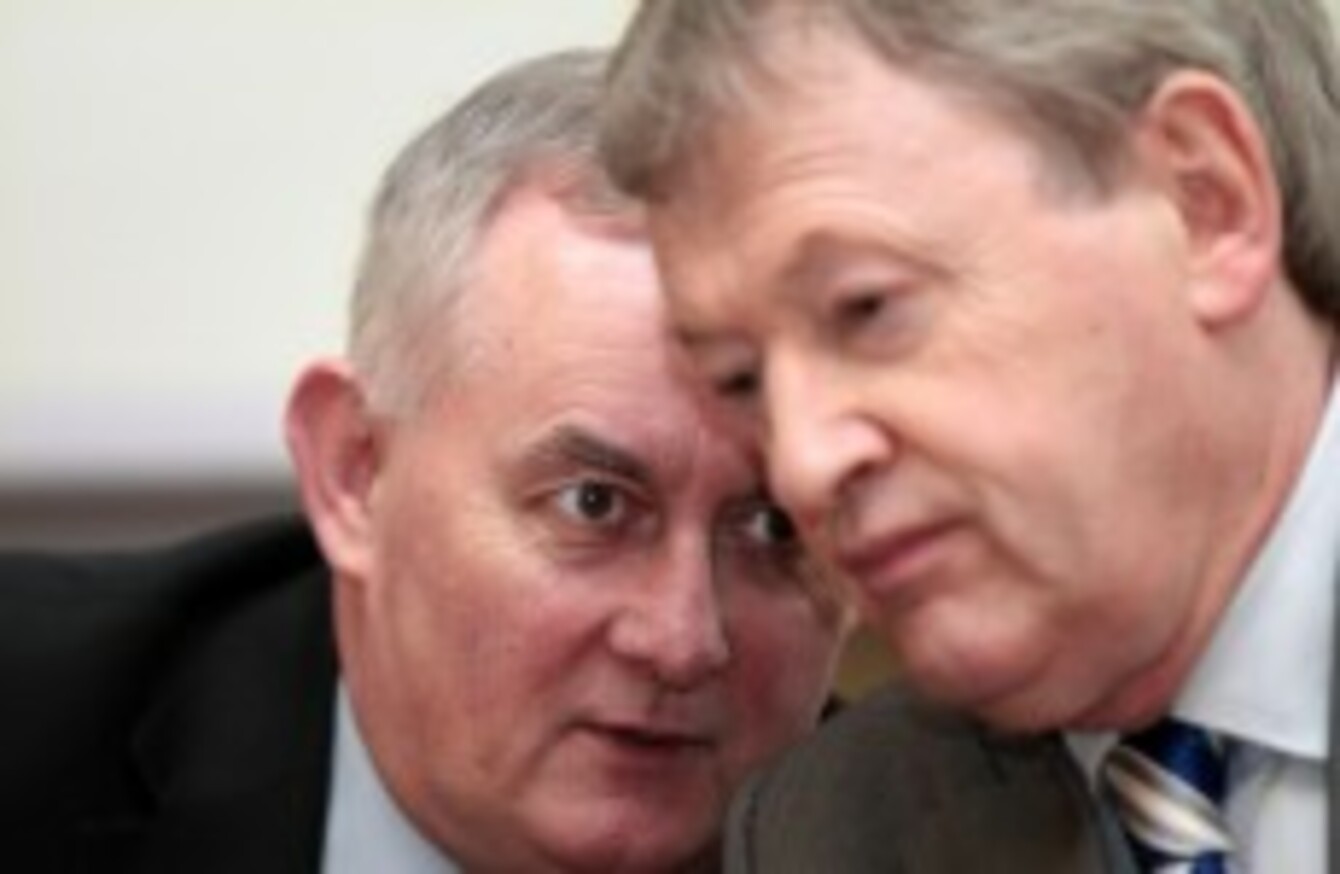 GAA President Christy Cooney, left, and Director General Paraic Duffy.
Image: ©INPHO/Cathal Noonan
GAA President Christy Cooney, left, and Director General Paraic Duffy.
Image: ©INPHO/Cathal Noonan
THE GAA HOPES to be moving in a clear direction on the thorny issue of manager payments by the time it convenes for Congress next month, Christy Cooney said yesterday.
But the GAA President refused to be drawn on what that direction will be, asking instead for time and space to consider all solutions.
Officials are thought to be in favour of a stricter application of the Association's existing rules on expenses, one of three options outlined by Director General Paraic Duffy in his discussion paper in January.
The responses from the GAA clubs and county boards to Duffy's paper are due to be discussed at a meeting of Coiste Bainistí this weekend, with the proposed solution likely to become clear soon after.
"We have to tease out the responses we got from counties," Cooney said. "There have been some good suggestions from people within that and we need to examine that.
What has happened, we wanted to happen. A clear debate took place at county level and at club level. We have responses in from all 32 counties and Britain, and it gives us the time to evaluate that and decide on a way forward.
Options
The other alternatives outlined by Duffy are to continue to turn a blind eye to these under-the-table payments, estimated at €15m per annum, or introduce a system to regulate them.
SEE SPORT
DIFFERENTLY
Get closer to the stories that matter with exclusive analysis, insight and debate in The42 Membership.
Become a Member
Duffy himself has described the status quo as unacceptable, while a regulated system would be opposed by those who place a premium on the Association's amateur ethos. But Cooney made clear that "option two" — enforcing the current rules — is not necessarily the default choice.
"Paraic's paper outlined a number of options. It doesn't necessarily mean that option two is going to be the outcome to what we propose at the end of the day or how we structure it.
"I'm not going to be presumptuous and say it's going to be A, B, C, D. We have what we have in from the counties now, we're going to give them serious consideration, and we're going to make recommendations from Coiste Bainistí to Central Council.
Once the intent is there and the position is clear, I think the administrative structure and the structure around how we're going to manage it will follow on from that. We need to make sure that we get things right on this, and we will. We will.
Cooney also denied that the GAA is being specifically targeted by the Revenue Commissioners of late. Discussions are ongoing after proposals to reduce referees' expenses to a flat fee of €13.71 per match and 50c per mile saw match officials in Longford vote to go on strike last week.
"We have a responsibility to obey the laws of the land as much as anybody else, and we will work with Revenue to put in place the best package or the best way forward for dealing with some of the challenges that we face.
I think Revenue are sensible people in their own way as well and they know that 99% of our people are volunteers and they're not looking for payment, they're just looking for their expenses to be covered. I think we'll find a solution to this moving forward, I've no doubt about that.