TWELVE MONTHS ON and a familiar scenario faces Cork boss Brian Cuthbert.
Their league campaign ended yesterday with a humbling defeat against Dublin – at the final stage in contrast to the semi-final of 2014.
It leaves them with questions to answer and issues to address as the summer dawns. Cuthbert's aspiration now is to ensure it doesn't haunt them in this championship like it did last year.
"We looked off the pace completely," reflected the Cork boss.
"It's not possible to say 'that was just league', it was a game we didn't perform in, very, very disappointing.
Root and Branch
"It's going to be difficult (to pick them up). At the same time the six-seven weeks does give us an opportunity to have a root-and-branch examination of where we're at as a group and why we performed as we did today.
We have seven weeks to get ourselves ready for Munster championship and pre-the league I was at pains to point out that this was about championship.
"If we'd won the game we'd all be parking it up and saying it was only the league but the disappointing thing is we just didn't perform. Obviously confidence is going to suffer when you suffer a defeat like that but it's like not like we're playing next week."
Cuthbert outlined where he felt Cork's game fell short.
"The pressure they applied meant we didn't move the ball out of defence quick enough. When we did move the ball quick enough out, in my opinion, we were too far away from where the danger was and we couldn't provide a link between the inside line and where we had permission.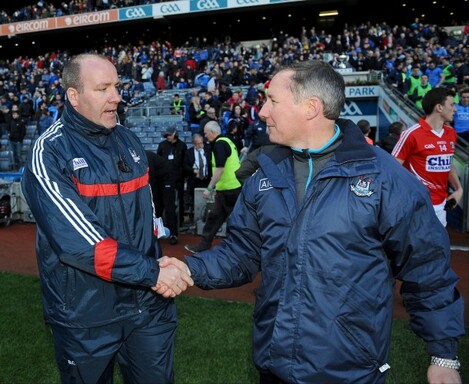 Brian Cuthbert and Jim Gavin shake hands after yesterday's game. Source: Tommy Grealy/INPHO
"They applied the pressure at the right time and it worked for them. There were four or five block downs on us in the first half. There was balls kicked into the corner from 50, 60 yards for lads to run on to but we just didn't provide that linkage."
For all Cork's shortcomings, there was praise for their conquerors as well.
"Hats off to Dublin, they were outstanding today and we couldn't live with them. They're formidable. They played with real power and real pace and caused us huge problems. I think they're going to cause teams huge problems this year."