REIGNING CHAMPIONS CORK will open their defence of the All-Ireland senior camogie crown next summer with a clash against Wexford while beaten finalists Kilkenny will take on Limerick in their opening encounter.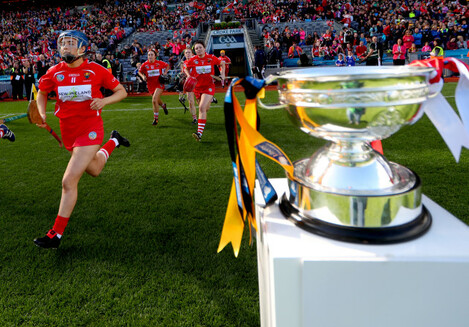 Cork won out by a point against Kilkenny last September. Source: James Crombie/INPHO
Cork saw off 2016 champions Kilkenny in Croke Park last September thanks to Julia White's match-winning score.
The group fixtures for the 2018 championship have been released today with the opening round of ties slated for the weekend of 9/10 June.
In Group 1 Kilkenny will start out against Limerick while Galway will meet Clare. In the last round of fixtures in this group Kilkenny will face off against this year's semi-finalists Galway.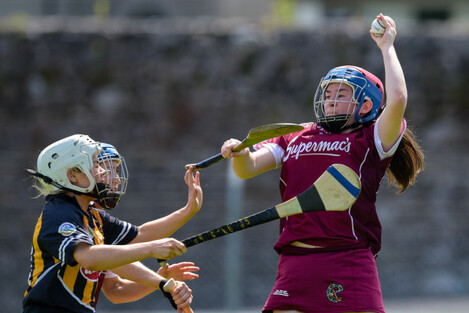 Galway and Kilkenny clashed last July in the group stages of the camogie championship. Source: Tom Beary/INPHO
Cork will operate in Group 2 where this year's semi-finalists Dublin take on Offaly and the 2017 intermediate champions meet Tipperary.
The intermediate championship begins on the weekend of 16/17 June while the premier junior championship starts out on the weekend of 14/15 July.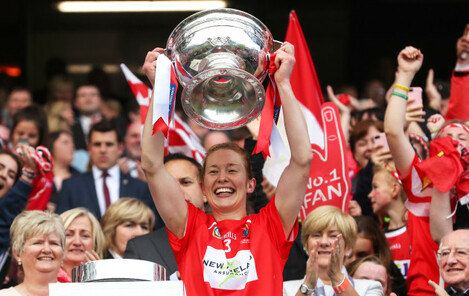 Rena Buckley lifts the O'Duffy Cup after Cork's final win over Kilkenny. Source: James Crombie/INPHO
The fixtures in full are:
Senior Championship
Group 1 - Clare, Galway, Kilkenny, Limerick, Waterford.
Group 2 - Cork, Dublin, Meath, Offaly, Tipperary, Wexford.
* Games to be played on Saturday/Sunday
Playoffs: 28/29 July
Quarter-final: 6 August
Quarter-final replay: 12/13 August
Semi-final: Sat 18th August
Semi-final replay: 25/26 August
Final: 9 September
Final replay: 23 September
9/10 June - Round 1
Group 1
Galway v Clare
Limerick v Kilkenny
Group 2
Dublin v Offaly
Tipperary v Meath
Cork v Wexford
16/17 June – Round 2
Group 1
Galway v Waterford
Clare v Limerick
23/24 June - Round 3
Group 2
Cork v Dublin
Offaly v Meath
Wexford v Tipperary
30 June/1 July – Round 4
Group 1
Waterford v Kilkenny
Limerick v Galway
7/8 July – Round 5
Group 2
Meath v Dublin
Tipperary v Cork
Offaly v Wexford
14/15 July - Round 6
Group 1
Kilkenny v Clare
Waterford v Limerick
Group 2
Wexford v Dublin
Meath v Cork
Tipperary v Offaly
21/22 July – Round 7
Group 1
Kilkenny v Galway
Clare v Waterford
Group 2
Cork v Offaly
Wexford v Meath
Dublin v Tipperary
Intermediate Championship
Group 1 – Carlow, Cork, Derry, Down, Laois, Wexford
Group 2 – Antrim, Kildare, Kilkenny, Galway, Tipperary Westmeath
* Games to be played on Saturday/Sunday
Playoffs: 11/12 August
Semi-final: 18 August
Semi-final replay: 25/26 August
Final: 9 September
Final replay: 23 September
16/17 June – Round 1
Group 1
Cork v Carlow
Down v Derry
Wexford v Laois
Group 2
Kilkenny v Antrim
Westmeath v Kildare
Galway v Tipperary
23/24 June - Round 2
Group 1
Carlow v Down
Derry v Wexford
Cork v Laois
30 June/1 July - Round 3
Group 2
Antrim v Galway
Kildare v Kilkenny
Tipperary v Westmeath
7/8 July - Round 4
Group 1
Derry v Cork
Laois v Carlow
Wexford v Down
Group 2
Kildare v Galway
Tipperary v Antrim
Westmeath v Kilkenny
14/15 July - Round 5
Group 1
Down v Cork
Laois v Derry
Carlow v Wexford
21/22 July - Round 6
Group 2
Galway v Westmeath
Antrim v Kildare
Kilkenny v Tipperary
4/5 August - Round 7
Group 1
Cork v Wexford
Derry v Carlow
Laois v Down
Group 2
Galway v Kilkenny
Kildare v Tipperary
Westmeath v Antrim
Premier Junior Championship
Playoffs: 11/12 August
Semi-final: 18 August
Semi-final replay: 25/26 August
Final: 9 September
Final replay: 23rd September
14/15 July - Round 1
Group 1
Kerry v Clare
Limerick v Offaly
Group 2
Dublin v Armagh
21/22 July – Round 2
Group 1
Offaly v Clare
Kerry v Limerick
Group 2
Roscommon v Dublin
4/5 August - Round 3
Group 1
Clare v Limerick
Offaly v Kerry
Group 2
Armagh v Roscommon
The42 has just published its first book, Behind The Lines, a collection of some of the year's best sports stories. Pick up your copy in Eason's, or order it here today (€10):