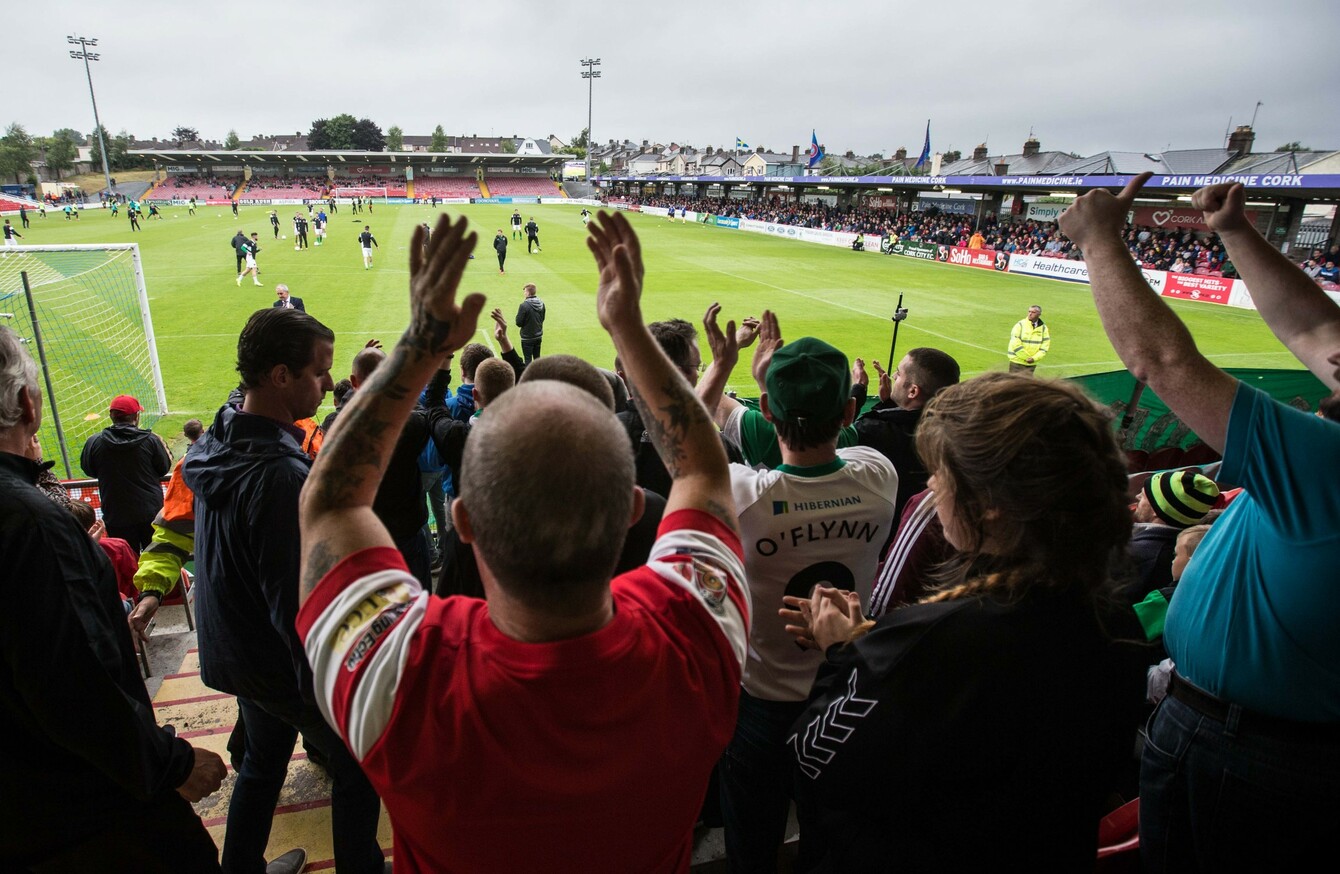 Cork City fans cheer on the team before kick-off last night.
Image: Cathal Noonan/INPHO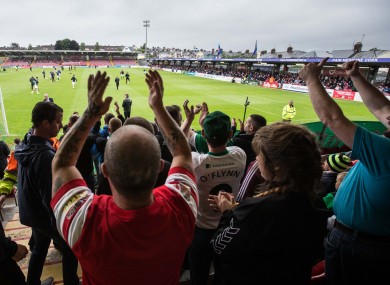 Cork City fans cheer on the team before kick-off last night.
Image: Cathal Noonan/INPHO
THERE'S A MAGICAL quality to the seconds between knowing you've won and the confirmation of the victory with the referee's whistle. It etches itself into your brain, everything slows down.
It's well into the four minutes of injury time and you hold a narrow lead. There's a late free kick to defend and the opposition goalkeeper sprints forward. You know that shouldn't make a difference but he suddenly seems seven feet tall so you flashback to the couple of occasions through history where it has worked, rather than the countless times it hasn't. There's some half-hearted boos, some murmurs but the away support are louder than you for the first time all evening.
The air is still; oxygen is plentiful but you and those around you are holding their breath. You're trying to watch the jostling in the box and the free-taker simultaneously. The free kick lofts in and is headed away for a corner. It's no respite and the cycle restarts. The only people outside the penalty area are the corner taker and the referee. Their keeper looks massive.
The ball is lofted in, there's a scramble and suddenly your keeper has the ball. He's standing there with it in his hands. Everyone around you celebrates as if you've scored. You can't even remember how the ball ended up in his hands, it doesn't matter. The opposition are retreating. They're dejected. They know, you know. We start to breathe.
Your eye turns to the referee, the only breath that matters is his next breath, into his whistle. The keeper kicks the ball out, it doesn't matter where it lands, you know you've won. The referee pauses, looks at his watch. Someone behind you shouts "blow it up for fuck's sake". The ball bounces. The whistle comes. You can't hear it, everyone was watching and saw the ref lift the whistle. It's over, you've won, delirium.
Your heart is pounding and you empty your lungs until you're standing in a silent shout and then you breathe again, you look around and you're not alone. The experience is hugely private and personal but also public because it's shared with friends and strangers jammed around you; what's just happened is as important to them as to you. This doesn't take from your experience; it only adds to it.
You look for familiar faces, people who stood beside you on darker days; some who's names you never learned. There are smiles and cheers but there are tightly shut mouths and reddening eyes.
People holding back deeper emotions, memories coming back, darker days, tears welling up. It sets you off, you find yourself blinking back tears but there's no embarrassment, no shame to it.
Be part
of the team
Access exclusive podcasts, interviews and analysis with a monthly or annual membership.
Become a Member
Everyone around you knows, everyone understands.
You don't want to leave. You don't move from where you stand. The players are huddled on the pitch celebrating. You see your club captain on crutches hobbling to the group, unable to play but included and a part of it. You see staff who put in every bit as much as the players in the huddle and it only makes you prouder. You have something special here.
The players exit down the tunnel to a huge ovation. It's not a concert, there's no encore. It gets quieter, your heart is pounding and your ears ringing. You turn to chat to someone you've known for years, their hands are shaking. You realise your voice is more or less gone. You can't explain how happy you are; how much it means. It can only be experienced.
Last night at about 9.40pm Cork City goalkeeper Mark McNulty kicked the ball high into the night sky above Turners Cross and over 5,000 people stood in the rain, held their breath and watched a Portuguese referee. We waited. It's been eight years since the club was taken into examinership, six years since supporters took control. We've been waiting a long time.
There was a magical quality to the seconds while the ball arched through the air until the referee's final whistle. We'd won.
The42 is on Snapchat! Tap the button below on your phone to add!