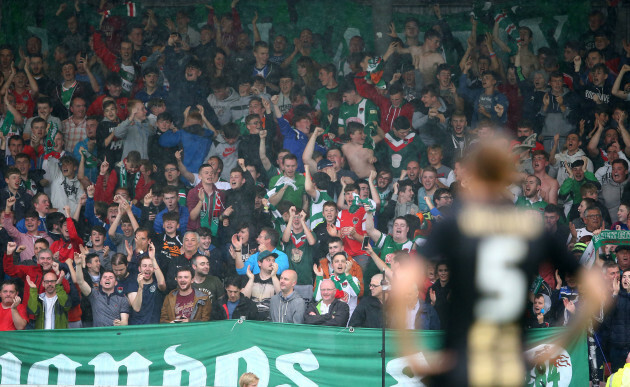 Cathal Noonan / INPHO Cork City supporters celebrate after Kevin O'Connor's goal against BK Hacken. Cathal Noonan / INPHO / INPHO
"HOW DID THEY get on?"
I can still recall those exchanges vividly.
"They were beaten," I'd dejectedly reply more often than I would have liked. Or, even worse: "It was nil-all… again."
My response would be met with a snigger, as the driver declared "They are useless" or "I wouldn't watch them if you paid me" before rolling the car window back up and disappearing down Curragh Road.
That's an experience that many who go to watch Cork City, particularly those who did so during the 90s, will be able to relate to. It usually occurred outside Sullivan's Funeral Home as you made your way out of Turner's Cross towards what used to be Kiely's shop.
Even when you had good news to report, they somehow found a way to devalue it: "Ah, sure… They'll probably be beaten again next week." There wasn't much that could be said in return, because you knew they were probably right.
For much of my formative years as a Cork City supporter, success and consistency were scarce. The 90s began with a few league title challenges — one of which came to fruition — and ended with an FAI Cup and another second-place finish. But the bits in between were mostly mediocre.
James Crombie / INPHO The Curragh Road turnstiles at Turner's Cross. James Crombie / INPHO / INPHO
The smirks on the faces of the passing motorists who would enquire about the latest result never aggravated me as much as they probably should have. They wore an I-know-something-you-don't look that seemed to say: "These poor fuckers have no idea that there's far better football out there to be watched. They should have just stayed at home, turned on the TV and they'd have seen it."
They pitied my friends and I — the naive youngfellas spending their pocket money on League of Ireland match tickets, programmes and Milky Moos. But the irony of that situation was that their outlook didn't bother me because I was the one who felt sorry for them.
There are many things I'm grateful to my father for, but right there towards the top of that long list is his decision to bring me to Turner's Cross for the first time in 1990 for a game against Derry City.
Despite being repeatedly told in the days before the game that he played for Celtic, not Cork City, I wore my recently-acquired Packie Bonner kit anyway — just in case Packie felt like having a kick-around and turned up looking for a game. My six-year-old brain managed to rationalise that as a distinct possibility.
From that day onwards, I was with my dad and older brother in The Shed for nearly every home game until the club relocated to Bishopstown in 1993. I'd sit on top of one of the green railings and watch the games, while simultaneously wondering why the men around me were chanting things like 'Iraq! Iraq! Iraq! Iraq!' and 'Bring on the plank!'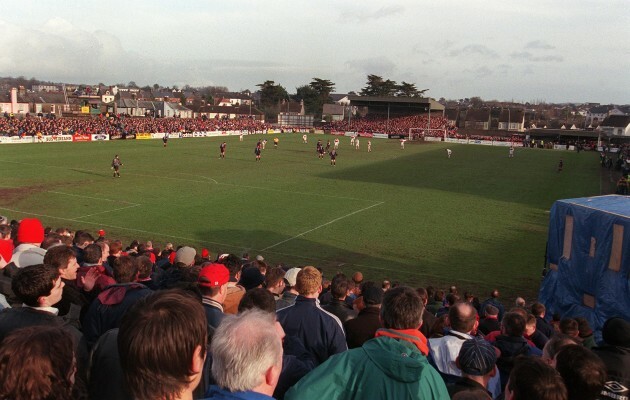 Billy Stickland / INPHO Turner's Cross during a game between Cork City and St Patrick's Athletic in January 1999. Billy Stickland / INPHO / INPHO
As I got older, City returned to the Cross and I started going with my friends instead. There were days when I absolutely hated being there, but there was never a time when I didn't look forward to going.
The first few years that followed the return from Bishopstown were bleak. Three-figure attendances, freezing cold Sunday afternoons and Paul Wimbleton. The words 'Never again' were uttered often, but never acted upon. No matter how bad it got, I was back for the next game.
Because Cork City were my club. I had stayed for far too long to back out now. "If you're not standing in The Shed on Sunday at 2pm to watch City playing Finn Harps in their ridiculous luminous yellow shirts, what else are you going to do?" I'd ask myself.
I never came up with an alternative. Because deep down, I didn't want to. Because Cork City were my club. And because Patsy Freyne.
Something about a picture taken during their Champions League second-round qualifier against FH Hafnarfjordur last week which appeared on Dundalk's official club website really resonated with me.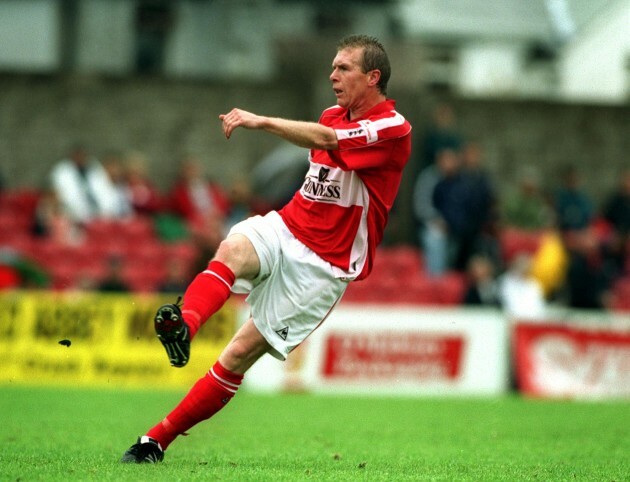 Tom Honan / INPHO Former Cork City midfielder Patsy Freyne. Tom Honan / INPHO / INPHO
In a team news article on DundalkFC.com, you can see David McMillan celebrating his goal in the first leg in front of the fans at Oriel Park. What struck me about the image — which you can see by clicking here — was an elated red-haired kid in the crowd who looks ready to hop the barrier to embrace McMillan.
The emotion on the kid's face suggests that he could easily be looking at Cristiano Ronaldo or Lionel Messi. But neither of those guys had just given his team the lead in a Champions League tie. David McMillan had.
The law of averages dictates that most of his friends' heroes probably play their football in England or Spain — heroes they're more than likely only ever going to see on a TV screen. But he'll see his in the flesh every second week at Oriel Park. He'll shake their hands after the game and get a good profile pic for his Facebook. He might even see them doing their shopping down the town.
Exclusive Six
Nations Analysis
Get Murray Kinsella's exclusive analysis of Ireland's Six Nations campaign this spring
Become a Member
When I was that kid, Patsy Freyne was my David McMillan. And when Patsy was having his own 'Never again' moment on the morning of a game and was subsequently nowhere to be seen at the Cross, Dave Barry filled that role.
Patsy was majestic, one of the most gifted footballers I've had the pleasure to witness. That he often managed to produce something special the day after a late night merely added to his magnificence. During my first media job with RedFM in Cork, a mutual acquaintance offered to try and set up an interview with Patsy. Great, I thought. Let's do it.
Ryan Byrne / INPHO David McMillan scores for Dundalk against FH Hafnarfjordur. Ryan Byrne / INPHO / INPHO
But the interview never materialised. I bottled it. He was my first sporting hero and I didn't trust myself to be able to string enough broadcastable sentences together to get through it.
Why did I feel sorry for those drivers who sneered at me for going to Turner's Cross? Because all those scoreless draws and 3-0 defeats to Monaghan United were a small price to pay to be in attendance to see my club — the club that represented my city, comprised of players I idolised — drawing with Bayern Munich in the UEFA Cup and coming close to eliminating Galatasaray from the Champions League, to name just a couple of the many memorable games.
I felt sorry for them because they were football followers who had no idea that they were missing out on special football nights in their own backyard. I felt sorry that they weren't fortunate enough to have been introduced to the League of Ireland by their fathers. I felt sorry that their kids might end up being oblivious to those occasions too.
The current generation of Cork City supporters were rewarded for their loyalty at Turner's Cross last night.
"How did they get on?"
They knocked the Swedish Cup holders out of the Europa League.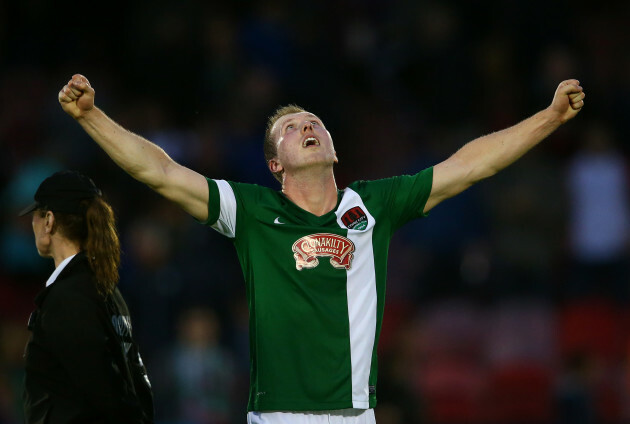 Cathal Noonan / INPHO Cork City's Stephen Dooley celebrates after last night's victory against BK Hacken. Cathal Noonan / INPHO / INPHO
The 5,336 supporters who were at the game had long since dispersed by the time I left the ground after John Caulfield's post-match press conference, but I'd like to think last night's walk along Curragh Road was a particularly satisfying one for them.