Liveblog
Afternoon all, it's TG4 All-Ireland ladies football final day at Croke Park!
We've already seen Longford hit four goals en route to winning the junior title against Antrim and Kildare edge out Clare by a point to claim the intermediate crown.
Now it's time for the main event and this is a familiar pairing. For the third year in a row it's Cork against Dublin. Cork are chasing a sixth successive title and an 11th in 12 seasons while Dublin are aiming to atone for recent defeats. Throw-in is 4pm.
The referee for today's game is Brendan Rice from Down.
Here's the starting teams:
Cork
1. Martina O'Brien (Clonakilty)
2. Marie Ambrose (St Val's)
3. Bríd Stack (St Mary's)
4. Róisín Phelan (Aghada)
5. Vera Foley (St Val's)
6. Deirdre O'Reilly (Newmarket)
7. Shauna Kelly (Araglen Desmonds Bui)
8. Rena Buckley (Donoughmore)
9. Briege Corkery (St Val's)
10. Annie Walsh (Inch Rovers)
11. Ciara O'Sullivan (Mourneabbey – captain)
12. Orlagh Farmer (Midleton)
13. Áine O'Sullivan (Beara)
14. Doireann O'Sullivan (Mourneabbey)
15. Orla Finn (Kinsale)
Dublin
1. Ciara Trant (St Brigid's)
2. Olwen Carey (Thomas Davis)
3. Deirdre Murphy (St Brigid's)
4. Leah Caffrey (Na Fianna)
5. Sinéad Goldrick (Foxrock-Cabinteely)
6. Sinéad Finnegan (Fingallians)
7. Niamh Collins (Foxrock-Cabinteely)
8. Lauren Magee (Kilmacud Crokes)
9. Molly Lamb (Kilmacud Crokes)
10. Noelle Healy (St Brigid's – captain)
11. Nicole Owens (St Sylvester's)
12. Carla Rowe (Clann Mhuire)
13. Niamh McEvoy (St Sylvester's)
14. Sinéad Aherne (St Sylvester's)
15. Lyndsey Davey (Skerries Harps)
The two men hoping to claim glory as managers today, Cork's Ephie Fitzgerald and Dublin's Geoffrey McGonigle.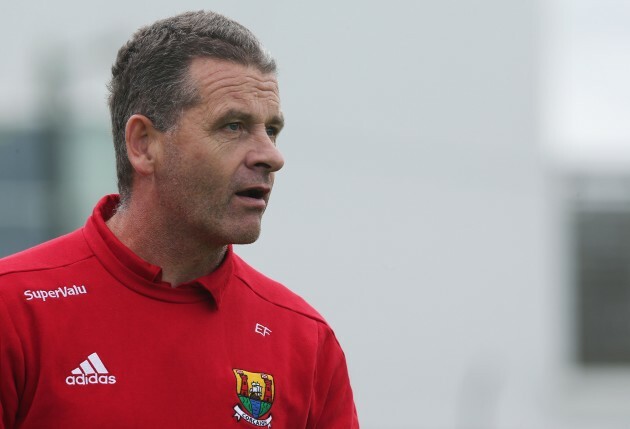 Source: Lorraine O'Sullivan/INPHO
Almost set for throw-in here at Croke Park. A heavy shower of rain has meant underfoot conditions will be difficult here.
Game on here in Croke Park.
Cork 0-1 Dublin 0-0
2 mins – First blood to Cork as Orla Finn taps over a point from a free.
Dublin struggling to break down Cork's disciplined and organised defence so far.
Cork 0-2 Dublin 0-0
6 mins – Nice attacking move by Cork and it culminates in Orlagh Farmer notching their second point of the day.
Half a goal chance for Dublin's Carla Rowe but she's under immense pressure from the Cork defence and Shauna Kelly in particular manages to put her off, allowing a tame shot to roll into the hands of Martina O'Brien in goal.
Cork 0-2 Dublin 0-1
11 mins – Dublin finally get off the mark. Captain Noelle Healy charges through the centre and holds her nerve to hook over a left-foot shot.
Cork 0-3 Dublin 0-1
14 mins – Cork captain Ciara O'Sullivan is fouled and freetaker Finn obliges once more to restore Cork's two-point cushion.
The conditions are dreadful here so far, the rain continues to spill down and that's making it really tough for both sides to get their attacking game going.
Dublin work a bit of space through Lyndsey Davey but she can't cap her run off with a point as she shoots wide into Hill 16.
Cork 0-3 Dublin 0-2
18 mins – This time Dublin do fire a point. Sinead Aherne finishes neatly after being set up by Niamh McEvoy who was picked out by a long delivery from Sinead Goldrick. Nicole Owens has a chance then to tie the teams but drops her shot short.
Big debate as Dublin look to have drawn level through Carla Rowe but the shot is waved wide. That looked to be a point from our view. Goal chance then for Lauren Magee but shoe fires across the goal and wide.
Cork 0-3 Dublin 0-3
24 mins – Now Dublin are level, Davey making no mistake as she loops around to collect a pass and picks off her point.
Dublin 0-4 Cork 0-3
29 mins – Dublin hit the front and that's a fair reflection of their dominance. Excellent score as well from Sinead Aherne after a layoff from Niamh McEvoy.
Flag
Half-Time: Dublin 0-4 Cork 0-3
34,445 is the attendance at the ladies football finals in Croke Park.
Under way here for the second-half. Early wides for Cork from Orla Finn and Rena Buckley.
Sub: Cork change at the break with Rhona Ní Bhuachalla coming in for Áine O'Sullivan.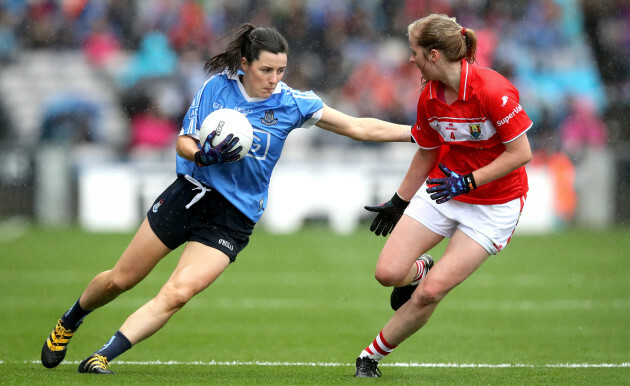 Dublin's Lyndsey Davey and Cork's Roisin Phelan. Source: Ryan Byrne/INPHO
Flag
Goal for Cork from Rhona Ní Bhuachalla!
Cork 1-3 Dublin 0-5
35 mins – Suddenly this game is turned around. Dublin had gone ahead by two courtesy of a pointed free by Sinead Aherne but then Cork countered in telling fashion. Captain Ciara O'Sullivan's surging run created the opening and she found substitute Rhona Ní Bhuachalla unmarked near goal. Ní Bhuachalla side-stepped goalkeeper Ciara Trant and rolled the ball to the net.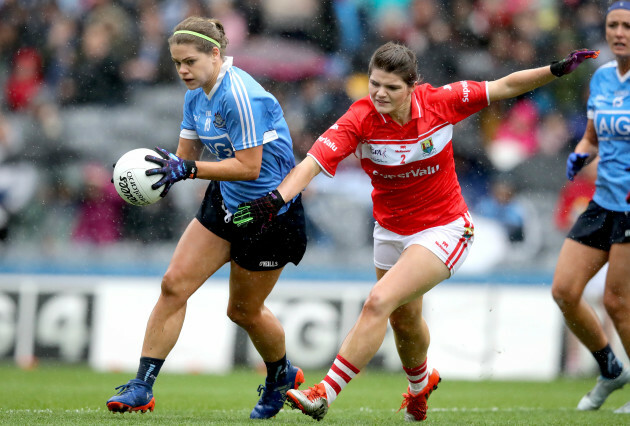 Dublin's Noelle Healy and Cork's Marie Ambrose. Source: Ryan Byrne/INPHO
Cork 1-3 Dublin 0-6
40 mins – A sustained period of Dublin pressure finally yields a point. Niamh McEvoy taps over a point after superb work by Carla Rowe.
Subs: Dublin bring in Siobhán Woods for Nicole Owens while Muireann Ni Scanaill comes on for Leah Caffrey. Cork replace Annie Walsh with Eimear Scally.
Eimear Scally with a chance to push Cork ahead but the ball tails wide. Still square with 12 minutes left.
Cork 1-4 Dublin 0-6
49 mins – But now Cork do hit the front and it's courtesy of a superb point from the right wing by Doireann O'Sullivan.
Cork 1-5 Dublin 0-6
50 mins – And now it's gone to a two-point game. Cork starting to turn the screw here. Great approach work by Doireann O'Sullivan and Orlagh Farmer with the move culminating in Orla Finn firing the ball over the bar.
Sub: Dublin bring in Sorcha Furlong and Olivia Leonard for Molly Lamb and Niamh McEvoy.
Cork 1-6 Dublin 0-6
52 mins – Great interplay between Orla Finn and Doireann O'Sullivan. It's O'Sullivan who kicks confidently to push Cork three clear.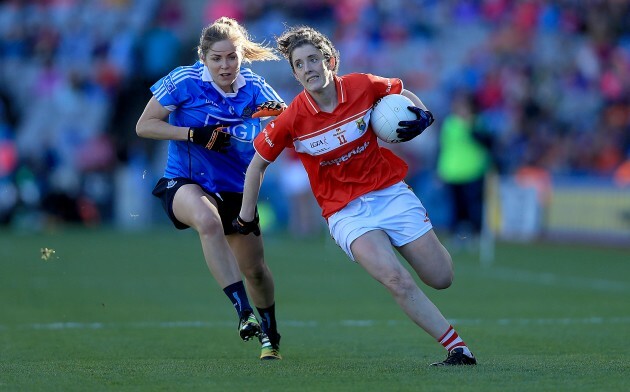 Source: Donall Farmer/INPHO
Cork 1-7 Dublin 0-6
54 mins – Another brilliant Doireann O'Sullivan point for Cork, this time from a free.
Cork's Rena Buckley is the player of the match.
Flag
Flag
Full-Time: Cork 1-7 Dublin 1-6
Cork triumph but that disallowed Dublin point in the first-half could be a major talking point.
That's all from us, thanks for joining our coverage.
Contribute to this story: