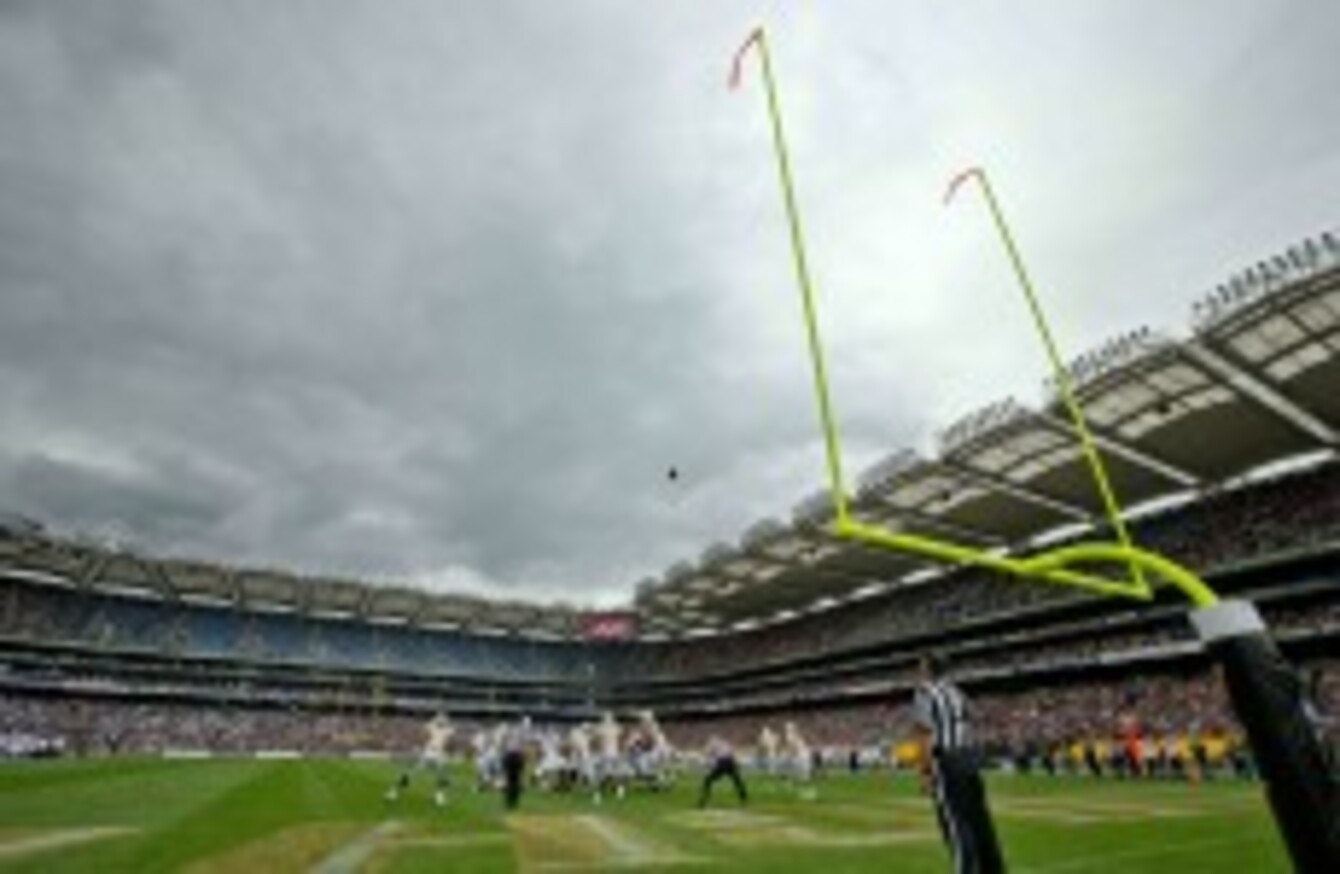 Action from last year's Penn State and UCF game.
Image: Morgan Treacy/INPHO
Action from last year's Penn State and UCF game.
Image: Morgan Treacy/INPHO
THE POTENTIAL CLASH of Boston College and Georgia Tech next year is part of the GAA's objective to make Croke Park the European capital of American College Football.
Croke Park stadium director Peter McKenna confirmed yesterday that Boston College and Georgia Tech are in line to play each other at the stadium at a date in August or September 2016.
The news follows in the wake of last August's successful staging at Croke Park of the game between Penn State University and University of Central Florida (UCF).
But to realise the GAA's long-term objective for college football, they will require support from the government to the tune of €500,000-€750,000.
McKenna revealed yesterday that the GAA were talking to Boston College and that they had suggested Georgia Tech as possible opponents. Negotiations are ongoing but it is hoped that an official announcement will be made by mid-March about the exacts details of the game.
The news of a possible meeting between Boston College and Georgia Tech was first reported on The42 last December.
********************
********************
"We're talking to Boston College and and they're suggesting Georgia Tech as being the opposition," outlined McKenna. "As I say, we haven't agreed contracts yet.
"I'd hope to have it finalised by the end of March. We haven't settled on a date yet." 
The staging of an American football game could create another fixture headache for the GAA after the clash that took place last August between the Kerry-Mayo All-Ireland semi-final replay and the Penn State-UCF game. McKenna didn't rule out the prospect of staging in on a Friday night
"I think there's a number of different possibilities. We are at a sensitive stage in the negotiations so I don't really want to pre-empt and say, 'What about this option or this option?'. We'll work these things through."
The costs of the college football game last August were €3m and that resulted in a break even return on the investment. On the issue of future government support, McKenna was keen to stress the potential tourism benefits for Ireland.
"I think we should be looking at this in terms of half a million or three-quarters of a million contribution to supporting this tourist group coming in. In order to get it sustainable, we've got to prove that it works for games which are not that  connected to the city. So Penn State-UCF worked even though there wasn't any strong Irish connections.
"We believe there's a huge opportunity here. This is all getting ourselves as the right venue. To break even is a strong achievement. The attendance at the (Penn State-UCF) game, outside of GAA, was the biggest sporting event in Ireland, 53,000.
"So I was happy with the result. We did this without any government support. Having seen the advantage of taking in 20,000 tourists into the country for a three or four day period and the money that was spent, it's a strong contribution to the vitality of the city.
"I think every second year means it's a great (event),  we can really push the marketing on this and drive the audience. It becomes part of the colleges, what's in their calendar when they're recruiting students."
McKenna revealed that Croke Park's focus is now on college football given the NFL establishing Wembley as their base.
"The NFL have decided they're going to spend their time in London. If they open a franchise there, then they won't be able to play all their games in Wembley. Others then will start looking as alternatives but that's a fair bit off.
"Collegiate football though is probably the one that has the greatest support and I think that's the one that we can really capture. It's personal to ourselves as well because it's an amateur sport."