Dublin and Cork's hurling masterclass
Cork and Dublin put on an immense display of hurling and the two teams surpassed what we've seen in the Championship up to now. The hurling has been superb this year but yesterday was just an extraordinary game.
The range of scores, the skills on view, the atmosphere in the stadium and a game that was in the balance right up until the end. It had everything.
The one blight on what was an unreal game of hurling though was the referee because the sending off was huge. Ryan O'Dwyer was having a brilliant game. He has such a physical presence and he was winning ball over the field so when he went it had a massive impact on the game.
It reminded me of what happened in Cork's game with Kilkenny when Kilkenny had Henry Shefflin sent off and how Cork capitalised on that.
They play a very good system and they're set up to take advantage of the spare man so, once O'Dwyer received his second yellow, Dublin faced an uphill battle and there was no way they were going to be able to beat that Cork system.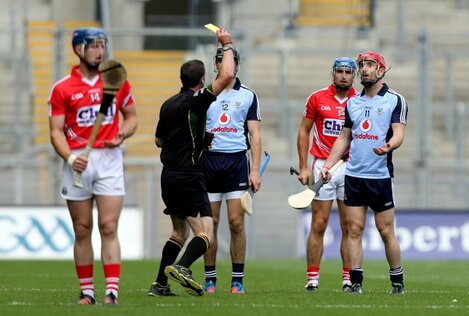 Referee James Owens yellow cards Ryan O'Dwyer of Dublin early in the game
Image: INPHO/James Crombie
Be part
of the team
Access exclusive podcasts, interviews and analysis with a monthly or annual membership.
Become a Member
Refereeing in hurling
The authorities need to leave the game of hurling alone. There's nothing wrong with hurling. The only issue with hurling is that you have former football referees in charge of the hurling referees.
That means hurling referees are being instructed to issue yellow cards for very little and we'd a hurling man sent off yesterday for two innocuous yellows and he never struck once with his hurl.
With respect to James Owens, he was operating to the letter of the law but the law's wrong and it ruined Dublin's chances so my advice to those in charge of hurling refereeing is that hurling is fine, we don't have a problem in our game.
There's a problem in football with the tackle, with cynical play and not just with the likes of Tyrone but with all teams. Hurling doesn't have that problem, we've a great game that doesn't need to be tampered with.
In hurling, you should only get sent off for pulling a stroke, hurling people know that and the top players don't go out to pull strokes, they go out to play the game they love.
Yesterday, Liam Rushe lashed out at his man in frustration and I'm glad he wasn't sent off but the referee copped out of the decision because he'd already sent one Dublin player off and he didn't want to send another one of the line.
Anthony Daly leaves the pitch after yesterday's game
Image: NPHO/Lorraine O'Sullivan
Anthony Daly's future
Anthony Daly's post match press conference was one of the best pieces of management I've ever seen.
I don't think I've heard or seen a manager so calm when he'd every right to blame everyone and anyone and to just accept the decision the way he did showed real class.
Be part
of the team
Access exclusive podcasts, interviews and analysis with a monthly or annual membership.
Become a Member
I really thought after the way things went for Dublin last year that he wouldn't stay on with but, if I could offer him any advice, it's that he should definitely stay on now because there's an All-Ireland in this side and he's the man to get it out of them.
Cork as favourites
Right this minute Cork have to be favourites for the All-Ireland for the simple reason that they're already there so, if you're going to back anyone, you might as well back a team that have already made the final.
Of course, if Clare or Limerick turn around and put in a five star display in their game then the odds will probably change again but Cork are there and they know what it's takes to win. They've a tradition of winning and a management team in place who have all won All-Ireland medals. Every single one of them – Kieran Kingston, Ger Cunningham, Seanie McGrath and Jimmy Barry-Murphy – know what it takes to win an All-Ireland final.
You can't understate the importance of that experience.
Be part
of the team
Access exclusive podcasts, interviews and analysis with a monthly or annual membership.
Become a Member