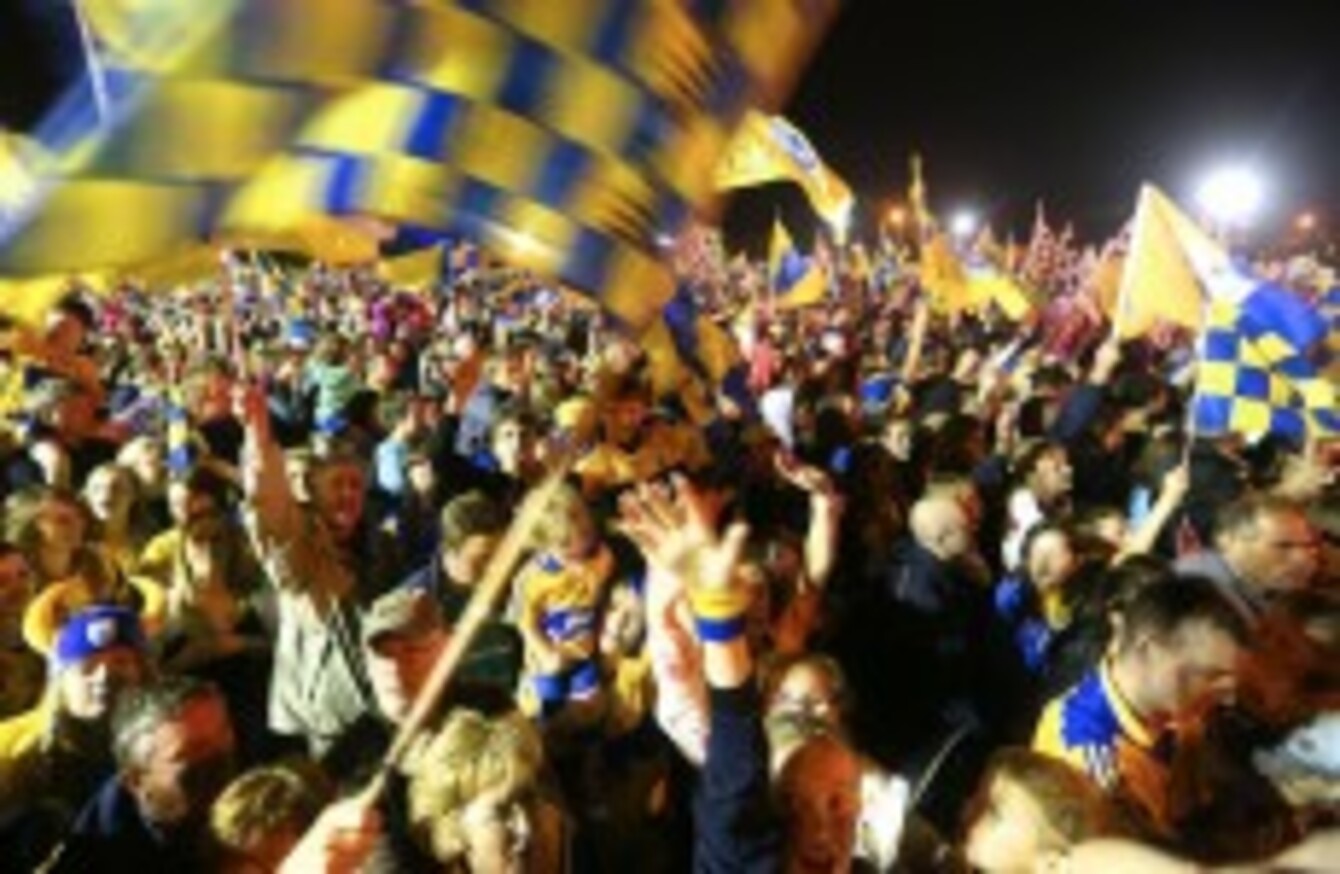 Clare fans at Tim Smythe Park last night.
Image: INPHO/James Crombie
Clare fans at Tim Smythe Park last night.
Image: INPHO/James Crombie
WHEN CORK CAME back in the second half with a few hammer blows and drew it level, Clare to me at that stage responded like a team of 27- or 28-year-olds with four All-Ireland medals in their back pocket, who knew how not to panic and knew how to close the deal. Yet that came from a bunch of young fellas.
That to me was an extraordinary thing to be able to do.
It's a confidence level that's obviously been instilled in them. They have a confidence in their squad, in what they're doing, in their system. They have a fundamental belief in their system and if they stick to it they'll win.
There was a point there with 11 minutes to go when Cork equalised again and you thought 'could this be a hammer blow too much for them, could Cork now kick on?'
But I just thought it showed remarkable maturity from such a novice team to close it out the way they did.
System
I felt before the drawn final that Clare would win it and I felt before the semi-final against Limerick that Clare would win the All-Ireland.
It's just the system of hurling that they play, when they're playing very well it's a brilliant set-up. And I just think that that was the difference between the sides, because when Clare needed to, they could score that bit easier than Cork.
And when the game was open and fast and in a furious state, it looked like Clare used the space better whereas with Cork it tended to be a little bit more direct and a little bit more one-dimensional. When it was more fractured and stop-start at the start of the second half it actually suited the Rebels a bit more. But when there was fluency in the game, Clare were always better.
And to me, that was just down to the style of hurling that they were playing. The skill levels were absolutely huge, the first touch was brilliant, they ran at Cork and they hurt them. They had more options from a scoring point of view than the Leesiders.
Cork just didn't have the same options that Clare did.
First of many?
The big question now is, how many can Clare win with this crop of young lads.
I was talking to Jamesie O'Connor after the game about what we can expect from this side over the next few years. He made the point that it's a high-octane, high-energy game that Clare play.
And it takes its toll and makes demands on players. But they're at such an age profile at the moment that they'll want more. When the celebrations die down, they'll go back at it and you know I think because of their age profile they'll be hungry and burnout won't be an issue.
When you're 19, 20, 21, all you want to do is hurl and win. You look at Brian Murphy and Tom Kenny — 32, 31 — which a number of years ago wouldn't have been considered old for an intecounty hurler but there was some suggestion made today that they might consider retirement — they have a lot of years up.
The way the whole thing has gone now, the demands are incredible but Clare are in a good place from an age profile point of view. Whether they can go on and dominate it is open to debate; the age profile is there, the system is there, the ability is there… so it's possible they could but others will be waiting for them next year.
I think the key will be is: how do you deal with them tactically. Whereas with other teams it was straight-line hurling and the strongest or best hurlers win… like Kilkenny. But with Clare, they're now posing different questions. Tactically it will be fascinating to see the likes of the Cats take them on.
Sideline cut
I've had a lot of comment from people today suggesting I apologise for what I said about Davy earlier in the year.
The point I made then was that there was no need to be antagonising referees. I never felt this Clare team needed to have a chip on their shoulder — they were too good, they didn't need that. I give immense credit for the hurling job they did and they got their just rewards because they were the best team in the country.
I have been very consistent in praising Davy Fitzgerald and his management team and his young side for the hurling  and the extraordinary job he's done with them.
People can cherrypick a comment. I stand absolutely by what I said, which was not bringing into question his managerial ability. Absolutely not.
I consistently said, they've done a marvellous job. I think I was one of the first people to tip them for the All-Ireland. So I gave huge credit to Davy Fitzgerald for what he and his management team have done.
But at the end of the day, when you're asked to make comment about certain issues, as far as I'm concerned I'll give my honest view. I'm not going to say I was wrong or I shouldn't have said — others can decide for themselves whether I had a point or not — I said what was in my heart in relation to the refereeing issue but I would in no way take away from the man's achievements.
Clare players lift the trophy as manager Jimmy Barry-Murphy of Cork heads down the tunnel . Pic: INPHO/James Crombie
This is by no means the end of the road for this Cork team.  When they won in '99, Jimmy Barry-Murphy had taken over in '96 or '97. So it was three or four years before he actually won an All-Ireland final. I don't think that man could or would lose the dynamic he has with his players.
An individual like that only comes along once in a while and you hang on to him because there's a serious dynamic there with his players.
So firstly, I do think he's the right man. Secondly, do I think they've lost their chance? No. I think they'll go away and look at Clare. I would argue that  with the age profile and speed that Cork have, they should consider playing the same system as Clare. I think he has the players to do it.