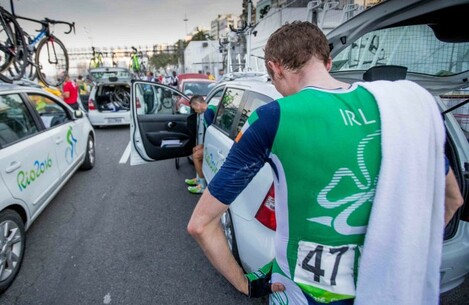 Source: Morgan Treacy/INPHO
– Niall Kelly reports from Fort Copacabana, Rio de Janeiro
WHOEVER PLOTTED THIS gruelling Olympic road race route, all 237.5 kilometres of it, deserves some sort of merit award for their sadism.
In temperatures which topped a blistering 30°C it took the eventual winner, Belgium's Greg van Avermaet, six hours ten minutes and five seconds of pure physical punishment to claim the first cycling gold of these Rio 2016 Games.
Hardly surprising then that only 65 of the 144 riders could make it to the finish line. Some had one eye on the time trial competition which takes place here on Wednesday; others, already at a tail end of a brutal season, simply could not ask any more of their exhausted bodies.
"It was probably one of the hottest days we've had on the bike," Dan Martin said after emptying the tank with one last sprint to take 13th, equalling Ireland's best finish in the race.
"I just had nothing left.
It shows the ambition we came here with and how far Ireland has come as a cycling country that we're disappointed with 13th. We're gutted but it just shows how far we've come, coming to the Olympics and believing we could medal.
"Cycling Ireland did a fantastic job, giving us the best preparation possible. We had a dream ride into the Games but just didn't have it on the day. That's just how it is."
The inherent masochism of it all aside, this was a thrilling watch for spectators — or is it the masochism that makes it so compelling in the first place? Set against a stunning Rio backdrop and culminating in a succession of steep climbs and daring descents, it was tailor-made for drama and didn't disappoint.
Vincenzo Nibali looked to have the race at his mercy before he and Sergio Henao crashed on the final descent. It opened the door for Rafal Majka to steal an unlikely triumph but he couldn't hold the chasing pack at bay and was edged into bronze by van Avermaet and Jakob Fulsgang.
Source: Morgan Treacy/INPHO
In a race pockmarked by trouble, Martin managed to avoid the worst of it and, as the race entered its decisive final quarter, was nicely positioned at the head of the chasing pack and travelling well.
When the moment came to bridge the gap on that final climb, however, it was an ask too far.
"For me I rode a great race, a perfect race," he explained.
"I'd one problem on the first time on the cobbles when my gears, my chain came off. I lost time then and had to make a bit of an effort to get it back but that didn't affect the race. I think everyone had problems at some point. I stayed relaxed.
I wouldn't change anything I did today. I just lacked that little bit in the final climb.
Maybe he wouldn't change anything he did, but there are certainly changes he would make in the interests of levelling the playing field.
"It was super hot and, I don't want to complain, but being a small country we don't get as many accreditations as the other countries. We have less people giving bottles so it's more difficult to get water. That's difficult.
"Just having two riders wasn't a disadvantage but not having enough staff was a disadvantage. We're not allowed have more staff. That's the way it is."
Source: Morgan Treacy/INPHO
Nicolas Roche finished the day in 29th but it was Martin, the younger of the two cousins, who matched the 13th-place finish set by Ciaran Power in Athens 12 years ago.
He outsprinted Germany's Emanuel Buchman in a final three-man dash to the line but was denied a sole claim on the national record books by the wheel rim of an equally determined Chris Froome.
"Aw jeez, I was an inch off beating it," he said when reminded of Power's finish afterwards.
"My legs were completely cramping in the sprint there. I just wanted to get the best result.
"That was part of the problem, we had zero information out there. Normally we have racing radios so we know time gaps.
I had no idea if there were 50 guys in front or five. I didn't know if I was going for a medal. I had no idea.
The long cycling season coming to an end, Martin isn't quite done with the Olympics just yet. Rio 2016 is a family affair and his fiancee, Team GB runner Jessica Andrews, arrives into the Olympic Village on Tuesday ahead of her own appearance in the 10,000m.
"I don't even know when my next race is — it's a nice feeling. I've had two months pretty much of no time at home and just racing, racing, racing.
"So that was a big motivation to go all in today, empty the tank and give everything I have. I'll probably be exhausted and I'm looking forward to a big rest tomorrow now.
"Of course I'm nervous (for Andrews' race)," he added. "Luckily it's a morning race so I won't have all day to be scared.
"It's going to be great to experience that. Not many couples get to experience that, so it's going to be a fantastic experience."
The42 is on Snapchat! Tap the button below on your phone to add!