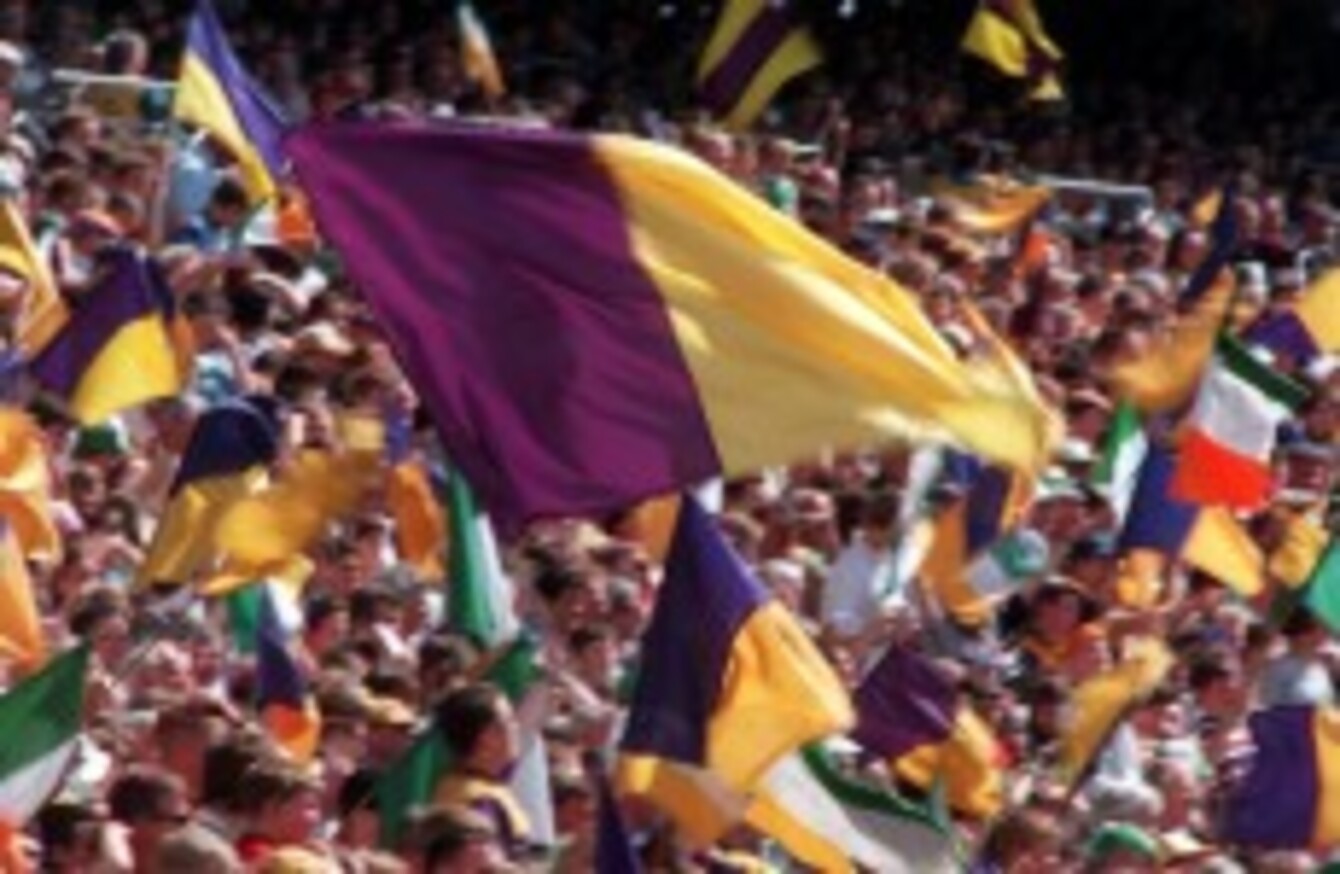 "When at last the cup was lifted, they said we brought it back for you"
Image: INPHO
"When at last the cup was lifted, they said we brought it back for you"
Image: INPHO
IN 1996 WEXFORD'S hurlers bridged a 28-year gap and won the All-Ireland Championship, bringing Liam MacCarthy back home with them for the first time since 1968.
The heroes of that glorious summer — manager Liam Griffin, captain Martin Storey, the veteran George O'Connor and more — were immortalised in the song 'Dancing at the Crossroads', written by the Wild Swans.
Though it was only released on cassette, the song swept the country and went to number one, knocking the Spice Girls' hit Wannabe from the top of the charts.
This is the story of that song and that summer as told by the Wild Swans, Brendan Wade and Paul Bell, and Irish World journalist Sean Meaney.
'Well I remember as a young boy, the beginning of September, we were standing at the station waiting for a train'
Brendan Wade: About a year beforehand I started working with Paul. We were over in London working on some material and we were reminiscing about being kids in Wexford and the last time they won the All-Ireland back in 1968.
We said we'd try to write a song about it and we came up with Dancing at the Crossroads. This was way before the '96 team was on the trail of winning the All-Ireland. We used all the names from the '68 team: Tony Doran and John Quigley and those lads.
When the '96 team came around and started doing really well, Paul said to me, 'what was that song we wrote? That might make a good song for the team.'

YouTube Credit: dfw1991
Paul Bell: After we beat Dublin in the Leinster semi-finals, I said to Brendan, 'I have an idea.' He said, 'That's f**kin crazy, ridiculous. On so many levels.'
Wade: I wasn't sure. We hadn't done anything like that before. Paul was a great driving force behind the whole thing I have to say. In his apartment in London we changed all the names and it just fit so perfectly.
'There was priests and christian brothers, there was nuns and reverend mothers, there was guards and drunks and others, but everyone was just the same'
Bell: I said to Brendan that we needed another song to offset the kind of yee-haw aspect of it. I said we needed something that sounded like an old Irish ballad and had this idea about going to watch Wexford with my dad. Brendan said just do it and I did it. That became The Purple and Gold.
INPHO
Wade: We're both professional songwriters but this song, for us it was just a memory of something that happened a long time ago. We didn't really think it would do anything. We didn't even release it with that intention.
Bell: I played Sean the songs and he freaked. He's not even from Wexford, he's a Dublin man, and he freaked. He threw in a few quid to help us and the three of us got this little cottage industry going.
Myself and himself went over to Wexford. The next big game was the Leinster final against Offaly and again, we knew that if they lost we probably wouldn't have a leg to stand on.
Sean Meaney: Trying to get a record company involved at an early stage was next to impossible.
Bell: We only pressed up cassettes — even saying that now sound bizarre. Ireland had a really disproportionate number of people who liked cassettes and who were still using them, up until quite recently.
We were so short, maybe not short of money but certainly of short of confidence in the whole thing. We were very aware that if Wexford lost, the whole thing was dead on its arse.
'Well they came from Enniscorthy, from New Ross and Ferns and Gorey, there was buses from Bunclody, there was horses, carts and all'
Bell: We drove around County Wexford. It's hilarious when I think about how naive it was. I remember the very first pub we went into in County Wexford. We were going in and asking these people to take a few cassettes on a sale and return basis — we weren't even asking them to buy them.
I went in gave him my little spiel and your man goes 'will you fuck off outta here!' The very first pub in our home county and they were telling us to fuck off!
My dad was alive then and him and one of my nephews who was only about 10, they were our distribution. My dad used to set off every day with a trolley-load of cassettes. If I was telling you this about 1956 maybe it might make sense but this was 1996! It wasn't exactly the dark ages.
INPHO
Wade: Even if you were trying to be business-like about it there was no history of GAA songs going to number one. It's not like releasing a Christmas single or anything like that. It was just a spontaneous thing.
We knew we had a great song. The lyrics are great. They're funny, they really tell about the atmosphere of a winning team coming home to a small town.
Meaney: We had no idea how it was going to go.
'And as they stepped out on the platform they were shouting and screaming, and as they carried Larry Murphy he looked 25 feet tall'
Bell: Dominic Kiernan was the Mayor of Wexford and he was a friend of Brendan's. He heard it and got back on to us and said that he was going to play it to Liam Griffin. They gave us a small little civic reception in the town hall.
It was a small little affair with Griffin, Larry O'Gorman who was the only town player in the team, and a couple of others, Tom Dempsey and maybe Garry Laffan.
That gave us a little bit of momentum. They beat Offaly and then we couldn't press the things fast enough. I make no bones about it, at this stage we were only selling them in County Wexford. No one else cared about it.
By the time of the All-Ireland final we had started to pick up interest around the country outside of the Wexford fever.
INPHO
Meaney: On the Sunday they played Galway, it had jumped into number 17 in the charts. That was a sure sign that we had got everything right for once. It just took off.
I'll always remember, we were at number two in the charts the week before Wexford played Limerick in the final. Larry Gogan played it and said 'If they don't win on Sunday it will stay at number two. If they win, who knows?'
Bell: RTÉ refused to play it, point blank. It was in the top five for several weeks but they only played it in its entirety once each week when it was number one. Their reasoning was that if they played ours, they would have to play 50 songs from Tipperary and Donegal and everywhere. It was so absurd.
INPHO
Meaney: I identified five separate things that we achieved with that. One, it was the first hurling song ever to get to number one. Two, we were the first Irish band ever to knock the Spice Girls off number one. Three, to my knowledge it was the only song that got to number one even though it was only available on cassette. Four, it was the first Wexford band ever to have a number one. What was the fifth one… [that they managed it without a recording or distribution deal]
'So what's the story Martin Storey, now Wexford's really bound for glory, and when at last the cup was lifted they said we brought it back for you'
Wade: At crossroads in Wexford people were building bonfires. They were painting cars in purple and gold. They had Dancing at the Crossroads written on these signs all the way up to Dublin.
Bell: Whatever the music did do, it obviously didn't affect the hurling, but it galvanised the whole thing and gave the people of Wexford a really amazing atmosphere down there.
Wade: A lot of people would say that the song was a way of uniting everyone.
Bell: The night of the All-Ireland final, myself and Brendan had tickets but we couldn't go because we were booked to play on the roof of a pub in Gorey. We did the gig and I'd never seen anything like it. The cops eventually had to close down the whole of Gorey because there was 25,000 people on the street.
INPHO
I think the team were in the Grand in Malahide or somewhere like that and, typical GAA, a winning All-Ireland team didn't even have music at their dinner, not even a covers band. We got wind of this and myself and Brendan jumped in the car, stuck a little bit of a PA in the car, and drove up to Malahide.
We got to the grounds of the hotel and they wouldn't let us in. Only for the fact that Liam Dunne was going for a piss, he walked by the window and saw us and got us in.
'We were dancing at the crossroads in the shadow of a bonfire underneath the silver moonlight, we were singing until dawn'
It was an amazing atmosphere. It was the party of all parties. Obviously we played the songs over and over, and loads other songs too. We were playing the Purple and Gold and I remember looking out and everyone was going mad. Martin Storey was there jumping around, jumping up on the stage.
Everyone was singing their heart out and I looked out and I think it was Rod Guiney, I saw him standing on his own on a table, way over on the side, singing this song with the tears flowing down his face.

YouTube Credit: BigNoel12345
Wade: The following year Wexford also won the Leinster final and to hear 25,000 people singing the Purple and Gold in the stands was amazing. That's been sung at weddings, at funerals, it's always played when Wexford are playing. It really has lived on. I'm not sure if anybody knows who wrote those songs anymore but we're very, very proud that the songs are so fondly remembered.
Meaney: It all started with us driving around Wexford in a car putting it in shops. Just the cassettes and ourselves.
Bell: None of this would have happened without the team. That's one thing we're very, very aware of. It was a dream that was balancing on a tightrope.
Wade: I look back with immense pride on it. Being from Wexford and being part of something like that, it's just the best possible thing.
The Wexford Hurling Songs, featuring Dancing at the Crossroads and The Purple and Gold, is available to buy at www.thewexfordhurlingsongs.com.
Brendan Wade and Cry Before Dawn play in Dublin's Button Factory on 11 October and in the Spiegeltent, Wexford, on 23 October.