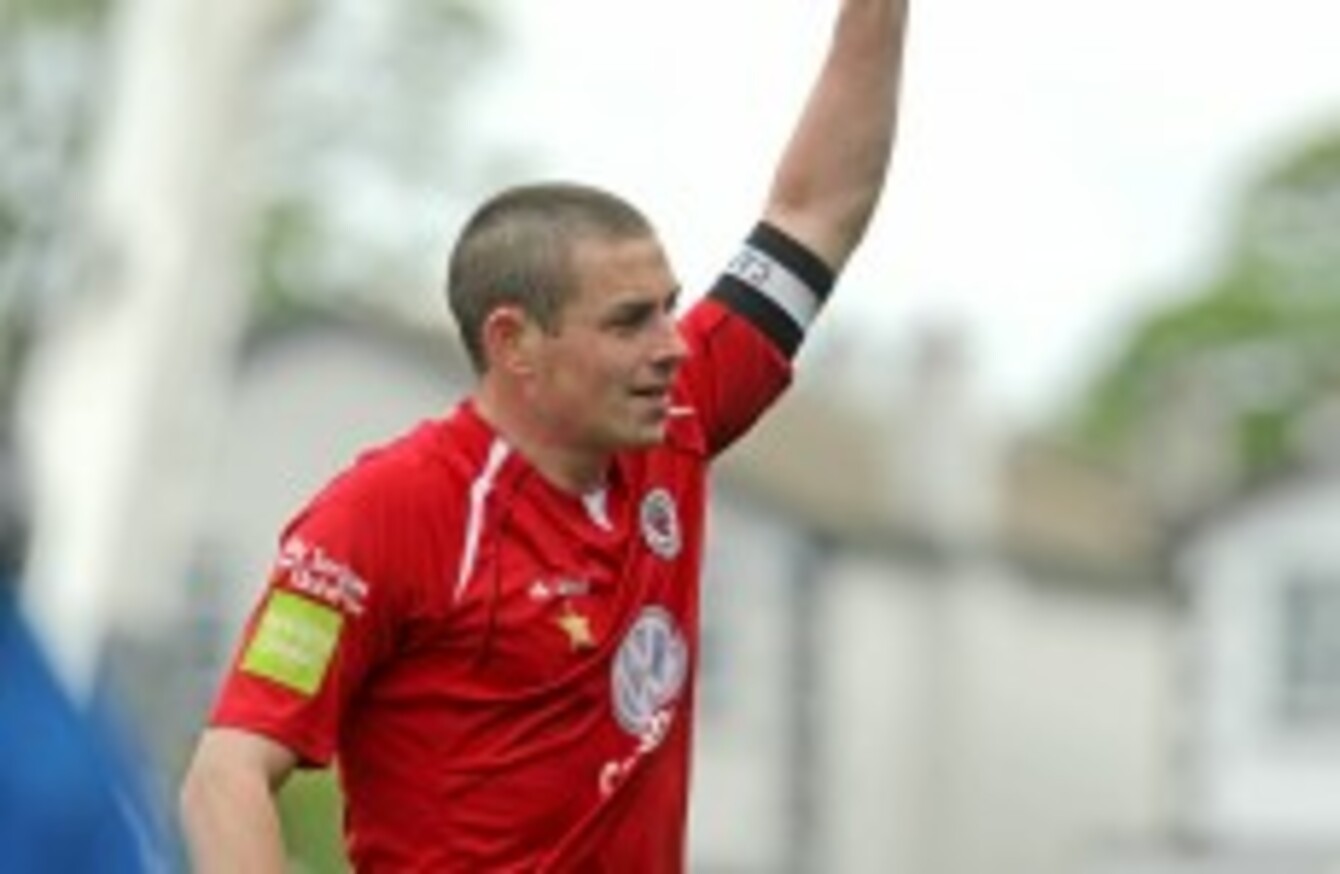 Sligo Rovers captain Danny Ventre.
Image: ©INPHO/Morgan Treacy
Sligo Rovers captain Danny Ventre.
Image: ©INPHO/Morgan Treacy
WHEN DANNY VENTRE gauges the mood ahead of Sligo Rovers' most important games for 35 years, it's easy to pick out the men who have been there and done it before.
There's Jason McGuinness, twice a league winner with Bohemians. Joseph Ndo won two with Shelbourne before hooking up with McGuinness in Phibsboro in 2009. And then there's Ventre himself, a winner of the Conference in his Accrington Stanley days.
The rest of the squad list reads like a who's who of some of the best players never to win a League of Ireland — Gary Rogers, Alan Keane, Raf Cretaro, Mark Quigley and Danny North to name but a few — and some of the game's brightest young prospects.
With four games to play, starting with tonight's trip to face Cork City in Turner's Cross, Sligo need five points to secure the club's first league title since 1977. The players aren't getting ahead of themselves but they know that their collective dream, their town's dream, is on the brink of becoming a reality.
The excitement and anticipation is building, and as it does, the job of managing the hype partly falls upon Ventre as club captain. In the dressing room's other experienced heads, he has willing helpers.
"It's positive because we're all striving towards the same thing," Ventre tells TheScore.ie.
We know how to win a title. The lads who haven't, we keep their heads right. We won't let them get too excited or carried away.
It's part of a dynamic in which everybody has pulled together to get this far and understands that they need to keep pulling if they are to get over the finish line.
"I've got lads older than me and more experienced than me, I look to them for guidance sometimes," he continues.
"I'll give lads my opinion on what will make us better and stronger, things like that, but I'm just keeping my head and the lads are keeping their heads.
All we can do is play well together and we'll win the league.
It's five seasons now since Ventre left England and followed Accrington Stanley team-mate Paul Cook out to the Showgrounds. Plenty of faces have come and gone in that time, including Cook himself who left to return to Stanley as manager on the eve of this season, leaving Sligo to scramble for a new man who could take last year's league runners-up to the next level.
But for Ventre and those who have been there for the long haul, the progress made under Cook was plain to see. Under his successor Ian Baraclough, they are now riding that momentum through to the ultimate prize.
"Every year we've gone on and got better. I've been here five years now and we just about stayed up in my first year. The year after, we finished sixth but we played in Europe due to a few clubs defaulting. The year after, we won the league cup and the FAI Cup. Last year we won the cup and we were second in the league.
"Every year there's been a progression and for it to keep on going, the next progression is to win the league. We're on the right track at the minute.
"That's great for the lads who've been here all the way through that process like myself, Gavin Peers, Richard Brush. The lads who've come in — Jason McGuinness, Joey Ndo, Gary Rogers, Quiggs — they've all been playing in teams who've always been challenging so that helps us all as players.
The natural progression is for us to win the league now.
Baraclough's ability to sustain and build upon the high-flying promise of the Cook years in his first season has taken plenty by surprise. Ventre points out that the manager had a great platform on which to build, but has also brought his own extra jolt to tactics and training.
Put the two together and you have a title-ready team.
"It goes back to us all being together for the last three or four years. Nothing against Ian but I think any manager could've come in and we'd just naturally have took it on as well.
"But with Ian, he's put his own little stamp on thing with the coaching. He's improved us training-wise, he's looked after us off the pitch. He knows his football.
That all beds in together and it's got us to where we are at the moment.