DARREN CAVE HAS regrets, but they are not that he made his international frustrations public last month.
The Ulster centre was called only as cover to Joe Schmidt's November international squad and has grown ever more frustrated as new options to deputise Brian O'Driscoll apparently moved ahead of him in the pecking order.
After winning just five summer tour caps since his international debut in 2009, four of them against either Canada or USA, Cave let his frustrations come out just over a week after watching New Zealand's near miss in Dublin.
""I still wonder sometimes: does the face not fit?" He told the Belfast Telegraph at the time. "If you don't know what I mean, ask Roger Wilson how he has one Irish cap and Jamie Heaslip has 60 and two Lions tours."
Speaking with TheScore.ie yesterday, Cave's only regret was that he had dragged the number eights into his row.
"I apologised to both Roger and Jamie for mentioning them. In hindsight it was a bit unprofessional. They both laughed it off and as far as I can see it's done with."
It's not really, though. Not until Schmidt does offer him cap number six will the media and fans alike cease questioning his decision to speak out. Cave, however, stands by his words – just as long as they are understood.
"Whatever I've said in the past [is fine] as long as the one thing that has come through is that people know that, more than anything, I want to play for Ireland."
The 26-year-old was keen to add that he has a 'very good relationship' with Schmidt who had spoken with Cave soon after the controversy arose. Like every player in Schmidt's squad, especially those that left disappointed, Cave was issued a number of 'work-ons' to take back to his province and improve upon. No player seems willing or able to advertise what is on their own personal snag list, but Cave was more than happy to accept the analysis.
"It's great to have a coach whose detail is so good. He says things about your game and you're almost surprised that he knows, because he's only been the Ireland coach a few months. But from watching Ulster and analysing ways to beat Ulster he knows more about my game than  I do."
Cave ends that last sentence with a laugh that might suggest an 'almost' might be in order somewhere along the line, but his point is clear: Cave would "absolutely love" to earn his Six Nations debut in the coming months.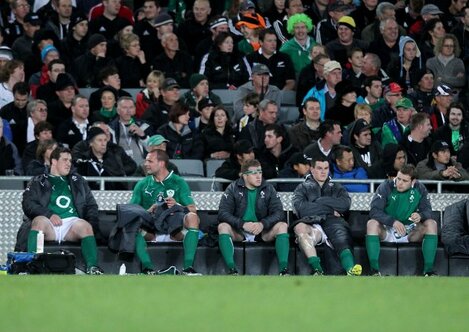 Cave, right, before playing seven minutes in New Zealand in 2012. ©INPHO/Billy Stickland
However, he also admits that his chances are much less clear-cut than his desire and that perhaps taking his mind off international honours could actually be the best way of earning more of them.
"I'I've found in the past couple of years I've played my best rugby when I haven't got ahead of myself. My main focus is making sure I play well. If I play well at Ulster the coach will continue to pick me at Ulster and, mostly, that has happened in the past couple of years.
"I've just got to try and help us win matches and make sure I'm in the team before I start worrying about getting picked for Ireland."
A home Heineken Cup win against Montpellier this Friday is the first step along that road.