THIS WEEK IS not the first time Ireland have played Wales and Denmark in back-to-back games amid a transitional phase for the Boys in Green.
With manager Eoin Hand aware that his contract would not be renewed, an experimental Irish team were ripped apart by a ruthless Danish side with hopes of qualification for the 1986 World Cup ended even before that dispiriting day at Lansdowne Road, as Ireland finished second bottom of their group having won just two of their eight qualification matches.
Hand had come much closer to qualifying before then, and were it not for some highly contentious refereeing decisions and sheer bad luck at times, he could have secured the hero status that was eventually afforded to his successor.
Jack Charlton may have become Ireland's most successful manager, but his reign began inauspiciously. Having recovered from an injury that kept him out of the Danish game and 18 months in total, Dave Langan was one of the players chosen in the starting XI for the Englishman's first match in charge — a forgettable 1-0 home loss to Wales on 26 March 1986, in which Ian Rush scored the only goal after 17 minutes.
"It was actually snowing in Dublin on the morning of the game," Langan tells The42. "So we couldn't train. [Jack] took us over to train in the Airport Hangars in Dublin Airport. He took us over to there and the teamtalk was there. He said 'I'm going with this team' and 'no one will be left out of this squad while I'm in charge here, it'll be the same squad for the rest of the matches,' but that was [untrue], because the next match, he left me out of the squad."
1. The Patriot
The Wales match may have been a friendly, but Langan didn't see it that way. A cult favourite among supporters for his sheer passion and dedication on the field, the former defender's love of representing his country shines through even now, speaking about it more than 30 years on.
That beats it all," he says. "I played against some of the best players. And when you walk out at Lansdowne Road and they play the national anthem, they're singing and you're singing. There's the pride and your lungs are bursting. You're bursting to get going. If you died on the pitch, you'd have died a happy man. I just couldn't wait to get out and play.
"The worst part was flying in on the Sunday and waiting until the Wednesday. I just wanted to get out and play that day.
"I can't believe the change in the game. Players [now] will say 'I'm not sure I want to play for Ireland,' they want their head looked at. It's your country, you've got to play for them.
"I speak to some supporters here and players won't even sign stuff for them. I think there's been a massive change in the game and not for the best.
"I've seen it now over the years, 'this player doesn't want to play,' or he's injured on the Wednesday but he's fit for his club on the Saturday, it gets you angry. Especially as you know, when we were players, we were desperate to play.
"That team I played in, those lads wanted to do so well for Ireland and anytime we got beaten, the dressing room was like a morgue — we were so disheartened. We just felt like we let everyone down, let our country down. It lasted for days. The manager [at club level] used to have a go and say: 'What's the matter?' It was: 'I can't get over it.' They said: 'Well you have to forget about it, we've got a game tomorrow.' I just couldn't because you felt you let the whole of Ireland down."
An Ian Rush goal saw Wales overcome Ireland in Jack Charlton's first game in charge. Source: EMPICS Sport
Given the fervour he routinely displayed when wearing the green jersey, and indeed the colours of his other teams — Derby, Birmingham, Oxford, Leicester, Bournemouth and Peterborough, it is no surprise that Langan was a fan favourite more or less anywhere he went. Even nowadays, supporters of his former teams will approach him at various reunions and events, saying "they remember me giving everything for the shirt".
He adds: "It was my father who said to me: 'When you go on that pitch, you might have a stinker of a game, nothing will go right, but never go out there and give anything less than 100%. They're the people who are paying your wages, and for your country, you're playing for the shirt. You just have to give everything and if it goes bad, it goes bad, but at least you can say: 'I done my best, it just wasn't good enough today.'"
2. Like father, like son
Langan's father was also integral to cultivating a love of football in his son, who grew up in Ringsend in a Dublin far different to the one that exists today.
"My dad used to play football over in Ringsend Park after Sunday mass. There were about 20 or 30 of us down there and we used to play until about one o'clock.
It was a three-hour game and they used to show up in their droves every week to play. That's how it all started for me. It was [my dad] that really got me into it. He looked after me and he never missed a match over the years when I started playing.
"The first match was five-a-side. Then word got round and it'd be 10. Then all of a sudden, it was about 15 or 20-a-side, it was getting ridiculous, but it was a great laugh."
Langan's early experiences of organised football included a stint at Bath Rangers under the ex-Ireland international Lar O'Byrne. He also spent time with renowned Dublin schoolboy club Cherry Orchard, where he played alongside the late Jackie Jameson, who would go on to become a Bohemians legend and one of the greatest players to ever grace the League of Ireland.
"He was a wonderful player. You just didn't know whether he wanted to play or didn't want to play. When he was on form, he was unstoppable and he was my da's favourite player for the Orchard team. It was sad what happened to him [Jameson died tragically in 2002 at the age of 45].
"There were other super players [at Cherry Orchard]. I don't know why, they never went on to fulfil their potential.
"You've got to be dedicated. I trained morning, afternoon and even during the six-week break in the summer — I trained non-stop."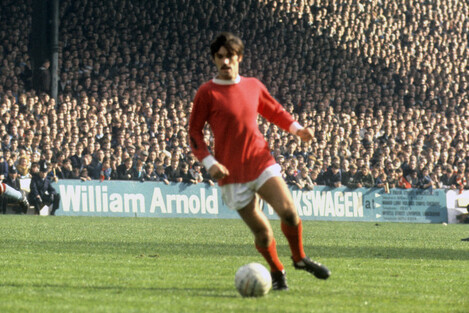 George Best was a star at Man United when Langan went over to the club on trial as a youngster. Source: PA Archive/PA Images
3. Trials and tribulations
As a youngster, Langan dreamed of playing football in England. He got an opportunity when Manchester United brought him on trial at the age of 13. 
Billy Behan, United's chief scout in the Republic of Ireland, who discovered Johnny Carey, Liam Whelan, Tony Dunne, Don Givens, Kevin Moran and Paul McGrath among others, had recommended Langan to the club.
Life abroad, however, was not as glamorous and idyllic as the youngster had originally imagined.
"I remember I walked down the dressing room and saw Best, Law and Charlton and I thought 'Jesus'. But I didn't play very well. I was too homesick and I wanted to come back after a couple of days. It just didn't work out for me. I played rubbish.
We didn't have a phone then. My mother would go down to Ringsend phone box. I arranged a time to phone her. She was sitting in a phone box waiting for me to ring her from a phone box in England. That's the only way I could get in touch with her. I just couldn't settle. I was too young. I was only 13. I just wanted to come back."
Langan had found himself on trial with two other future Ireland internationals — David O'Leary and Frank Stapleton. O'Leary would ultimately join Arsenal and stay there for almost his entire career, while Stapleton also linked up with the Gunners, before joining the Red Devils in 1981 for £900,000.
While United would have retrospectively rued letting a young Stapleton slip away, the same could be said of Birmingham with Langan, with the Irish teenager undertaking a trial there after the move to Old Trafford did not materialise.
"I had a three-week trial at Birmingham where I thought I'd done a lot better, but they didn't want to follow it up."
The Blues would ultimately spend £350,000 on Langan years later, making him their record signing in the process.
But after these two initial rejections, a disillusioned Langan felt his chances of a career in the game were dwindling. Fortunately, then-Derby boss Brian Clough recognised the potential that others had failed to identify.
"My last chance really was Derby. The first week I played rubbish. The second, I got a bit better. They saw something in me and I signed as an apprentice. There were three other Irish lads there as well, so it helped me settle down a lot."
Nevertheless, despite achieving his long-term goal of signing for a top-level English club, Langan continued to be tormented by homesickness.
"I was in a terrible way," he recalls. "My young sister was born. She'd only been there a couple of months and I had to leave again. I was always on the phone to home. The next-door neighbour got a phone put in and I was able to ring then.
"But I was always in an awful state and desperate to come home. I was only 15, still very young, and it's a lot to take on.
"I found it very hard and the other Irish lads, they found it very hard as well. The English players used to take the mickey out of you a lot because you were Irish. That didn't help. They always had a little dig at you."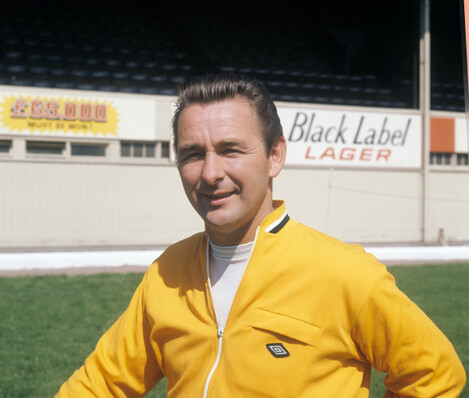 Brian Clough helped Langan get over his initial homesickness at Derby. Source: PA Archive/PA Images
4. A legendary encounter
At a time when even top English clubs were small enough to have a family feel, the perceptive Clough was well aware of the youngster's troubles, and set about attempting to alleviate Langan's stress in his own unique way.
"He sussed straight away that I was very homesick," he remembers. "So he used to pick on me for jobs. He used to get me to do all sorts of jobs, like polish his shoes, or wash his car or go round his house and cut the grass, or go and do his shopping for him. Every job he could, he'd just give it to me. I think it was just to keep my mind occupied instead of sitting at home. It was his way of looking after me.
"He used to give me an awful clip around the ear now and again. He used to have a phone in the dressing room and the phone used to ring and he'd say 'send down the Irishman to go and get me a whiskey'. He'd always call me 'the Irishman,' never by my first name.
I'd have to go and get his whiskey for him. That was most days. Then he'd have champagne. It just depended what mood he was in, what drink he'd have, especially after he'd have a game of squash. He used to take me to play squash, because he was mad on squash. If he was losing, he wouldn't let you finish the game until he won.
"But he was very good to me, I can't say anything bad about him. He never missed a trick, you couldn't get away with anything. If somebody scored three or four goals and they'd missed one chance, he'd go mad at them. Then if they missed one and had a bad game, he'd praise them. He had this unbelievable knack of knowing when to praise you and when to knock you down.
"He'd send flowers to the wives all the time, with a note saying 'sorry for taking your husband away'. There were chocolates sent and all sorts of things, anything just to keep them happy."
5. Thrown in the deep end
By the time he joined, Derby had already established themselves as one of the top sides in England. They had already won one First Division title under Clough before he came over there, and they would add another two years prior to Langan breaking into the first team.
The Irish starlet, who had originally been a midfielder but was turned into a full-back at Derby, admits that his introduction to senior football as a 19-year-old in 1977 came in fortuitous circumstances.
"There were about 10 injuries and the night before the game, it bucketed down rain. It was touch and go whether the match was going to be played.
"At 10 o'clock the next morning, the referee passed the pitch for the match to go ahead. They had to play me, because they had no one else.
"I was supposed to be marking Eddie Gray, the left winger who played for Leeds and was unbelievable, on that muddy pitch. He had a fitness test an hour before the match and failed it, so he wasn't playing. I didn't have anyone to mark. It was fortunate, because I think he'd have destroyed me."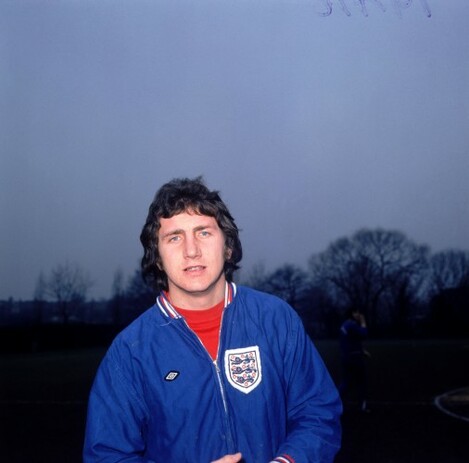 Langan played alongside England internationals such as Roy McFarland at Derby. Source: S&G and Barratts/EMPICS Sport
Once he got a taste for senior football, Langan's anxiety about living away from his family in Ireland gradually dissipated. The guidance of a few senior pros also helped matters.
"Roy McFarland, Colin Todd and David Nish were all England internationals. I had to pinch myself that I was in the same team. But they were very good to me, those players. They were understanding that I was a young lad. Colin Todd always used to look after me. And Gerry Daly sorted us. He was another Irish player there. I played right full-back and he played right-side of midfield, so we struck up a good partnership."
However, after three years and more than 100 appearances, it ended badly. The club had been on a downward spiral for a while. They initially managed to cope well with Clough's departure as manager in 1973. His successor, Dave Mackay, guided them to the title the following year. But from there, they could not maintain this success and were eventually relegated in 1980.
"New managers came in and they got rid of international players," Langan explains. "The players they brought in were just not good enough. We went down and it was awful, because we used to get massive crowds at the Baseball Ground."
6. Record breaker
Despite the Rams' woe, Langan had still managed to establish himself as one of the top defenders in British football. His struggling club badly needed cash at that point, and that's where Birmingham, who had just been promoted to the top flight, came in with their record transfer fee.
"[Their manager Jim Smith] signed me at Birmingham over a half a pint of Guinness," he says.
The amazing thing about that was that everyone in Ireland, including my family, all thought that I got the £350,000. All I got is £1,000 on 1 July every year for the three years I signed. After tax, you're looking at about £600. People would stop my mother and say 'you're well off now, your son's got £350,000'. I couldn't explain to them that it wasn't me, it was the club that got the money.
"But it was nerve-racking, because they kept saying 'he's the record signing'. Every time you had a bad game, they'd make sure to let you know about it."
Langan would go on to play over 100 games for the Blues, but this big move would eventually turn sour. It was during a 1982 World Cup qualifier against France — a famous game where Ireland prevailed 3-2 in front of an impassioned Lansdowne Road crowd — where the star would suffer an injury that would alter the course of his career significantly.
"The guy caught me," he recalls. "He came in very late and smacked me on the left knee. I couldn't walk for days. They thought it was just a ligament injury at the start and they started pumping cortisone [into me], which is the worst thing you can do. I was young then as well and I thought it was alright. It's only years later, you find out how bad that is.
"They eventually had to operate on me, I had six operations during that time and it was touch and go whether I'd ever play again.
Be part
of the team
Access exclusive podcasts, interviews and analysis with a monthly or annual membership.
Become a Member
"While I was on crutches, I was doing some work in the gym. I was twisting coming up and I cracked a vertebrae in my back. So I was like the mummy, I was in plaster over my knee and plaster all over my stomach.
"I was out for 18 months, I got very depressed — you think stupid things at the time."
Source: 1986soccerman/YouTube
7. Rescue act
Langan was part of an era of football where any sense of empathy for injured players was often sorely lacking. 
By that stage, Ron Saunders was manager and had no interest in retaining his services despite the Irish international nearing a return to fitness. 
"They just said we're not going to keep you on, you haven't played. They said 'why don't you take the insurance money'. They were getting £150,000, they never signed the insurance form, they were going to give me five. I said 'no, I'm doing that'. He said: 'Well you'll be lucky if you play football again.'"
Fortunately, a familiar face was willing to offer Langan a lifeline.
"I rang Jim Smith at Oxford. He said: 'How are your knees?' I said: 'I haven't trained.' He said 'I'll tell you what. We're starting pre-season training in July.' This was in April. He said: 'You come down in July. We'll give you a four-week trial and see how you go.'
"In the meantime, I didn't tell them, I had to go back into hospital for an operation, I had some loose bones hanging out of the knee. I was in stitches up until the end of June. So I had 16 days to try to get myself in some sort of fitness for him. I went to Oxford. I remember the physio looking at me and going: 'Have you had an operation?' I said: 'No, I still haven't built up from the one I had last year.' He said: 'We'll need to work on that, it doesn't look very good.'
So once again, I had a bit of luck. We were playing a pre-season friendly and the [first-choice] right-back came down with a stomach bug before the match. Jim Smith said: 'Can you play 45 minutes?' I said 'yeah, I'll be grand'. After 45 minutes, he said: 'Do you think you can stay on?' I said 'yeah, I'll be fine'. I played on. I played the full 90 minutes and he said after the match: 'You'll be playing at the start of the season with me and gave me a two-year contract.'"
He continues: "Jim was very good to me. He was a man that used to have a hell of a temper on him, but at least it was to your face. At half-time after the match, he'd go ballistic at you. But once he had his say, it was all forgotten. He's just back to normal then, which is what I like.
"Other people used to always talk behind your back, but Jim was always to your face. He was a Yorkshireman, very passionate about the game and strong-willed. He hated people who didn't try. He let you have it if he didn't think you were giving it your all."
A reinvigorated Langan helped his team gain promotion to the top flight, as they finished top of the Second Division during the 1984-85 campaign — their second successive promotion having come up from the third tier the previous season.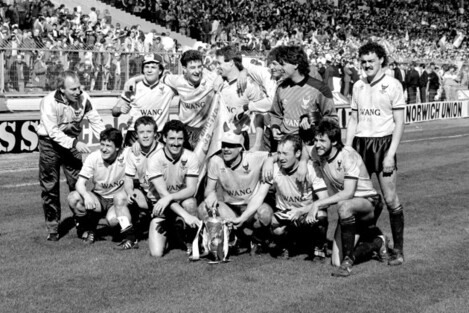 Oxford United celebrate winning the Milk Cup: (back row, l-r) physio, Ray Houghton, John Aldridge, Trevor Hebberd, Andy Thomas, Alan Judge, Gary Briggs; (front row, l-r) Kevin Brock, Les Phillips, John Trewick, Malcolm Shotton, David Langan, Jeremy Charles. Source: S&G
8. The second coming
Smith then departed following a contract dispute with Oxford's chairman. Nonetheless, the success continued thereafter for Langan and co, with the club avoiding relegation by a point during their first season back in the top flight and also managing an improbable League Cup triumph, beating Smith's QPR 3-0 in the final in front of over 90,000 fans.
"My three sisters were coming over for the match if I was playing," he explains. "I'd been left out of the Oxford side a few times in the run-in and the guy who was playing right-back, Neil Slatter, was playing really well, and I thought I had no chance of playing in the final. In the match before the final, he injured his knee. They said it was touch and go whether he was going to make the final.
"On the Thursday, they did a practice match. I was in the reserve side and Neil was in the first team. But his knee went again during the match. [The manager] Maurice Evans, who's passed away now, said 'you go right-back in the first team, because it looks like you're going to have to play on Saturday'.
"I rang Dublin on the Thursday, I told my sisters 'I'm definitely playing'. They organised flights over and had the three tickets for them. The day before the match, we went to watch Manchester United against Tottenham. I met my sisters at the gates of White Hart Lane. I gave them the three tickets to the cup final the next day.
"If Neil hadn't injured his knee, I was definitely not playing in the cup final. If you ever get a copy of the programme, I'm not even in there.
I could write down so many times just where that little bit of luck came my way."
The Oxford side were not short of talent. Two of their star players, Ray Houghton and John Aldridge, would ultimately represent Ireland and Liverpool with distinction.
"A very nice pair of lads," he says of the accomplished duo. "I didn't know anything about John until I signed. John had come from Newport. I got to know him well. We've become good friends. And then Ray signed from Fulham and started like a house on fire. The supporters loved him, because he was a very good player.
"Ray came over to make his Irish debut with me to Dublin for the match. He came down to my mother's. He had a big Irish dinner and he couldn't finish it, it was that massive. But he loved coming over to Ireland.
"I know John's doing very well now and Ray does plenty of media work too."
Source: thxh/YouTube
9. Marking Maradona
The League Cup triumph would prove to be as good as it got for Langan. He was still playing international football at that stage, and looks back largely with pride on memories of his Ireland career, such as the time Argentina came to Dublin for Eoin Hand's first match in charge and the defender was tasked with marking a young Diego Maradona amid a narrow 1-0 defeat.
"I've never seen a player like him," he says. "I know they say Lionel Messi is, but you have to remember, Maradona was kicked to bits. He single-handedly won games. It was indescribable in terms of his ability. His balance was just on another level to us. I've never seen a player like him, and I don't think I will before I go.
"[The game itself] worked very well for me. He played against England on the Wednesday night. They beat England 3-1 and he was awesome in that game.
"They came to Dublin and Eoin Hand said to me: 'I don't want him running the show. Make sure, when you get a chance, to get stuck into him.' After the first tackle, Maradona just looked at me as if to say 'if that's what you got, I'll have some more of it, because that's not much'. He had this arrogance about him, he was just from a different planet."
10. The beginning of the end
But regardless of all these incredible memories, one moment casts a shadow over his international career, as it ended in the cruellest circumstances imaginable. Langan had played a substantial role, as Ireland reached a major tournament — Euro '88 — for the first time in their history.
But when the time came to announce the final squad for the tournament in Germany, Langan was shocked to discover his name was absent. Worse still, Charlton didn't even have the courtesy to phone and inform the player of his controversial decision. For this most passionate, patriotic and committed of footballers, it was a bitter, heartbreaking blow, and one that had a major impact on his club career to boot.
I think when Jack left me out of the final squad to play at the Euros, I was so devastated, I couldn't cope with it. I think it just done me in. I wasn't the same player or person. I know you shouldn't let it happen, but I was coming up to 30. I just let it get to me too bad. I wasn't enjoying it then either. I was struggling big time with the legs and the back." 
Leaving Oxford in 1987, having spent time on loan at Leicester and Bournemouth, Langan subsequently joined the latter on a permanent deal. The then-third tier club were managed by a young Harry Redknapp and for Lagan, it was a largely miserable period.
"I had a terrible time at Bournemouth, I played rubbish under Harry Redknapp, he got rid of me after a few months," he says.
"I didn't really get on with him. He had his cliques. If you didn't play well, he wouldn't speak to you for the rest of the week. The Harry Redknapp you see on the television is totally different to Harry Redknapp the manager. He plays well to TV cameras and radio stations, he's brilliant at it, but that's not the same guy that I knew at Bournemouth. I didn't really like him that much, to be honest.
"He likes to play the game attacking all the time, but he just did nothing for me. He had certain players he'd pick week in week out even if they were playing rubbish. He'd still pick the same players because he had certain players he liked in the team, which is fair enough, he's the manager.
"Even the training was poor. But in saying that, Bournemouth were a very lowly team then. It was not like today, everything was poor there, a real rundown club. But I didn't enjoy my time there at all, I can't really say anything good about it."
Langan did not see eye to eye with Harry Redknapp, who was a young manager at Bournemouth at the time. Source: EMPICS Sport
11. In a lonely place
After a short spell at Peterborough, Langan was forced to hang up his boots due to injury, as his body finally gave in following years of relentless toll in 1989 at the age of 32.
"My back went again at Peterborough. I had to go see the surgeon and he just said 'look, you can't really play on anymore, because you're going to be in a really bad state'. I was advised to call it a day and that was it really."
A common theme in British football over the years has been authorities' failure to provide adequate support for players once they retire. While the top modern stars are aided by the exorbitant wages they accrue over the course of a lucrative career, older ex-pros such as Langan were not so lucky.
When you're playing, the phone never stops," he says. "When you finish, the phone stops forever. They just say 'there's your severance pay'. I think it was about £1,000. 'There's your letter explaining that you had to finish through injury. Take it to the Dole Office.'
"You couldn't ring up and ask for help. I rang up the PFA [Professional Footballers' Association] and spoke to [the deputy chief executive] Brendon Batson. He said: 'What's the problem?' I said: 'I've had to retire through my back. He said 'don't let it get you down, there's a whole lot of living to do'. But there was no help, no 'don't worry, we'll try to help you get a job'. It was nothing like that, it was 'just get on with it, you're finished now,' and that was the end."
In addition, the seriousness of Langan's injuries meant he suffered long after finishing up playing and has been registered disabled.
"I have a new knee. I have had that done and that's brilliant. There's no pain in that knee, so that's great now. But I had that done under the national health, because there's no one to help there either. The FAI helped me with one other operation on my knee — they paid for that. But the phone stopped going, no one was interested in me."
Langan pictured at the announcement of an FAI tribute dinner in 2008. Source: Cathal Noonan/INPHO
12. A new beginning
Langan struggled badly after football, suffering from depression and just about getting by while working a series of lowly paid jobs, including car park attendant, security man and porter, while remaining in Peterborough to this day.
In recent years, there has been a supporter-led revival of interest in Langan, as word of his difficulties spread. A testimonial dinner was arranged in 2008 and in 2012, he released an autobiography, which was aptly entitled 'Running Through Walls'.
"It did give me a boost. My marriage had broken up and I was living in a one bedroom flat. I had no money at all.
"All I had was that little room that I rented out. That's when [the publicity started]. I went on the Joe Duffy Show and it escalated from there. The You Boys in Green [fan forum] came into it and Con Meehan. They started a petition to get me something. Eventually they gave me a testimonial dinner in Dublin. From that money, I was able to put a down payment on a house. All the money went on the house again."
And while Langan is grateful for all the support he has been shown, at 61, the former star remains far from financially secure and continues to make sacrifices to persevere.
"People say 'you made a fortune from the book,' but we didn't, because the publishers went into liquidation. So I never made a penny from the book. In fact, it cost me money for my flights to Dublin to do book signings, because we had to cover the costs. So we ended up with no publisher and no books. I didn't get anything out of it. It's just bad luck.
"I had to sell all my caps and trophies [in 2013], because I'm in such a bad financial way. But that's the way it goes.
I'm always struggling financially, because I've had Mickey Mouse jobs, minimum wage and all that. But I get by from week to week. As long as I can get by from week to week, I'll carry on — that's all I can do."
Langan won't be tuning in for tonight's Ireland-Wales match, or any of the Irish side's games for that matter. He doesn't have any access to RTÉ over in Peterborough and can't afford a Sky subscription, though his sister usually texts to tell him the result.
Moreover, he barely recognises the game he once loved deeply — the prominence of diving, cheating, corporate boxes and what he perceives as out-of-touch millionaires divorced from everyday reality has put him off the sport for good.
Instead of tuning in for the latest Premier League extravaganza, he spends many evenings in hospitals caring for the less fortunate.
"I just work a couple of nights a week looking after the homeless. That's not physical work, it's more mental. 
"I love doing it. I love seeing someone turn their life around. There are drug addicts and alcoholics and we're there just to help them as much as we can. Some of them want to listen and some of them don't. The ones that do, you feel great about it. It gives everyone a boost."
Subscribe to our new podcast, Heineken Rugby Weekly on The42, here: