THE RYAN HOUSEHOLD in Cork has been a prime production ground for prop forwards.
Timmy, Dave and Paddy have all earned their living as front rows in the professional game, with the younger two of the Ryan men currently on the books at Agen and Newcastle respectively.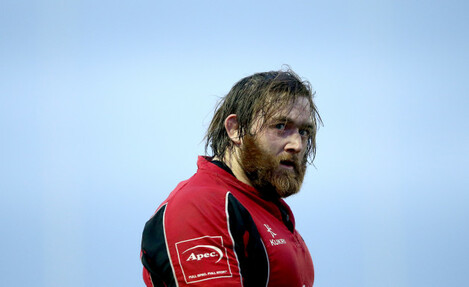 Dave Ryan is enjoying life in the Top 14 with Agen. Source: James Crombie/INPHO
Their grandfather on their dad's GAA-mad side of the family ran competitively for Ireland as a youth and worked on the farm right up until the age of 95. Their American mother's brother had the physical stature to play college football in the States.
"I think we got our work ethic and maybe athleticism from our dad's side," says Dave with a laugh when we ask about the good genes.
"My mom's brother is a big man, he played college football in America, and maybe we got our size from that side, especially Timmy and Paddy. I'm a bit smaller than them, but the two boys got their size from mom's side of the family."
At around 118kg, loosehead prop Dave is hardly a shrinking violet. Timmy – now retired from the professional game – weighed in at close to the 125kg mark during his time as a tighthead with Munster, Toulon, Newcastle, Cavalieri Prato and the Dragons.
Tighthead Paddy, the youngest of the three propping brothers at 25, tips the scales at 126kg and has made Premiership appearances for Newcastle since joining from French Fédérale 1 club Libourne last summer.
29-year-old Dave is in his first season with Top 14 side Agen following a frustrating campaign with Ulster in 2014/15. Though the southwestern club are enduring a tough season and currently prop up the table, Ryan is enjoying life in France and impressing in an individual sense.
His rugby journey, like those of his brothers, began at Highfield RFC in their home city of Cork.
"We didn't play schools rugby, we came through the youths system," says Ryan, who has been starting Top 14 games every weekend this season aside from during a six-week spell on the sidelines with a hamstring injury.
"I captained Highfield at 20s for two years and they're the club that has my heart."
Ryan still rates the decision to leave Highfield for Dolphin in order to play a higher level of club rugby as one of the hardest of his rugby-playing life.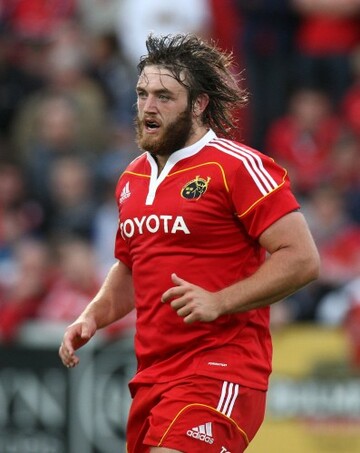 Dave Ryan in Munster colours in 2009. Source: Billy Stickland/INPHO
His older brother Timmy, 31, returned to Highfield as player-coach after his enforced retirement from the pro game due to a neck injury.
Playing in his old position of number eight, Timmy led Highfield to promotion into Division 2B of the AIL last season and currently has them in contention for another leap up the ladder from 2A. One senses that Dave might end up back there some day too.
For now, his focus is solely on helping to ensure Agen are not relegated from the Top 14. They have won just twice in 13 games this season, but many of the defeats have come on narrow margins and the victories were against champions Stade Français and Racing 92.
"It's the most competitive league I've played in so far. Every week you're playing a big team and the way they treat the Top 14, it's almost like a European game every time.
"It's not insurmountable," says Ryan of the 10-point gap between Agen and Pau in the safety of 12th position. "It's a three-horse race between us, Oyonnax and Pau at the moment. We have to start winning those tight games, there've been too many where we've been close. Even picking up bonus points is a big thing."
Ryan initially joined Agen from Ulster last summer on a two-year deal, but such has been his impact at tighthead that the club have already added a further year to his contract. He was recently named in Midi Olympique's team of the week, a notable honour when playing in a struggling team.
Certainly life in the département of Lot-et-Garonne is a far cry from Ryan's upbringing in Munster.
A loosehead throughout his youth, Ryan first began playing tighthead with the Irish Youths and advanced on to Munster and Ireland U21 honours on that side of the scrum.
However, the presence of his brother Timmy in the Munster set-up was part of the reason he had reverted to loosehead by the time he became part of the province's academy.
Ryan was an exciting prospect within the Munster system, a powerful presence but also mobile and skillful. He progressed into the senior squad, making two starts and 11 appearances in total under Tony McGahan, but injuries continually held him back.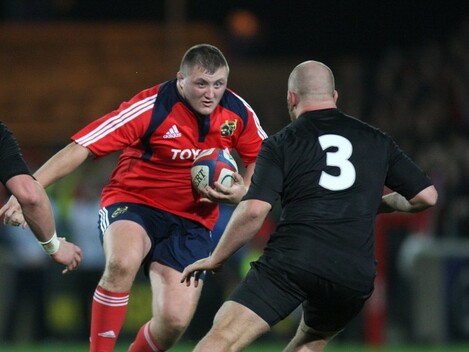 Dave's older brother, Tim, in action against the All Blacks in 2008. Source: Billy Stickland/INPHO
"I definitely have good memories and I enjoyed my time at Munster. The biggest thing in that time was that I couldn't stay fit. I picked up two serious injuries and I know what could have been if I had stayed fit. I always tell lads, 'Your best ability is your availability.'"
Still carrying a shoulder problem at the end of the 2010/11 season, Munster and Ryan cut their ties, though he has no hard feelings whatsoever. Indeed, he reflects positively on working with under likes of McGahan, Anthony Foley and Laurie Fisher – "probably the best breakdown coach I've had."
"I'll always consider myself a Munster man and that's what everyone says to me even here in Agen," says Ryan.
With his shoulder causing problems, Ryan considered packing it all in in 2011, until a call came from Italian side Lazio.
"The doc had told me my shoulder was pretty bad. He said I might need a bit longer to come back from it and I failed a few physicals with other clubs that I'd spoken to after Munster.
"But it just so happened that the Italian league was starting a lot later that year because of the World Cup, it wasn't starting until mid-October. It gave me that amount of time to get my shoulder right."
The move to Rome to join Lazio, where young Munster-born prop James Rochford is currently playing, proved to be exactly what the doctor had ordered for Ryan, who rediscovered a genuine love for the sport.
He says the stint in Italian domestic rugby "reinvigorated my passion for the game." He ended up playing against Timmy twice too, the eldest Ryan brother being contracted to Cavalieri Prato at that point.
"That move was the best thing for me, even on a personal level," says Dave of joining Lazio. "I was always in the Munster bubble of living at home, going to college in Cork, and playing all my rugby there.
"I figured out that you don't want to be a professional trainer. I just wanted to play games."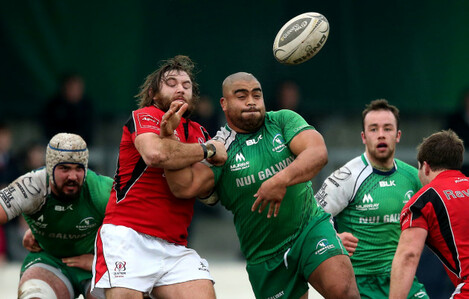 Ryan was on the books at Ulster last season. Source: James Crombie/INPHO
The move to Lazio also linked Ryan up with Argentinian coach Victor Jimenez, a technical scrummaging expert who has since moved on to work as Zebre's forwards coach.
"I was always very mobile but after four or five scrums in a game my legs would feel it," says Ryan. "I'd do scrummaging fitness sessions with Victor, where you're scrummaging for half an hour and running afterwards, to develop your legs.
"This was before the new rules, but we did a lot of pre-engage work and found our position, then maybe holding scrums for 30 or 40 seconds. That's the way the Argentinians work, they're a good scrummaging country. It opened my eyes to a different culture."
Crucially, Ryan also managed to stay fully fit and play 18 league games for the Rome-based club. Such was the impression he made in the Italian league, that the then newly-formed Zebre contracted him for their first foray into the Pro12 in 2012/13.
It was a major move for Ryan, back into a higher level of the professional game, but it also cut short his international career with the USA before it had even started.
While playing for Lazio, Ryan had come across another American player and spoken about the fact that his mother was US-born. Soon after, a phone call came from the Eagles.
"I had pretty much agreed to go over and they'd got me a ticket to go over for their June Tests, but then the deal came through in Zebre. Part of the deal was that they wanted me to keep my international eligibility open so I could maybe play for Italy on the three-year residency rule.
"I had to turn down America, who were really understanding about that financial security. They were real nice about it."
In the end, Ryan would leave Zebre to join Ulster just two months before he became Italy-eligible but he has never closed the door on the idea of representing America.
Himself and younger brother Paddy, currently playing with US back row Todd Clever at Newcastle, remain on USA Rugby's 'Eagles Abroad' list of players who are eligible to represent the national team.
Ryan remains US-eligible. Source: Donall Farmer/INPHO
Two seasons with Zebre allowed Ryan to make six appearances in the Heineken Cup, while he featured against the Irish provinces in the Pro12. By the close of the 2013/14 season, Zebre were going through a period of unrest off the pitch and the time was right to move on.
Ryan agreed a switch to Ulster with director of rugby David Humphreys and head coach Mark Anscombe, but both men had left Belfast by the time the tighthead actually made the move to Belfast.
"It was a frustrating season for me to be honest," says Ryan of a campaign in which he was not used by Ulster aside from playing for the Ravens. "They were good enough to let me out of the contract and I had the opportunity to come here.
"I just wanted to play rugby. The main thing it showed to me is that some boys like just being professional rugby players, but I want to play rugby. It's not about where I am, I just want to play rugby at the highest level I can.
"At Zebre and Ulster, I wasn't playing as much. Chatting to my family and my missus, they felt I was a lot happier when I was playing."
Ryan's agent, Niall Woods, engineered the move to the Top 14 with newly-promoted Agen and despite a difficult campaign so far, the tighthead is relishing the scrum battles every single weekend.
"You have so many nationalities and different beliefs on scrummaging here," says Ryan. "I went in against [Rabah] Slimani when we played Stade [Ryan featured briefly at loosehead on returning from his hamstring injury] and he's one of the smarter guys I've played against, the way he works referees even.
"He'll go in on an angle and then make it look like you're doing something wrong. That's the thing I've noticed the most down here; there's a bit more cheating allowed in the scrummaging down here.
"Even before the engagement, the binding and that, maybe a bit more hit and chase. They cheat a bit more and use it to their advantage, but if you don't get caught it's not cheating. If it's working for you, fair enough."
Perhaps as importably as the rugby, Ryan and the ever-loyal Aisling are delighted with their new life in France.
"After moving around a bit, it's been great here. Ais, she really likes it down here and we're really happy. She's been such a big support, moving to Italy with me, to Ulster and now here, so she's happy to stay and we're enjoying life here.
"Hopefully now we get the wins under our belt for the rest of the season."
Source: The42 Six Nations Show/SoundCloud