REWIND TWELVE MONTHS and David Breen was a Leinster Rugby staff member, basking in the glow of a national sporting triumph.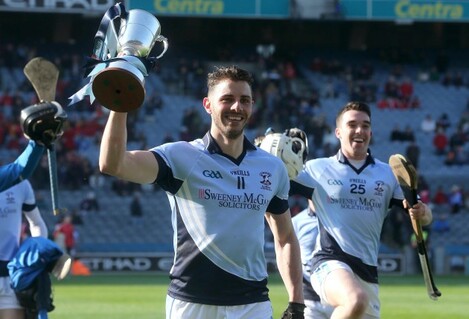 David Breen celebrating Na Piarsaigh's All-Ireland club win last March. Source: Lorraine O'Sullivan/INPHO
On St Patrick's Day 2016 he was celebrating as Na Piarsaigh became the first Limerick side to become the best senior hurling club in the country.
A physio with Leinster, Breen was one of two players toasting a Croke Park triumph that day who worked with the province – nutritionist Daniel Davey was part of Ballyboden St-Enda's football success.
A year on and Breen's sporting landscape has changed. The spotlight this week has been trained on Wasps duo Jimmy Gopperth and Marty Moore going up against old team-mates in Leinster.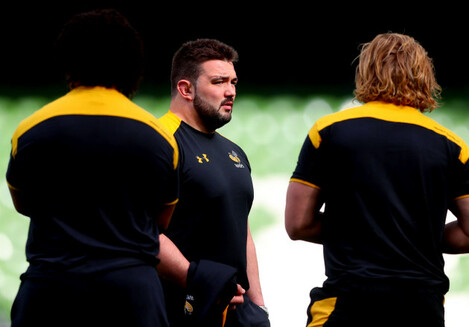 Wasps Marty Moore Source: James Crombie/INPHO
Breen is another at the Aviva Stadium today who will have had a foot in both camps. In late June last year, the former Limerick hurler moved to take up a position as first-team physio with Wasps.
"I thought there was a definite possibility that it could happen, the two sides meeting," says Breen.
"But to be honest when it did I was thinking more of Marty Moore and Jimmy Gopperth, it'll be interesting for those guys who'll actually be playing against the old team-mates.
"I was two years with Leinster, as a physio with the academy. The way Leinster runs, the academy and the first team pretty much train together as much as possible because Leinster first team use a lot of academy players on their training days, especially during international periods, when they've got so many guys away in camp and stuff.
"You're kind of mucking in and helping out with the first-team physios in Leinster as well. That experience was good. It's a small enough building in Belfield. The academy dressing-room and senior dressing-room are at opposite ends of the corridor.
"They use all the same gym facilities and they're pretty much on the same pitch when they train. You get to know all the guys pretty well."
Jonathan Sexton leads Leinster at yesterday's Captain's Run Source: James Crombie/INPHO
When he first joined Leinster, there was a familiar face given he had shared a classroom with Sean Cronin in Ardscoil Rís on the North Circular Road in Limerick.
"Sean would literally have been the only guy I would have known before I stepped in the door in Leinster.
"Even with Sean, I hadn't spoken to him for a good while other than meeting him here and there at things in Limerick. We were in the same class for many years in Ardscoil Rís, it was good at least knowing one person.
"From my experience, it usually takes around a season to get to know the players when you're working as a physio and for them to get to know you. After that you find your groove better."
By the end of his time in Leinster, he was well settled and ended up living with the one of the stars of Ireland's recent Six Nations campaign.
"The first year with Leinster, I was living over on the northside of the city. For the second year I said having to commute from one side of the city to the other, as well as from Dublin to Limerick for hurling, was painful enough.
"We got a place over in Dundrum, myself and guy I was living with, and Tadhg (Furlong) was looking to move at the time out of the Clontarf Academy house where he had been for five years. So the three of us ended up living together."
"Tadhg has had a brilliant season obviously with Ireland and over the last 12 months and if he can just keep going now, keep cementing his place in the Irish jersey.
"It's been helped by the fact that Marty has left Ireland as well and the policy that they have there as regards Irish players overseas. I think if Tadhg keeps going the way he's going, I don't think there's any reason why he can't be in the top tightheads in Rugby Union."
Being immersed in a different sporting environment has been an instructive experience.
"It's been really interesting. Even just comparing the Premiership to the Pro12, the dynamics of the club are a little different with 12 English Premiership clubs against four provincial sides in Ireland that make up part of the Pro12.
"There tends to be more of an emphasis on performance on the year, in Ireland there was more of a focus on development of your Academy and really putting the time and the money into the Academy so that those boys can graduate up to the first team.
"What I've found in the Premiership, there tends to be a bigger turnover of players at the end of every season."
Ever since the Six Nations drew to a close, it's been a hectic time shifting focus back to the club game. Wasps stand at the summit of the Aviva Premiership and topped their pool in the Champions Cup. They've big ambitions for the rest of the season, planning a twin assault now as they enter a key phase.
Source: James Crombie/INPHO
"We had the Worcester game at the weekend and now we're back in to preparing for a quarter-final in Europe," says Breen.
"With opposition like Leinster at the Aviva, you need to get your head on pretty quickly and try to get back up to speed.
"We've four regular England internationals joined back up – (Joe) Launchbury, Elliott) Daly, Nathan Hughes and (James) Haskell. On top of that you've Tommy Taylor and Matt Mullan, who've kind of been in and out of the England camp.
Ireland's Jared Payne is tackled by England's Joe Launchbury Source: Inpho/Billy Stickland
"I think it gives a huge boost to the rest of the squad when you've a full complement out on the pitch."
Today is a showdown they have been eyeing up for a while and there's been a feverish anticipation in the build-up this week.
"It's going to be a really good atmosphere, electric," says Breen.
"I think the guys here are really looking forward to it. Any player, it's why they play for those big days. Playing against serious opposition, you have to produce the best. It should be a cracker."
The42 is on Instagram! Tap the button below on your phone to follow us!