THERE'S EVERY CHANCE he'll take to the throne in The Kingdom and even beyond, but let's not get carried away with Kerry minor star David Clifford, so says a man he may well line out alongside next year.
Having represented his county for the past 12 years, four-time All-Ireland winner Darran O'Sullivan has seen his fair share of youngfellas threatening to go nuclear before fizzling out long shy of the mantle prematurely bestowed upon them by the public.
O'Sullivan, like the rest of us, watched Clifford hit an astonishing 4-4 as the Fossa forward led his county minors to their fourth consecutive All-Ireland last Sunday. The 31-year-old reckons Clifford is ready for the big-time, but remains adamant that he should dip his toes, as would be the norm, rather than be flung straight into the deep end such is his outrageous talent.
"Looks it," he nods when asked if Clifford is ready to test the waters at senior level. "He's big, he's strong, he has pace, he has all the natural skills. Obviously it's a pity that if he plays senior in the league, he can't play in the 20s, because that's a good development too for a young lad. But he's definitely ready.
"I don't want to put too much on his shoulders, like, because I think people need to keep themselves in check a small bit there. It's not that easy for an 18-year-old to go from being the star of a minor team to the star of a senior team.
"He's definitely ready, but it'll take time. I don't think people can expect fireworks straight away from him, d'you know? It's going to take time for him to get used to senior football, because it's a totally different game."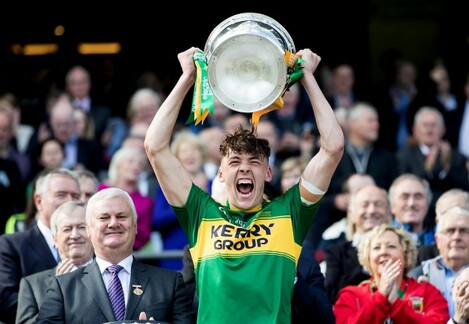 Source: Tommy Dickson/INPHO
As to how far the high-scoring forward can go in the sport, O'Sullivan is again keen to temper expectation. Were it to be based solely on talent, Clifford would doubtless rule the roost in due course.
But as O'Sullivan knows well at this stage, there's more to his sport than talent alone, and without first-hand experience of training alongside the East Kerryman, he remains hopeful but uncertain that Clifford possesses all the right ingredients to become a giant of the game.
"I don't know," he says. "He has all the ability to go right to the top, but it takes a lot more than ability to be honest. You have to be a very tough individual to be able to ignore a lot of the plaudits, keep doing the simple things, keep doing the things that have made him such and exceptional minor.
When it comes to skill, he seems to have it all. But I've seen a lot of very skillful, very talented footballers come in and fade away. So it comes down to how badly you want to do it.
Be part
of the team
Access exclusive podcasts, interviews and analysis with a monthly or annual membership.
Become a Member
"The talk is that he's a very level-headed guy, that he wants to improve all the time – and I'm hoping that's the way it is. But he seems to have all the tools at his disposal, so it's about keeping the head right, keeping the head down, focusing on the basics and making sure he's there to help Kerry in the future."
Of course, in spite of discourse to the contrary, there remains a possibility that the 18-year-old will reside a full 16,000 kilometres south-east of his prospective Kingdom by the time O'Sullivan and co. return to inter-county action in the winter.
"It's definitely a risk," says the Sky mentor, who was in Abbotstown's GAA National Games Development Centre to announce Sky Sports' new grassroots partnership with the GAA.
"Any young talent from whatever county, if they're any way decent the Aussie Rules are sniffing around – we're not going to get rid of that. I probably know as much as ye do.
Supposedly, he's going to stay around, but I don't know. I have no clue. I'm hoping the lure of Kerry – putting on the green and gold jersey at senior level, hopefully winning All-Irelands – will be enough to keep him around.
"He had a massive occasion bringing the minor cup back to Fossa the last day, and hopefully the dream maybe of bringing the Sam Maguire back to Fossa will be a big thing for him as well."
A full interview with O'Sullivan will be published on The42 tomorrow.
Sky Sports today announced it is partnering with the GAA on three major grassroots initiatives which will see the broadcaster invest a total of €3m over five years. Today's announcement was made alongside the launch of The GAA Super Games Centres at GAA National Games Development Centre, Abbotstown; the first of the three grassroots initiatives that Sky Sports will support.
Subscribe to The42 podcasts here: