ONE YEAR AGO exactly, David Moyes was sacked as Manchester United manager. But, what if that hadn't happened? What if the Glazers stood by the much-maligned Scot and persevered? What if the likes of Angel di Maria and Falcao were signed last summer but played under Moyes instead of Louis van Gaal?
We've re-imagined how this season would've played out had 'The Chosen One' remained in the Old Trafford hot-seat.
August – December 2014
United endure a difficult opening month to the season as Moyes continues to try and secure the services of Toni Kroos. He sticks to what he knows and partners Wayne Rooney with Danny Welbeck for the opening game of the season. With huge injury problems at the back, Moyes is forced to play Darren Fletcher at centre-back and it proves a disaster as Swansea score three at Old Trafford – Wilfried Bony grabbing a brace.
Away to Sunderland, United manage to grab a point thanks to an own goal from John O'Shea. Robin van Persie returns after his World Cup exploits but struggles to find his feet. Moyes sends out a solid looking side against MK Dons in the Capital One Cup and United get their first win of the season thanks to goals from Javier Hernandez and Wayne Rooney but the best is yet to come.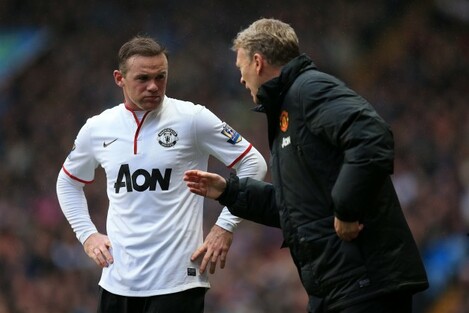 Source: Mike Egerton/EMPICS Sport
Days later, Ed Woodward secures the services of Angel di Maria and Falcao though Toni Kroos decides to move to Real Madrid and Moyes scrambles to find another midfielder before the window shuts. A desperate attempt to sign Paul Pogba ends in failure as the Frenchman signs a new deal with Juventus. Despite interest from Arsenal to take Welbeck on loan, he stays put.
Still, Moyes is defiant and can't wait to accommodate his new players in the team.
Manchester United is a world-class organisation and these guys are two world-class players. They'll fit right in here and we'll do our utmost to iron out the problems we've had in the games so far."
The pair make their debut at Turf Moor against new-boys Burnley but it proves an anti-climax as Danny Ings scores the game-winning goal from the penalty spot.
Winless after three league games, Moyes feels the pressure but Welbeck scores against QPR while Falcao and Di Maria both net against Leicester as United pick up back-to-back wins. But the Colombian injures himself and is out for a month. There's some good news as United easily brush past Bradford to reach the 3rd round of the League Cup.
With Rooney suspended after a red card in a dull draw with West Ham, Van Persie and Welbeck fail to gel in attack and United are beaten by Everton at Old Trafford. There's better news at the Hawthorns where Di Maria scores a wonderful free-kick to push past West Brom 2-1.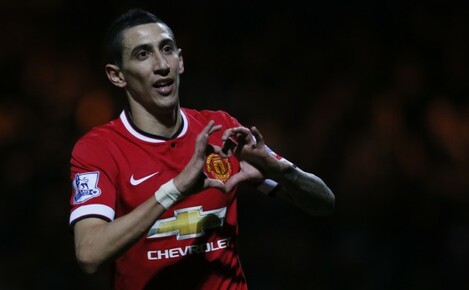 Source: AP/Press Association Images
By the time Falcao returns, United prepare to face Chelsea at Old Trafford, Moyes has big decisions to make. He selects Wayne Rooney in central midfield and plays Falcao and Van Persie through the middle with Juan Mata and Di Maria on either flank. United are blitzed. With little movement in attack, John Terry and Gary Cahill stroll through proceedings. Trailing 3-0 with an hour gone, Moyes brings on Shinji Kagawa and Nani. The latter is booked for diving as he tries to win a penalty before bringing down Cesc Fabregas later in the game to concede one. Eden Hazard converts and though Rooney scores late on, it's scant consolation.
After the game, ex-United player Rio Ferdinand posts a less-than-subtle message to social media.
In the build-up to the Manchester derby, Moyes irritates supporters with a timid press conference. With 11 points from 9 league games, reporters pester him about not getting the full benefit from record-signing Angel di Maria while he dodges questions about Falcao's fitness and the lack of game-time afforded to squad players like Hernandez, Welbeck and Kagawa while his relentless faith in Falcao, who has flattered to deceive since joining is also questioned.
These players play for a wonderful institution of Manchester United. This is a tough place to ply your trade and there's plenty of competition for places. I've told the whole squad, 'Listen, it's not going to be easy so you've got to fight for your places'. And this is a fantastic group. Hopefully, they can understand and they can get Manchester United back to where the club belongs. Regarding Falcao, he is a superb striker. Yes, he's having some difficulties but we all them sometimes. I have faith and he's a big name and that's why he's playing at a big club like Manchester United."
Falcao scores against City with a tap-in. It proves nothing more than a fleeting moment of positivity as the home side score three in response. Another defeat.
The rest of November is better. Wins over Crystal Palace and Hull but there's a defeat at the Emirates after a calamitous mistake from Tom Cleverley allowed Alexis Sanchez score the winner. Afterwards, the rumour mill is in overdrive as United are linked with a January move for Everton pair Ross Barkley and Seamus Coleman while Welbeck is still wanted by Arsenal.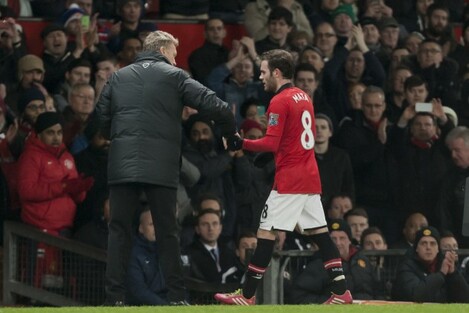 Source: AP/Press Association Images
In December, United beat Stoke and draw with Southampton thanks to a rare goal from the forgotten-figure of Juan Mata. But there's another collapse against Liverpool where Brendan Rodgers' side rack up a 4-2 win. The post-game analysis centres on the poor performance by Marouane Fellaini in a holding midfield role. Clearly rattled by the line of questioning, an irritated Moyes defends his very first United signing.
For me, Marouane is tailor-made for that position. He's big and strong and is an imposing figure. Yes, he found it tough today and he knows that. At Everton, I used him in a different role, higher up the pitch. But I have Rooney, Van Persie, Falcao, Welbeck, Hernandez to play up there. This is Manchester United. There's a United way and I have huge confidence that Marouane will go on to become a great United defensive midfielder."
United round out 2014 with victories over Aston Villa and Newcastle while there's a 1-1 draw at Tottenham. From 19 games, United managed a meagre 28 points – good enough for 9th place.
January – April 2015
The new year brings some changes. Wilfried Zaha is sent on loan to Crystal Palace while Shinji Kagawa is allowed return to the Bundesliga and joins Borussia Dortmund until season's end. The goodwill between the clubs sees Moyes try to tee up a summer move for Mats Hummels but the word across Europe is that high-profile players are worried by United's lack of progress and how poor Di Maria and Falcao have fared under the United manager.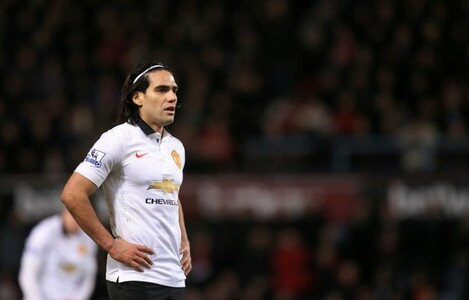 Source: PA Archive/Press Association Images
The month has its ups and downs. Two league draws against Stoke and Southampton and wins over QPR and Leicester are overshadowed by a humiliating 1-0 defeat against Yeovil in the FA Cup 3rd round. Moyes apologises to the United fans after the game.
"They're the best supporters in the world and they deserve better than that. This is a remarkable club with a proud history in this competition. I really wanted to do well in the Cup and now we just have to hope to push on in the league."
In February, Rooney, who has played the majority of the season in midfield, scores a hat-trick against West Ham but only after being pushed up front due to an injury to Robin van Persie. Di Maria sets up all three and enjoys his best game since arriving in English football.
United beat Burnley at home with Falcao scoring just his fourth of the season. But in quick succession, the team lose back-to-back games against Swansea and struggling Sunderland. Wayne Rooney takes to Twitter to vent his frustrations. According to reports the following day, the United captain was making a dig at Moyes' persistence with Falcao and how it was making him look a fool.
In March, gossip begins to grow linking Di Maria with a move to PSG after a disappointing debut season while it's widely believed Falcao will not complete a permanent move.
Still, Di Maria nets against Newcastle where United pick up three points and against Arsenal where Rooney scores a game-winner. The unbeaten run continues against Tottenham but at Anfield, Rooney's missed penalty proves costly as United lose 2-1.
The under-used Herrera scores his first of the season in a 2-0 win over Aston Villa but back-to-back defeats come against Manchester City and Chelsea.
With the season ebbing towards conclusion and with United in 8th place, the media widely speculate the Glazer family have lost patience with Moyes and have seen little to encourage them to persist with him in charge.
After the Chelsea defeat, Moyes responded to the whispers.
This is a massive job and this club gave me a long-term contract for a reason. We have plenty of work to do and we'll really try our best to give the fans something to cheer before the end of the season. European qualification looks unlikely now and that's a blow. It's a blow for me, for this great club of Manchester United and all we can do is try harder to be better. But I'm focused on getting on with the job I was tasked with. Believe me, this club will be back at the top very soon."