IF DAVID MOYES needed any more proof that managing Manchester United was a job on a scale unlike any he'd known before, today's fall-out from the Champions League loss to Olympiakos would have convinced him.
The morning after the 2-0 last 16 first leg defeat in the Greek port of Piraeus, utterly unsubstantiated rumours of an imminent announcement by United to the New York Stock Exchange regarding Moyes' position surfaced.
They evaporated as quickly as they had appeared on social media but that the NYSE is where United's shares are traded is evidence of what a huge commercial, as well as sporting, institution the English champions have become.
Certainly the NYSE was not something Moyes had to worry about at former club Everton and it seems almost quaint to reflect that when he was a boy, United's chairman was a Manchester butcher.
However, one enduring tradition in English football which has survived decades of upheaval on and off the field is the dreaded "vote of confidence' where a public expression of support for a manager is quickly followed by his sacking.
Moyes ought, then, to be pleased by the lack of official comment following last night's reverse.
In the view of some observers, Moyes had an 'impossible job' in succeeding Alex Ferguson after his fellow-Scot, British football's most successful manager, retired at the end of last season.
However, Moyes was also given a six-year contract and the public backing of his illustrious predecessor, so it would be far more embarrassing for the United hierarchy than their manager were he to depart anytime soon.
Yet, with reigning English champions United out of both domestic cup competitions and 11 points adrift of the top four in the Premier League, Tuesday's defeat was the last thing they needed.
What made things worse was the manner of a defeat, with United conceding two goals — the second a curling shot by an Arsenal player on-loan to Olympiakos in Joel Campbell who Gunners boss Arsene Wenger seems in no hurry to recall — and failing to trouble the Greek champions' goalkeeper.
"Not Bayern Munich or Barcelona. Not one of the potential winners. Olympiakos. Manchester United pulled the plum out of the Champions League draw and choked on it," wrote Daily Mail columnist Martin Samuel.
Netherlands striker Robin van Persie, who unusually shot high over the crossbar in the closing minutes in Piraeus, was optimistic United could turn things around when Olympiakos came to Manchester.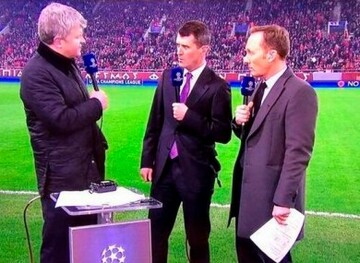 Source: ITV
"It is still possible, because with all due respect to Olympiakos, we should be able to win 3-0 at home," he told Dutch TV.
Mind you, his bullish mood was nothing compared to that of Lisa Carrick.
The wife of United midfielder Michael responded to television criticism of her husband's performance against Olympiakos from former club captain Roy Keane by tweeting: "Roy Keane what a **** says anything to provoke a reaction."
It is an approach Moyes may feel like adopting with Mr Carrick and his team-mates ahead of the second leg.