Corkman Frank O'Farrell was sacked after 18 months.
Image: PA Archive/Press Association Images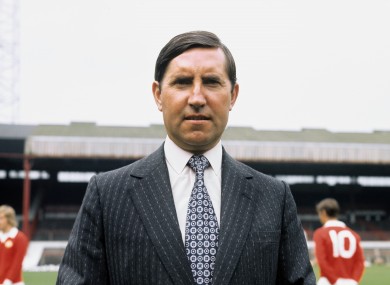 Corkman Frank O'Farrell was sacked after 18 months.
Image: PA Archive/Press Association Images
FRANK O'FARRELL WAS sacked after 18 months as Manchester United manager. Unable to deliver consistency to an ageing side, his second season in charge came to an end prematurely.
He had signed a five-year deal but, from the initial contract negotiations, something wasn't quite right.
Matt Busby called O'Farrell in the summer of 1971 and offered him the job. A salary of £12,000 was put forward. O'Farrell accepted and met Busby again the following week, this time along with United chairman Louis Edwards. Crammed into the back of Edwards' Rolls Royce, the terms of the contract were mentioned again. Busby confirmed the £12,000 salary. But Edwards interrupted. Busby, it seemed, was incorrect. The salary was £15,000. Busby, intent on duping O'Farrell from the outset, had been found out.
After his humiliating exit from the club, O'Farrell would spend nine months relentlessly battling with United and threatening legal action in an effort to get the compensation he was owed. Unemployed, he signed on the dole at Salford Labour Exchange. The manager of the place recognised O'Farrell and would serve him at the back door to save the embarrassment. Days before the case was due to be heard in court, United settled.
Tommy Docherty, the man responsible for the 1977 FA Cup success — the first big trophy United won for nine years, tells of the long-lasting effects of his spat with Alex Ferguson. Docherty asked United for two match tickets for his daughter's 21st birthday. United obliged and included an invoice for £44.
Many have criticised how Manchester United have handled the removal of David Moyes as manager. Many have questioned why the whole process has been so classless and lacking in both grace and style. Many have been damning in their criticism. Many have cried that this isn't 'the United way'.
'The United way' has got them in this sorry mess. Arrogant to the point of stupid. The naivety of appointing a calm, thoughtful, sensitive football soul to a long-term deal in the hope that he could, somehow, become a mini-Ferguson, was surely dreamed up by a deluded bunch, giddy on their own sense of self-importance. The painting of how Moyes and Ferguson were some sort of kindred spirits, with similar working-class backgrounds, missed the bigger point.
United didn't want Jose Mourinho because he was a loose cannon, a sometimes terse and difficult character who stubbornly blamed others, refused to take responsibility for his own errors and grew increasingly paranoid about the media. Sound familiar? The thinking behind the Moyes appointment appeared to be: 'we do things differently here'. That strategy failed to appreciate the freak-like tenure of Ferguson and the unceremonious dictatorship he oversaw. Under Ferguson, United was a different proposition. As soon as he left, the club became like any other.
On the first day of United training under David Moyes, the players went on a long-distance run. Rio Ferdinand roared, "What are we now? Manchester fucking Harriers?" On the first day of training, David Moyes had a clear idea of what 'the United way' was. Something respectful, graceful, stylish? No. Instead, it was the same atmosphere that exists at every club when a new, unproven manager arrives: a toxic mix of arrogance, reluctance and petulance. Throw in some suspicion and posturing and it's the perfect cocktail for chaos.
Of course, there's a steady tide of United supporters who will use the Moyes sacking as an opportunity to criticise the Glazers ('the United way') but the owners have acted swiftly and acknowledged the misguided strategy of appointing Moyes in the first place. They were sold on an idea of United being different from the rest, on having the ability to stand out from the crowd without Ferguson. It was folly. It was fantasy.
It might be tough for some to stomach – United as just another club. But, all they have right now is history. An illustrious history, certainly, but in between two long-serving managerial stalwarts, there's been a mass of controversy, fall-outs and plenty of failure. From here on, it's not about re-creating the past – it's about securing a successful future. The strategies deployed to do that are irrelevant. United were stubborn enough to believe they could do things differently. They thought they could suffer through an embarrassment of poor results and, more importantly, a litany of abject performances, all because of the 'the United way'. It's not always the right way.
United is a club proudly built on history and tradition. It's a club with foreign owners. It's a club that desperately needs to off-load players and sign new ones. It's a club that has attained incredible success. It's a club struggling under the weight of an icon's departure. It's a club that's failing. It's a club that's just sacked a manager. It's a club that will eventually appoint a new one.
Right now, it's just another club.