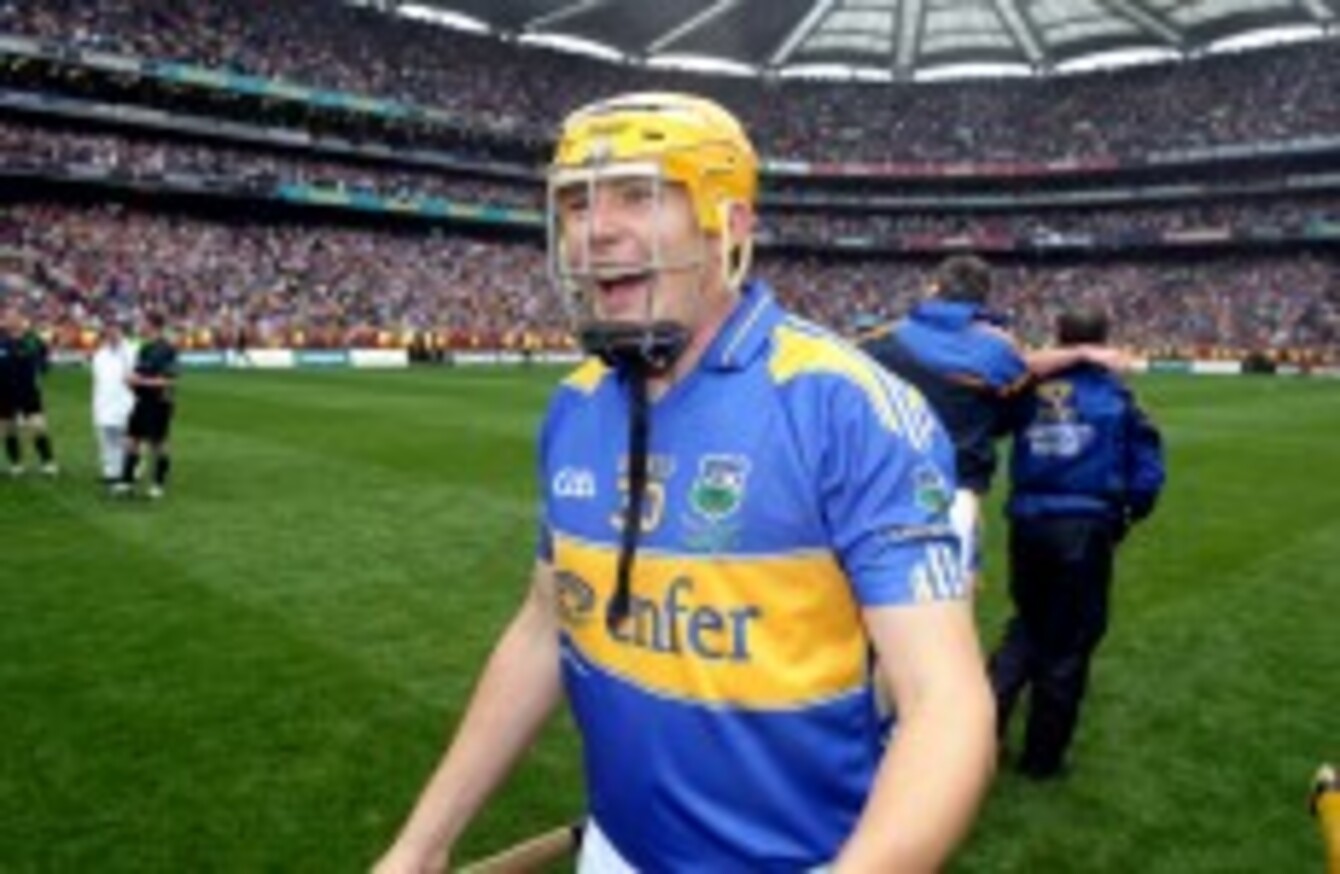 David Young celebrates All-Ireland senior hurling championship glory with Tipperary in 2010
Image: Cathal Noonan
David Young celebrates All-Ireland senior hurling championship glory with Tipperary in 2010
Image: Cathal Noonan
IT WASN'T ALL bad news for Tipperary on the opening weekend of the Allianz Hurling League. The Premier County may have suffered a big defeat against Dublin at Parnell Park but one of their 2010 All-Ireland winning stars got off to a flier in his new career with the Kildare seniors.
Toomevara's David Young scored two first half points from wing-back as the Christy Ring Cup holders scored a comfortable ten-point victory against Kehoe Cup winners Meath in Division 2A. The 29-year-old was assisted by fellow Tipp natives Denis Stapleton (Sean Treacy's) and Willie Greene of Moneygall, who is Young's second cousin. Young was man of the match while Stapleton and Greene both came on to make substitute appearances.
The trio are following in the footsteps of David Kennedy, Paddy O'Brien and Johnny Enright, other Tipperary hurling stalwarts who have also worn the Kildare shirt.
The Tipperary connection doesn't end there as Kildangan's Brian Lawlor is team manager and Young's Toome' clubmate Tom O'Meara is on board as selector. And Young has been mightily impressed by what he's seen so far, insisting: "It's as professional a set-up here in Kildare as any Liam MacCarthy team.
There is some serious work going on with Kildare hurling. The U21s won the All-Ireland B last year and will be playing in the A championship this year.
Young, a teacher at the Templemore College of Further Education, will continue to hurl with Toomevara in the Tipperary SHC. And with Kildare, he's targeting big things for the coming season.
He said: "Promotion from Division 2B is the big thing because Kildare were relegated last year. That's the first step. Meath is one of the biggest rivalries that Kildare have in hurling so to go up there and win was a massive thing. We didn't think we'd win by that much (0-24 to 0-14) but we're delighted with the win. Our target was to beat Meath because they had beaten Wicklow in the Kehoe Cup final, who had beaten us. We knew it was going to be a battle but we worked very well as a unit."
Young was on hand to pop over two trademark long-range scores but he modestly explained: "In fairness, that came from the vision of the half-forward line to pick me out.
"The management told us to use the all well, work the ball up the field and give it to the man in the better position. We got some great scores because of it – working the lines and working the ball."
Young is looking forward to next Sunday's second League outing of the year against Down, who also got their campaign off to a winning start with victory over Armagh. But before that, he'll have a close eye on tomorrow's Fitzgibbon Cup quarter-final between Davy Fitzgerald's Limerick IT and DJ Carey-managed IT Carlow.
He revealed: "There are hurlers in our set-up that would make any intercounty team. Martin Fitzgerald is hurling with Limerick IT and Gerry Keegan with Carlow IT. And with Kildare, we have Niall Ronan, the former Munster Rugby player as strength and conditioning coach."
Young added: "Targets were set out at the start of the year to retain the Christy Ring Cup and to gain promotion in the league. Hopefully after that you'd be looking at little more long-term at promotion to Liam MacCarthy. Pre-season went very well. We've been training since the first week of December and we're into our second week of hurling.
"The lads are in top shape and the conditioning of some of the players is unreal."
Naturally, Young will also be keeping a close eye on the fortunes of Tipperary, having also captained his home county to All-Ireland intermediate glory in 2013.
"Unfortunately I didn't get to see any of the Dublin game," he said. "I was gone yesterday and missed the highlights last night but I'll sit down to watch them this evening. It was a disappointing day but the training is tough at the moment. And with the intensity of the training and having to play on the weekend, it's difficult to try to perform at the best of your ability. It's the same for the other counties but it's early in the year and Tipp will be hoping to bounce back against Galway next weekend."