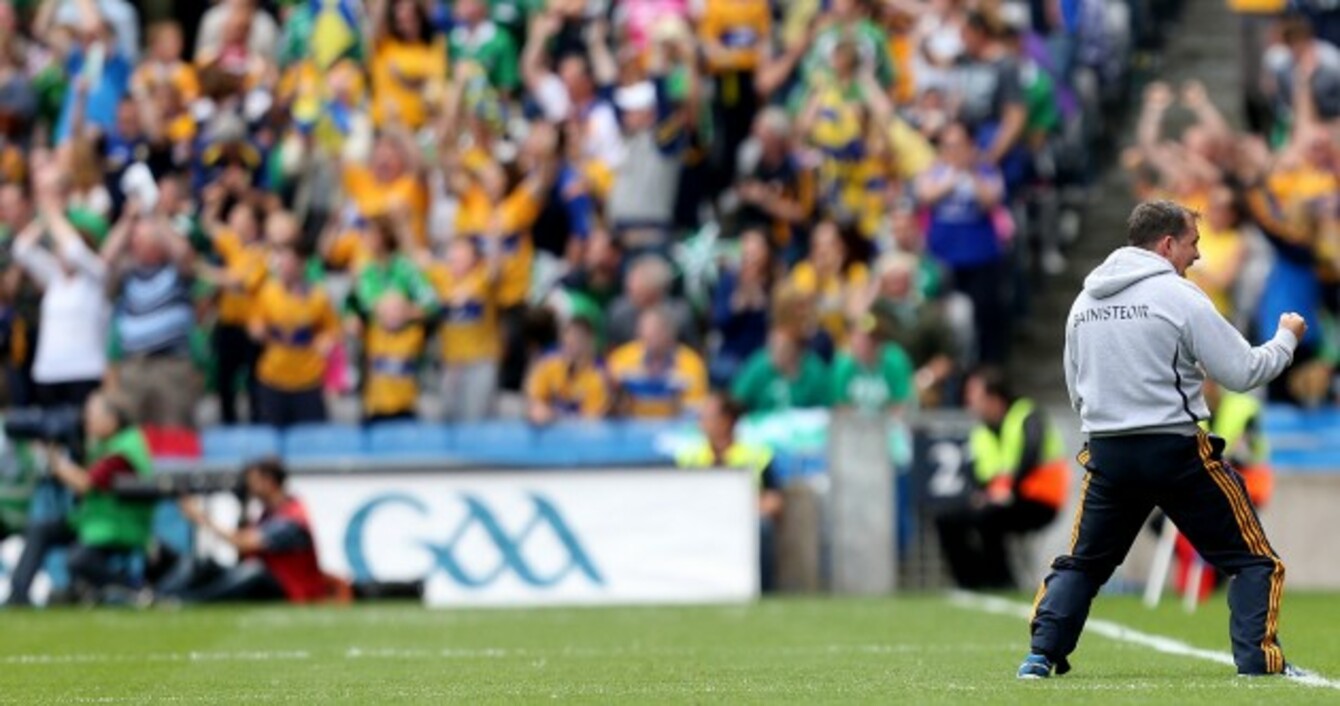 Image: ©INPHO/James Crombie
Image: ©INPHO/James Crombie
DAVY FITZGERALD HAS been in All-Ireland finals as a player and as a manager and has learned a few tricks along the way.
He knows the battle he faces now if he is to keep a lid on the hype and and keep Clare focused ahead of the county's first All-Ireland final since 2002.
Yesterday in Croke Park his young side — which again featured four starters under the age of 21 — played with a confidence and maturity completely at odds with the setting and scenario. They outplayed Limerick in every department and, in the final reckoning, deservedly beat them by seven points, 1-22 to 0-18.
How good were they?
"The way we have to rank it is that Clare have been in five or six finals [seven] in over 120 years," Fitzgerald said afterwards. "That's where you rank it so that's a pretty big achievement no matter what happens.
"I am so proud of these young lads. They are an example to everyone playing the game because they work so hard, they never say die.
"Have we taken a lot of stick in the last year and a half? We all have but they kept coming back and it's nice when you know that when you ask them to do something, they'll do it."
Bookmakers immediately made Clare a 6/5 chance for the All-Ireland final on 8 September with Cork slightly shading favouritism at 5/6. Between now and then, Fitzgerald stresses, his side still have a lot of work to do.
"Was it a super performance? You might say it was but I don't think it was because we gave Limerick too many shooting opportunities. They missed a lot of scores in the first half.
"If we do that to Cork, Cork will punish us and we know that. We have to learn lessons for today and I hope we will."
As for managing the buzz and expectation of the coming weeks, Fitzgerald knows what has to be done.
"I know what comes with an All-Ireland and I could see it in the last week in Clare. It probably took us a while to get going down in Clare as regards getting the flags and the bunting out but it definitely took off over the last week and it kind of reminded me of the mid-90s.
"We're in tough times. Has this given people a lift in Clare? It has and I think that's fantastic, but my job with the team is 8 September.
"We'll have a few bits of PR that we have to do here and there, and we'll do them, but at the same time there's only one job and that's to prepare the team for 8 September and they've got to remember that too.
"3:30, 8 September; all the sideshows don't matter."