CLARE SENIOR HURLING manager Davy Fitzgerald has met with a local journalist to clear the air after the pair clashed last year.
Fitzgerald made his feelings known to the Clare Champion's Peter O'Connell in the Cusack Park tunnel following last summer's drawn All-Ireland senior hurling championship qualifier at Cusack Park.
Fitzgerald later stated that he would not conduct any future interview with O'Connell and would not talk to the print media after games if the reporter was present.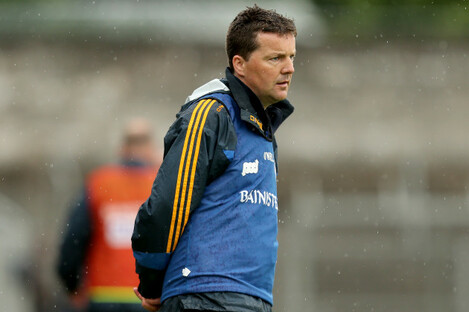 Peter O'Connell previously managed the Clare junior footballers. Source: James Crombie/INPHO
But Fitzgerald met O'Connell yesterday morning at the Templegate Hotel in Ennis and the best bits can be read in this week's Clare Champion.
In the interview, Fitzgerald discussed a number of topics, beginning with how on earth he was sitting down with the man he had confronted last year:
Peace talks:
"It was suggested that me and you talk. When it was put to me would I, I said fair enough. We might have had issues in the past.
"Things I wouldn't have been happy about and you have things you wouldn't have been happy about. But listen, this is moving forward.
The way I look at things any more is, I'm not looking into the past, I'm looking forward. That's not going to stop you writing stuff or it's not going to stop me having my opinions and that's it."
Referees:
"If you take the end of the 1990s, it was definitely there.
"We had a big problem with referees. I don't have any major problem with them.
He (Colm Lyons) came over to me the last day (against Limerick) because I questioned a ball that was thrown in front of me.
We discussed that there and then and he understood what I was doing. I think it is pretty unfair that the camera seems to be on me all the time.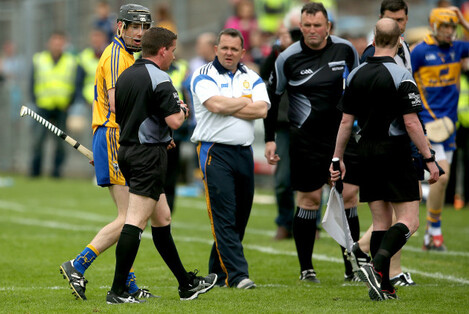 Davy Fitzgerald speaks with Colm Lyons after Clare captain Patrick Donnellan was sent off against Limerick. Source: James Crombie/INPHO
"RTE will probably show three or four minutes of me over 75 minutes but isn't it funny they get me when I'm asking a question?
"If I'm like a dummy on the sideline and say nothing, I'll have the Clare crowd giving out about me for not saying anything. You can't win in my position."
Tactics:
"Like any team you'll have a certain few tactics or a pattern of play but you take a fella like Tony Kelly, nine times out of ten my words to to Tony are 'go and play where you want.'
"That would be to the likes of him, other guys you might ask them to track back.
"It's nothing exceptional and they are not tied to anything. We might have two or three different game plans we can change to with formations. The formations are to allow freedom up front and maybe to help in defence a small bit.
Be part
of the team
Access exclusive podcasts, interviews and analysis with a monthly or annual membership.
Become a Member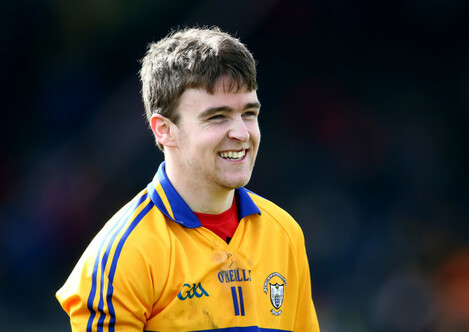 Tony Kelly has the freedom to roam, Davy Fitzgerald has insisted. Source: Cathal Noonan/INPHO
"We might have a certain amount of tactics but the biggest message for me is play with freedom and that's even at training for the last few nights.
"I feel, even the last day, they are trying to do everything so well and do everything on the button."
Micro-management:
"There is a bit of slack. The only thing is when they are off the drink at a certain spell, I ask them to ring me when they are going out so that someone won't ring me and say 'I heard x or y was out'. I trust them.
"Every now and again a guy will make a mistake. I'm not going to kill him over that. It's just about keeping a happy medium so that we don't go absolutely ballistic."
THAT interview with RTE's Clare McNamara:
"I haven't looked at that interview. The only thing, for the record, that I was upset about, was the four minutes. I saw four minutes on the fourth officials board.
"I was adamant, I asked the question and I didn't get a proper answer to it. That's all that annoyed me. I'm a passionate Clare man and I'm not going to change that.
Source: RTÉ Sport/YouTube
"While there are certain things that I would like to change maybe in interviews, I can't change that. That's just the way it is.
"As much as certain people would like to think I like being in the pubic eye, I absolutely detest it. I live a very simple life. I'm not perfect but I don't go out too much. I stay in my own environment."
Colm Galvin:
"I've texted his dad. I don't know yet if he's coming back. I'm trying my level best.
"His dad is a massive Clare man and Clonlara man. You'd never know. Hopefully he might. He loves his county and his club."
Paul Kinnerk's return in 2016:
"He told me he would. I trust Paul and I have great time for Paul.
"We'd be really tight. He's going away travelling now for a few months which he said he was going doing. I want to make sure himself and Maggie have a great time.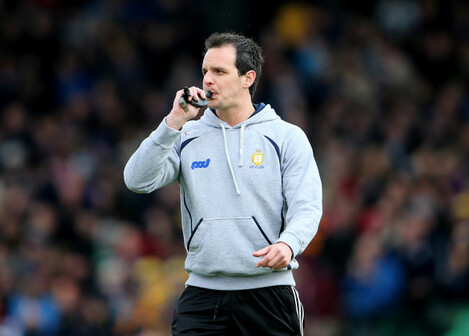 Paul Kinnerk is tipped to return to the Clare set-up in 2016. Source: Cathal Noonan/INPHO
"He deserves a good break. My ambition and hope is that he will be back with Clare next year. That was always the plan but we'll have to sit down when he comes back and see what the story is.
"I think it wasn't a bad thing for Paul to take a year out because Paul had worked with the guys for a long time and I think a year out will be no harm.
"Hopefully he won't have changed his mind from what he told me last year. If he does he'd be welcome back. Anyone of my team that are gone, I'd love to have them back."