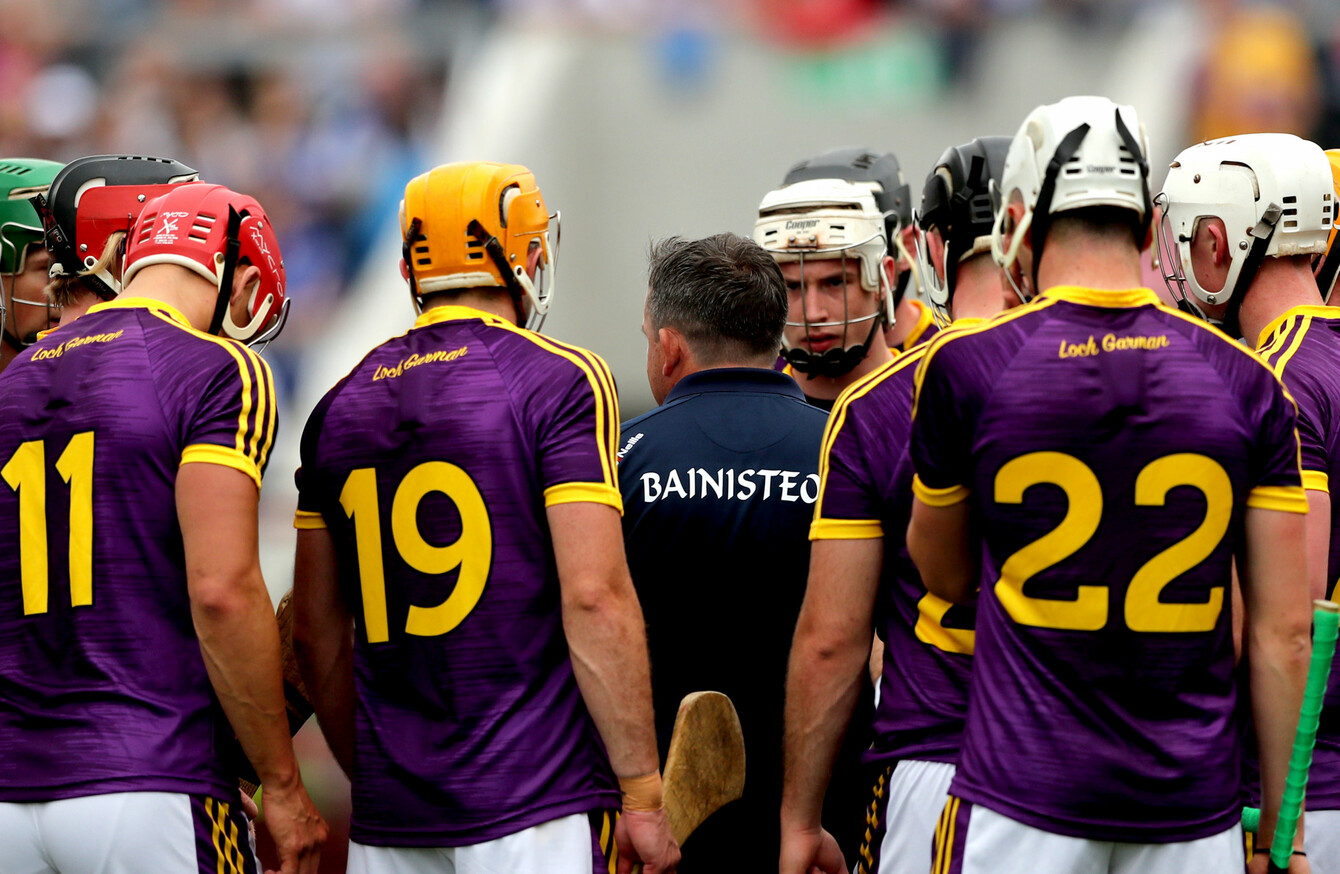 Davy Fitzgerald and his Wexford players before yesterday's game.
Image: James Crombie/INPHO
Davy Fitzgerald and his Wexford players before yesterday's game.
Image: James Crombie/INPHO
DAVY FITZGERALD WILL take some time before deciding whether to return to take the managerial reins again with Wexford in 2018.
Wexford's season drew to a close with yesterday's defeat against Waterford in the All-Ireland quarter-final.
But they made huge progress in 2017 in claiming league promotion from Division 1B and contesting the Leinster final.
Fitzgerald did not confirm whether he will be back next season, pointing to the difficulties of the travelling involved from his home in Sixmilebridge to Wexford's training base in Ferns.
"The way I was treated down there by the county board, supporters, everybody – the players never once questioned anything I did.
"If I asked them to train four nights in a row, they never questioned it. It was a breath of fresh air, it was lovely. I enjoyed it.
"To see the way they hurt inside, they hurt. They believed they had a chance to win today and they're hurt in there. I couldn't be more proud in there and I see it as a good year for Wexford.
"I'm taking a bit of time to reflect and see what the story is. It's a long drive. I'll consult my family and see what the story is. My heart…I really love this.
"I don't know what's going to happen. Can I say anything? I'll take a bit of time, but I couldn't speak highly enough of them.
"I'm just taking a bit of time to think about it, that's what I'm going to say. You'll appreciate it's two hours 45 minutes down, you leave at one or two in the day and you're not home until one or two at night.
"If you asked Wexford would they be happy if they were promoted — yeah. I was told I was crazy going down there, 'you must be off your head'.
"For me, personally, it was a long drive, we'll see what lies ahead for me from now on. I have to say the way I was treated down there by the county board, by everybody, incredible."
Fitzgerald's starting vantage point for yesterday's game was from the stand and he explained the thinking behind that decision.
"I love watching a game from up there. Being straight, I can't see the game from down there. Then you think is it just about the persona of going mad down there. I'm there to help Wexford, to try my best for them.
"The view from up there was pretty decent, I think we made a lot of moves, switching formation, making changes, and they got us back into the game. I don't see anything wrong with managers up there.
"It's not about me, and sitting in the stand doesn't make a difference for me. If I can help up there I will.
"I have to thank ye as well. I give out about ye at times but ye have given us a fair break, and that means a lot. These guys deserve that publicity, they deserve that praise. That makes a difference. That's why I'm encouraging you."
The Clare native reiterated his defence for Derek McGrath's work in Waterford after the criticism the two teams received for the tactics adopted in yesterday's clash.
"You look at the last ten All-Ireland's, or 15 All-Ireland's, there's nearly been the same two teams in the whole lot of them. I don't know how ye feel but I'd like a change, I'd like to see other teams in it, other teams competing.
"So whatever it takes to get a team to be competitive and get there, fair play to them. It shouldn't just be that we've done something for 40 years and we keep doing it, that's just my philosophy and I'm strong on it.
"I think Derek has taken stick that has been totally unfair, so I do. I said fair play to him and the job they done. They were the better team today and we hold no gripes.
"But this messing has to stop; it's nothing but negativity, negativity, all the time. This championship has been great and Waterford have played a part in it, we've played a part in it, Galway are still playing a part in it.
"Cork have brought a game where they're using short and long ball all the time, they're moving like anything, they're hitting spaces.
"I hear one analyst last week describe that Cork are allowed to go out and play with freedom, (but) Cork are thinking they're way around, Cork know what they're about, they're working hard on it.
"So I expect others teams who are trying stuff and fair play to them, I love that about the GAA. Will I get slammed for saying what I do, I do but I don't care, I don't care.
"I want to see change, I'm a hurling man, and I don't buy into it just because Henry or Michael Duignan says something and that's gospel — it's not.
"I don't want to have a go at the likes of Henry and Michael Duignan. But there's a time you have to stand up for your self and say what you believe.
"Am I right? I don't know, but I believe in what I'm doing and to really throw yourself out there you have to stand on a sideline with 40,000 people and see what it's all about. That's not an easy place.
"Or up in the stand as I was for most of the day."
Source: The42 GAA/SoundCloud
The42 is on Instagram! Tap the button below on your phone to follow us!