Sean Baldwin competes in the 50m Rifle 3 positions SH1 qualifiers later today.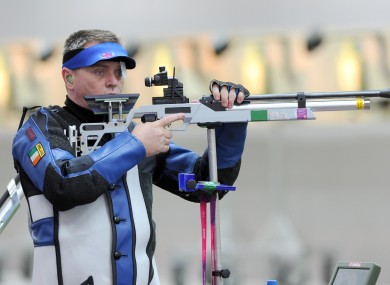 Sean Baldwin competes in the 50m Rifle 3 positions SH1 qualifiers later today.
IN RECENT DAYS here at TheScore.ie, we've become accustomed to rubbing our eyes for fear that this all might be a dream.
Ireland have enjoyed unprecedented success at these Paralympics, winning ten medals thus far.
And with plenty more athletes in action today, it'd be foolish to bet against them adding to their tally before Day Seven is through.
Who's flying the flag?
Following his encouraging 18th place finish yesterday, Sean Baldwin is in action again at 9am today, as he competes in the 50m Rifle 3 positions SH1 qualifiers.
At the same time, Johnny Cronin is in action in the boccia BC3 mixed individual seeding, while Tom Leahy competes in the Mixed Individual – BC2 at approximately 4.40pm.
At 10.30am, Cathal Miller – who you may remember was the Irish flag bearer at the Paralympic Opening Ceremony – is in the Men's Individual C 5 Time Trial, and fellow Irish cyclist, Enda Smyth, then features in the Men's Individual C 3 Time Trial at 11am.
(Ireland's Colin Lynch returns to action today – David Davies/PA Wire/Press Association Images)
Another cyclist, Colin Lynch, subsequently takes part in the Men's Individual C 2 Time Trial Finals at 11.28am.
At 10.50am, Heather Jameson participates in the 200m T37 heats, while the Irish team are also competing in the Sailing three person keelboat event a little earlier at 10am, and again at 11.20am and 12.50pm, in Final 8, 9 and 10 respectively. Also at 10am, the Women's Shot Put – F11/12 Final takes place, and it includes Ailish Dunne and Nadine Lattimore.
At 11.30am, the Irish table tennis side take on France in the Men's Team – Class 1-2 quarter-finals.
Mark Rohan is in the individual time trial H1 at 3.55pm, while Catherine Walsh and Katie George Dunlevy are in action in the Women's Individual B Time Trial at 2.52pm. And again in cycling, the Men's Individual B Time Trial features James Brown.
Do not miss…
Wheelchair Rugby
It's one of the most entertaining and fascinating sports to watch at the Paralympics, and the long wait for Wheelchair Rugby is almost over, as it begins today, with Team GB facing defending champions USA at 2pm.
Athletics
As is often the case, there's been a lot of controversy surrounding Oscar Pistorius in recent days. But tonight, he'll hopefully let his performance do the talking, as he participates in the T44 100m heats at 7pm.
Cycling
Catherine Walsh made a big impression the last time she competed in these Games, so you've no excuse if you miss the Irish cyclist this time around, with her race beginning at 2.52pm.