IRISH FANS NEED heading to France for Euro 2016 must have a reactive plan in place in the event of a terrorist attack at the finals, according to leading security expert Declan Power.
Excitement is building ahead of Ireland's third appearance at a European Championship finals but the threat of a terror attack at the tournament still looms as a dark cloud over what should be a celebration of football on the continent.
France has been in an extended state of emergency since one of its capital's darkest days; when attacks by jihadists last November killed 130 people and injured more than 300.
The country has responded by ensuring that there will be 100,000 police, soldiers and private security personnel on the streets for the month-long tournament, among other measures to tighten security.
Seven new branches of the GIGN, the special operations unit of the French National Gendarmarie, and Raid commando forces have been set up. And every host city has undertaken anti-terrorist exercises.
But Power is still pleading with Irish fans to be vigilant, to take some responsibility for their safety upon themselves, and give extra thought as to how they should respond in the event of an emergency.
"Fans should be fully conscious of what they will be entering into," Power told The42.
You're entering a theatre of operations at the moment. The French are going to have a massive, overt security presence.
"Be aware that some of these armed police officers and soldiers are not used to being out on the streets as much as Irish or British soldiers are. Even if they seem unreasonable or churlish, remember that they're under huge pressure.
"It's not a time for being too light-hearted. Read the mood and don't apply Irish standards to the situation you're in, or you're going to get locked up for the night."
Preparation
Power is urging travelling Irish fans to be well prepared for an emergency. Have important numbers saved in your phone, such as the Department of Foreign Affairs's emergency line, contact information for local police and emergency services, and next of kin details for others in your group.
As most fans will be travelling in groups, Power stresses it is important for each group to discuss co-ordination points, establish plans for socialising before and after the games, and also to be aware of their nearest exit points at a venue in the event of an emergency.
Security and defence analyst Declan Power. Source: LinkedIn
The former soldier also advises larger bunches of fans to travel in sub-groups of two or three so that they don't draw attention to themselves; it's important to be aware that this is a high-threat environment, he argues.
"You're going to have fun but it's going to be a bit more subdued," Power added.
"Take into account the high-security nature of this particular European Championship.
"If something happens, like an outbreak of fan violence, an accident, a fire, anything up to and including a terrorist incident or a terrorist scare, you need to think about what you do then.
"You may be in different points or locations and if there's an evacuation you should have a congregation point. And that means that there won't be too much confusion."
Fan zones
Much of the debate around security at the tournament has centred around the fan zones — there will be one in every host city — with many arguing that having so many people in one area makes them easy targets for terrorists.
Former French police chief Frédéric Péchenard warned last month that having a fan zone at the foot of the Eiffel Tower for up to 90,000 people, as is the plan, will "offer terrorists a chance for a massacre".
But Power believes the French are taking a pragmatic approach and that fan zones can't be set up outside of the cities, like some have suggested, because supporters wouldn't use them.
He explains that the police presence at the fan zones will be bumped up accordingly, which is something for supporters to bear in mind.
"The fan zones are going to be more highly policed," Power added.
"So on one hand that means there is going to be more security and awareness of who is going in and who is going out. But it also means that it might be more likely to be a target.
"Have a bit of a chat as a group beforehand and say, 'if something happens, the first reaction should be to react, not to just stand there, not to freeze'. You don't have the luxury of doing that.
If there is some kind of blast or something like a shooting, take cover. Get out, and down on the ground until you can figure out what's happening, if that's possible.
"If you're in a large, crowded area there'll probably be a stampede if there is panic, so you need to be thinking about where you place yourself.
"Try and place yourself where you can get out of there quickly if you need to, or you can get into a safe haven, that you can get indoors somewhere quickly.
"You don't want to be in a large, open area where you are subject to a threat; either indiscriminate gunfire, an explosive blast, or a stampeding, panicked crowd."
What to expect
Travelling fans should be planning for comprehensive security procedures. More than two million spectators are expected to attend 51 matches at 10 stadiums across the country.
At the grounds, you can expect rigorous body searches, ID checks and metal detectors, while large bags will likely be confiscated.
But there is only so much preparation a person, and a state, can undertake for the threat of terror attacks. Some things are impossible to police, Power argues, and that's why vigilance is so important for supporters in France.
"You can saturate the place with as many armed police as you like," Power explains.
"You can run as many intelligence operations as you like. But the threat isn't going to be coming from fans coming across the borders. The threat is already inside the borders.
"This is the problem of home-grown terrorism. And there will be people who will have access to those areas that the police do not stand over because they can't read their minds. How do you know if someone is radicalised or not?
"You don't know until it's too late. There is no way that can be contained 100%."
Test run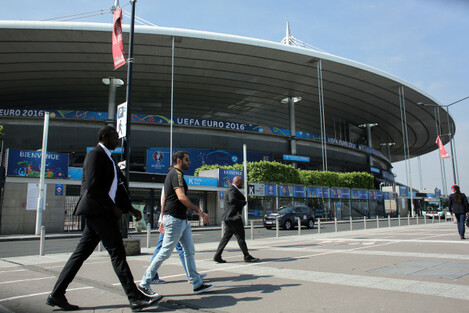 The tournament gets under way at the Stade de France on Friday. Source: AP/Press Association Images
Just over two weeks ago, Paris St Germain and Marseille took to the Stade de France, one of the jihadists' targets seven months ago, for the French Cup final, in what was seen as a test run for the European Championships.
However, the trouble that ensued that evening failed to offer reassurance; rioting fans managed to smuggle fire crackers, flares, smoke bombs and glass bottles past stadium security.
While it was an unfortunate prelude, Power believes that should add no reason for concern for supporters, as a terror attack is unlikely to come via the same route.
"The type of terrorism that we've seen in recent times, what they are looking to do is not something of that nature, they are looking to cause vast casualties amongst a crowd," Power explained.
"And the authorities, what they are doing at the moment and what they have been doing, is using their intelligence networks to try and scour the communities that have been identified as being a high risk of producing these kinds of people."
Safety
Power believes that the French government is taking measures to try and ensure the safety of those attending the Euros but he does admit that he would be much more confident of seeing things run smoothly were the event being held in the UK.
Right now, I would have much greater confidence about an event of that nature being held in the UK than I would in France, or Belgium or any other part of continental Europe.
"In Belgium and France there have been two major terrorist incidents within the last year.
"The last major terrorist incident in the UK was in 2007, notwithstanding the murder of the unfortunate British soldier Lee Rigby [in 2013].
"The police are doing something right in the UK. I'm sure the French have every faith that they'll get on top of things but it's early days and there a lot of loose ends that they know haven't been tied up."
Useful links and numbers:
How to react in the event of a terrorist attack?
France emergency services number: 112
Embassy of Ireland, Paris: +331 44176700
Department of Foreign Affairs advice and contact details: +353 (1) 4082000
The42 is on Snapchat! Tap the button below on your phone to add!