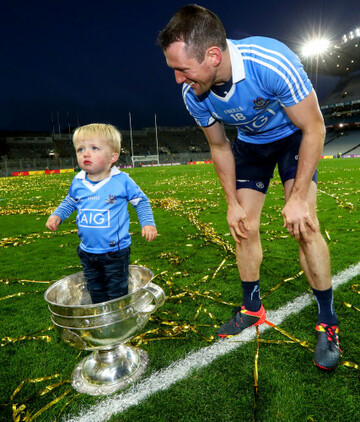 Denis Bastick with his son Aidan after the 2016 All-Ireland final replay victory. Source: James Crombie/INPHO
EXPERIENCED DUBLIN FOOTBALLER Denis Bastick has brought the curtain down on his inter-county career.
Bastick made the announcement today in a statement on the Dublin GAA website after starting out in 2005 with the county and making his senior championship debut in 2009.
The Templeogue Synge Street man enjoyed a hugely successful career with Dublin as he claimed several honours:
5 All-Ireland senior titles (2011, 2013, 2015, 2016, 2017)
1 All-Ireland junior title (2008)
11 Leinster senior titles
4 National League titles
Denis Bastick with his son Aiden after last year's All-Ireland final win for Dublin. Source: Ryan Byrne/INPHO
Bastick's last championship appearance came in June's Leinster quarter-final against Carlow.
The midfielder started in Dublin's 2011 and 2015 All-Ireland final wins while coming on as a substitute in the 2013 and 2016 deciders against Mayo.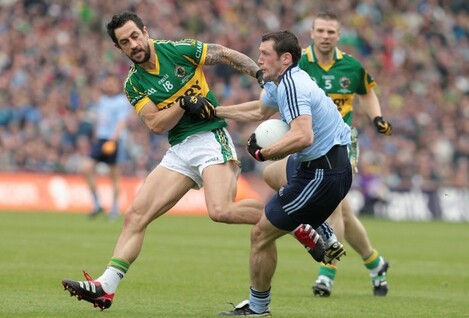 Denis Bastick in action in the 2011 All-Ireland final against Kerry. Source: Morgan Treacy/INPHO
Bastick's statement in full read:
"There is no easy time to step away from something that has been a driving goal and the fulfilment of a lifelong ambition. But I feel that now is the right time for me to retire from the Dublin senior football panel.
"I do so with a heavy heart, but equally with an enormous sense of pride and satisfaction to have been a part of what has and continues to be a golden era for Dublin football.
"Playing for Dublin is something I have never taken lightly. It has been both an honour and a privilege to wear a sky blue jersey, to run out onto a full Croke Park and to have been a part of Dublin county panels since 2005.
"I have been fortunate to win an All-Ireland junior medal and five All-Ireland senior medals in this time – but of equal value to me are the friendships and the memories that I have amassed along this journey and these are things I will cherish.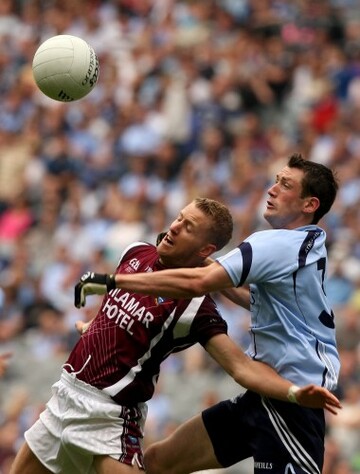 Denis Bastick in action against Westmeath in 2009. Source: James Crombie/INPHO
"There was a time when simply making a Dublin training panel was an all-consuming ambition, then staying there and trying to make the bus for the match day panel, then the starting team and trying to bring Sam Maguire back to the Capital. Apart from the injuries – I would gladly do it all again.
"To have captained the junior squad under Mick Deegan, Mick Galvin and Jack Sheedy and been on the senior squads under Pillar Caffrey, Pat Gilroy and Jim Gavin was an honour I treasure, and I would like to greatly thank the assistance given to me by John Costello and the Dublin County Board and successive back room teams and medical teams over this time.
"A special thank you also to the Gaelic Players Association for their continued support of me and players all over the country. Sincere thanks to my employer EBS for facilitating my commitment to my sport.
"Playing for Dublin is special, and I feel blessed to have battled alongside so many special footballers who were a constant source of inspiration through their dedication, commitment and loyalty to the cause of bringing glory to Dublin and raising silverware in front of the Hill.
Celebrating All-Ireland final glory with Alan Brogan. Source: Ryan Byrne/INPHO
"I owe a debt of gratitude to my wife Jody for her love and support. To my two-year-old son Aiden and my 6 month old daughter Clara-Jane who inspire me every day and who I have had the privilege to carry up the steps of the Hogan Stand to lift the Sam Maguire.
"To my parents, family and friends for allowing me to pursue my dream, only they will know the sacrifices they have made on my behalf.
"I want to also acknowledge Sean McKieran, Alan O'Brien and everyone in my club Templeogue Synge Street, who have played a significant role in my success, for their constant support and encouragement and I look forward to moving from county to club and being able to give back more time to them in the years ahead.
"Lastly, to the Dublin fans who were on the road with us on dark days, cold days and glory days – a heartfelt thank you for your unwavering support through it all.
"Stepping away from this group of outstanding athletes and people is not easy. But I look forward to seeing them continue and cheering them on the journey of being the best they can be and maximising the precious time that they have in that most sacred jersey.
"Ath Cliath Abú
"Denis."
Buy The42's new book, Behind The Lines, here: