WHILE HE WAS busy winning Heineken Cups with Munster and a Grand Slam with Ireland, Denis Leamy never really considered a future in coaching.
He knew farming would play a big role post-professional rugby, but Leamy justifiably felt that he had a fair few years before he would need to start seriously considering life after hanging up his boots.
Then a severe hip injury forced him into early retirement at the age of 30 in 2012. Suddenly, everything changed.
Leamy has enjoyed great success with Clonmel RFC.
Now 35, Leamy is five seasons into his coaching career, and he has already enjoyed notable success with Clonmel RFC.
In his fourth year as head coach, following a stint as assistant to ex-Munster back Ben Martin, Leamy recently guided the club to their third consecutive Munster Junior League Division 1 title.
Tomorrow afternoon, Clonmel travel to take on Régis Sonnes' Bandon in the semi-finals of the Junior Cup [KO 2.30pm in Old Chapel] – a competition Clonmel won for the first time ever under Leamy's guidance in 2014.
Next weekend, the Tipperary club will launch into the round-robin All-Ireland Provincial League Championship, facing Malahide, Ballina and Omagh. Promotion into Ulster Bank League Division 2C – and, therefore, senior status – is on the line. First up, a home clash against Connacht champions Ballina on 1 April at 2.30pm at Ardgaoithe.
So, it's fair to say that things are going very well for Leamy in a position he had not envisaged himself taking on while he was still battering through defences himself.
"I didn't see myself coaching," says Leamy. "I didn't really know where I would be. In terms of playing, my career ended prematurely – three, four, five years earlier than I had intended it to. So I was caught a little bit short."
He returned home to Tipperary after 12 years of living in Cork and started working on his family's beef farm with his father and brother. But rugby didn't stay away very long before it came knocking again.
An old friend from his Rockwell College days was involved with Clonmel RFC and asked Leamy to get involved.
"I said I couldn't really see myself – having been so active in rugby and living my life around the game – just totally going away from it. It was really just for something to do in the winter evenings, to get me out of the house.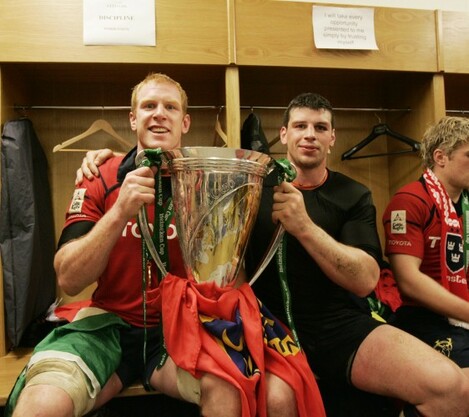 Paul O'Connell and Leamy with the 2006 Heineken Cup.
"At that time in my life, I was still dealing with and coming to terms with the retirement and it wasn't quite sitting well with me at that stage."
Coaching provided solace for Leamy in those early days, giving him a focus when it would have been easier to sit on the farm and feel sorry for himself, but the transition was still very difficult for the Cashel man.
Leamy's career was a brilliant one, as he played 144 times for Munster and won 57 Ireland caps.
He started the southern province's victorious 2006 and 2008 Heineken Cup finals, was an important part of the 2009 Grand Slam squad, won two Triple Crowns and also featured in two World Cups.
I was lucky to play with a brilliant group of players," says Leamy. "Timing is everything and I was very lucky to arrive on the scene at the same time that a brilliant group of Munster players arrived and also a very, very talented group of Irish players."
The successes made it more difficult for Leamy upon retiring, however. It's hard not to think that, but for injury, the powerful back row could still be impressing on the pitch even now.
"The sad things is that it ended so early," says Leamy. "I feel that with injuries, towards the last two or three years of my career, those injuries took from me in a big way.
"I just wasn't happy in terms of what I was able to contribute. I felt I was probably two yards slower than I had been and I'd lost an awful lot of my power in terms of breaking tackles and making tackles.
"There were a lot of regrets when I retired, in that I felt that if I held my fitness I had a lot more to give. Unfortunately, that wasn't to be, but when you look back on the great days it certainly is a big comfort."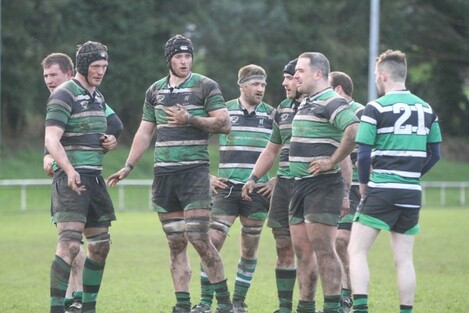 Tony Cantwell and the Clonmel pack this season. Source: Clonmel RFC
He has happily moved on now and, while he tells his Clonmel players that there is nothing quite like playing, coaching "has gone a long way to filling that gap."
Leamy's mornings are still spent working on the farm, while afternoons and evenings are occupied by rugby.
Having initially "limped around the place" in constant pain with his injury, he decided he couldn't live the rest of his life in that state and "bit the bullet" at the age of 32, having his hip replaced. All is well with his body now.
Clonmel have proved a perfect fit for Leamy in the early stages of his coaching career, and the club couldn't be happier with his impact.
"He became head coach and we won the Junior Cup in his first season," says team manager Joe Winston, a man who has been with Clonmel since 1975 and seen tougher times at their Ardgaoithe base.
For many a year, we couldn't even get into the second round of the Junior Cup! He brought a professionalism to the club. One of his first things was videoing the matches.
"Denis watches the matches six or seven times at home to pick up stuff and he backs the team he has around him as well.
"He has the respect of everyone in the club. He has very little interference from the committee, if any, because he has been delivering for the last four years. The players can see how passionate he is about it. More than all of us, he still loves being on the field."
Leamy's leadership convinced many Clonmel-reared players who were at other clubs to return or, for those tempted to head elsewhere, to remain with their home club.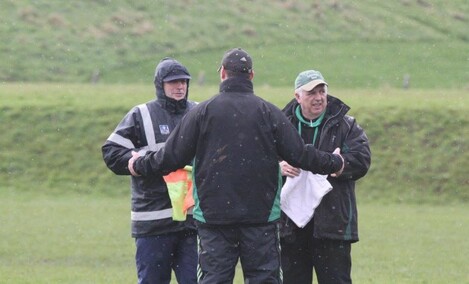 Leamy talks tactics with Clonmel's director of rugby, Tim Normille, and team manager, Joe Winston. Source: Clonmel RFC
"Because of their loyalty to the club and to Denis, they've stayed," says Winston. "Other players came back to give it a go with Denis.
"We have lads based in Dublin, Waterford, Limerick, but they get back for a midweek session at times, and always get back for training on a Friday. If it was someone else in charge, they might not bother coming back at all."
For his part, Leamy has simply focused on providing the players with a very real sense that they are getting better. In his eyes, that's the only way to retain and attract players.
"It's been about developing them," says Leamy. "I'd like to think that, no matter what the age profile of the players when I took over, there's been a decent level of improvement among the playing group and we've developed our game."
Leamy has worked his way through the IRFU coaching badges, with his Level 5 Head Coach status to come next, while he has garnered experience with the Munster academy and spent seven weeks with Anthony Foley and the senior Munster squad last season.
Having worked under coaches like Declan Kidney, Eddie O'Sullivan, Alan Gaffney and Tony McGahan as a player, Leamy had important influences in terms of his future coaching, even if he didn't realise it at the time.
"I was very lucky to work with very tactical coaches and I was very lucky to work with coaches who were very good at motivating their team, getting inside the players' heads and getting the best out of players.
"I think that helps, definitely, and a lot of what you do as a coach, you fall back on your experiences as a player.
"But you're obviously continuing to learn and grow as well. The amount that I've learned, having coached over the last couple of years – how to approach things, how to set out what you want to achieve and the process it takes, that's really been the learning curve, rather than teaching tackle tech, or something like that.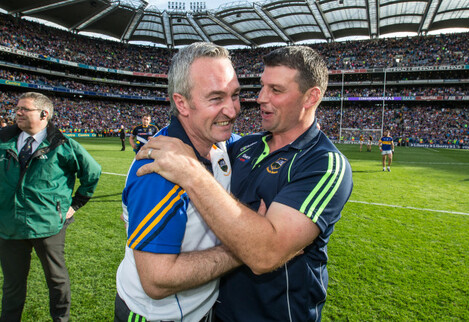 Leamy celebrate's Tipp's All-Ireland hurling success last year with manager Mick Ryan.
"It's really about how you develop the plan that you have in your head, how you actually get there."
Leamy has greatly enjoyed the experience of coaching his old school, Rockwell College, in recent years too, helping them to the Munster Schools Senior Cup in 2015 as forwards coach and being consistently impressed with the level of professionalism.
Leamy also joined Michael Ryan's Tipperary hurling backroom staff last year and says he learned from the way the Tipp squad "approached the big occasions" on their run to All-Ireland glory. Of course, Tipperary gained greatly from Leamy's contributions too.
Clonmel have been benefiting most from Leamy's thirst to improve his abilities as a coach, though, with their success in Munster having been dominant in recent years.
A fantastic crop of homegrown players has been vital too, and the club continues to take great pride in the exploits of the likes of Munster's David Foley, Bill Johnston and David Johnston – all of whom started their rugby careers with Clonmel.
All our current players have come through the underage system in Clonmel, there isn't one of them who haven't – even if they went off to Rockwell for school and then came back," says Winston.
Following tomorrow's Junior Cup semi-final, Clonmel are facing into the All-Ireland Provincial League Championship for the third season in a row, having finished second and third at the last two times of asking, missing out on promotion into the senior leagues.
The facilities at the club's grounds have continually improved in the last decade and now include multiple rugby pitches, a stand alongside the main pitch, two all-weather five-a-side soccer surfaces, the clubhouse and changing rooms.
There have been further trophy successes in the Munster Junior Clubs Cup and Dave Dineen Cup, as well as for the women's team in the Munster League and the Munster Cup. The Tipp club were Munster Rugby's Club of the Year in 2015.
With these foundations in place and their underage structures vastly improved, Clonmel believe that they are in a fine position to continue the success, even if Leamy's coaching career is to take him somewhere else in the future.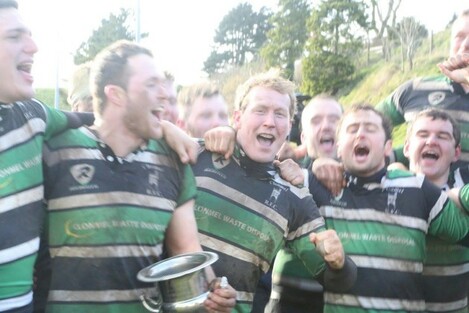 Clonmel celebrate their recent Munster Junior League Division 1 title.
"The stuff that we've learned from Denis, if he went, is there for the future," says Winston. "We have to keep that bit of professionalism about it. Players need to have basic things like video work, wearing club colours, getting that sense of identity about it.
"For some of the players, all they're used to is winning Junior Cups, Leagues and Challenge Cups. There are some of us who know that winning just one match was an achievement at one time! It's a nice change of culture and we're going to try and keep it there.
"I can see Denis going much further in the long run because he has it. He can make a team successful and you don't mess with him."
As for the man himself, Leamy has very real ambitions of moving up the ladder.
From my point of view, I'm still 35 and I don't think the game waits for anyone," says Leamy. "I'm retired five years now and I'm conscious that the game moves very quickly and it's important to stay moving with the game as a coach.
"I would like to go on up the levels, I really would. I'd like to possibly get an opportunity within the professional game in Ireland. I'm very conscious that it is difficult to create opportunities in Ireland, from a coaching view.
"Mike Prendergast and Bernard Jackman and ROG, of course, have gone across to France to grow their coaching careers. I suppose – with work at home – I've got to keep an eye on that, so I don't know if it's something that I could possibly look to go across the water.
"So, I'm keen to develop within the Irish structures, within the AIL and hopefully on up through the academies or whatever that may be in the Irish professional game."
One thing is for certain: rugby is never going to leave Leamy's life.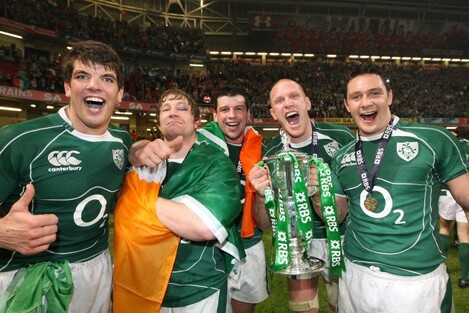 Leamy celebrates the 2009 Grand Slam with some fellow Munster legends.
From the first day his father packed himself and his brothers, Kevin and Ed, into the car and took them down to Cashel RFC for their maiden training session, it has been a labour of love.
"I remember that within a couple of weeks I loved it," says Leamy of getting the bug all those years ago.
I loved the physicality of the game, I loved the whole confrontational side of things, the development of the skills side of the game. There was so much to learn, so much to improve on.
"I grew to love rugby very, very quickly and once that happened, there was no looking back. There was only one sport for me from then on.
"Rugby has been fantastic to me from right when I started. I have an awful lot to be grateful to the game for."
The42 is on Instagram! Tap the button below on your phone to follow us!