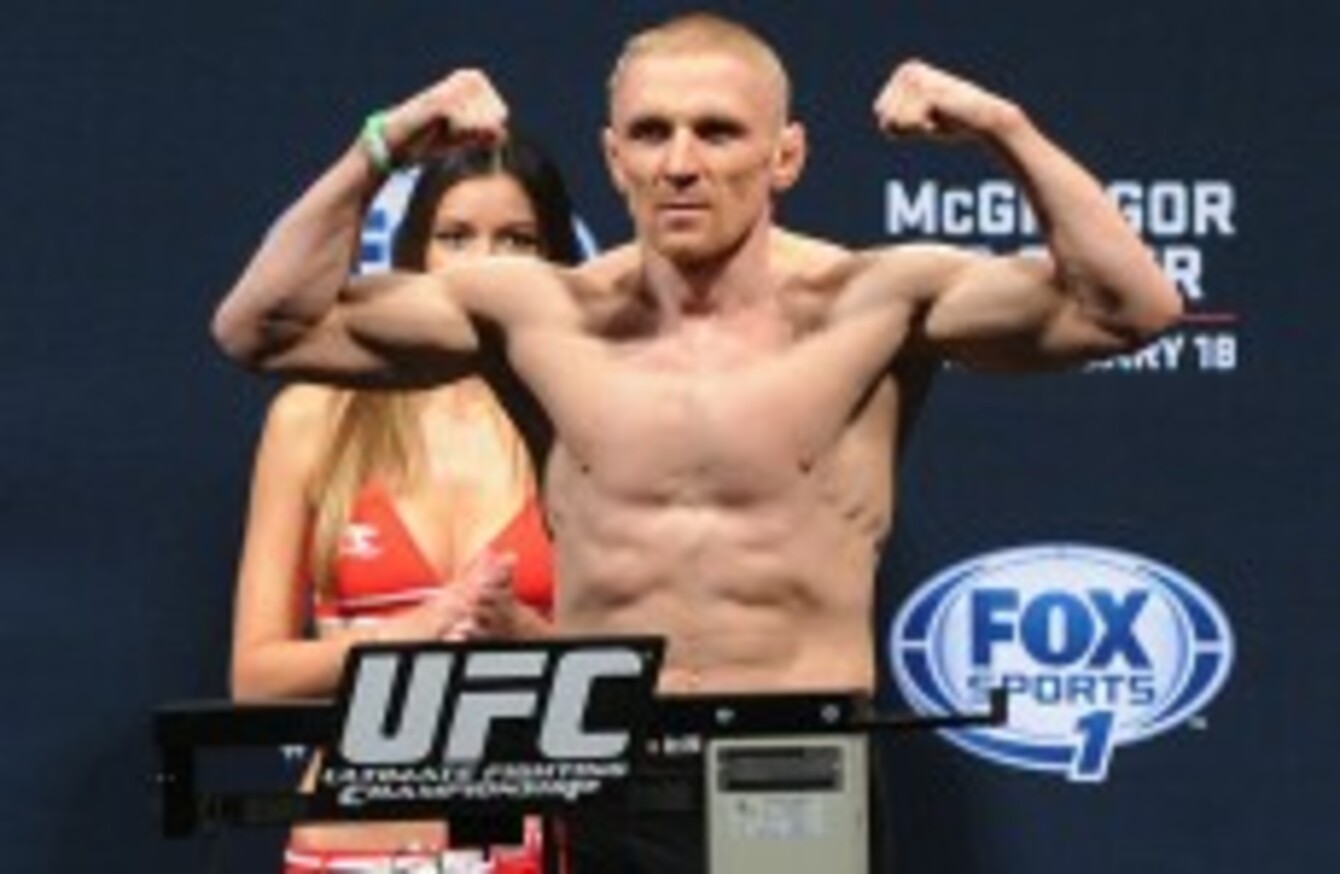 CONOR McGREGOR IS one win away from a meeting with defending champion Jose Aldo for the UFC featherweight title.
The man in the way of that prize and a fifth consecutive UFC win is Dennis Siver, who'll look to derail McGregor's remarkable progress tonight in the main event at UFC Boston.
The bookmakers don't fancy Siver's chances, however, with a win for the German veteran available at 8/1. But in spite of the odds, with 18 UFC fights under his belt, Siver is unlikely to be taken for granted by McGregor.
With the big fight a matter of hours away, here are 10 things you should know about McGregor's opponent. So if a question on Dennis Siver comes up in the Leaving this year, you've now got it covered.
1. He's actually from Russia, not Germany
Siver is generally regarded as a German fighter but he was born in the Siberian city of Omsk, Russia. Average winter temperatures in Omsk are minus-20 degrees, so he probably hasn't had too much trouble with the cold in Boston this week. Siver moved to Germany at the age of 17. He celebrated his 36th birthday on Tuesday.
2. Like McGregor, he caught the UFC's attention while competing for Cage Warriors Fighting Championship
After putting together a 3-1 record for the UK-based promotion, Siver was signed by the UFC early in 2007. It was a submission win over Jimmy Wallhead that sealed the deal, and that's been his most common method of victory. But Siver's background is in kickboxing and tae kwon do. His spinning back-kick is one of the best in the UFC, and Conor McGregor will need to tread carefully to avoid being hurt by it tonight.
3. He once fought three opponents in the same night
As part of a Cage Warriors tournament in March 2006, Siver overcame Jonas Ericsson by TKO before submitting Adrian Degorski. However, he was then beaten in the tournament final later that evening by Arni Iskasson — a former SBG team-mate of Conor McGregor's.
4. He was a latecomer to MMA
Siver has fought professionally on 32 occasions, but he didn't make his debut until he was 25. Tonight's opponent, Conor McGregor, is now 26 and has already had 18 professional bouts. Siver's first fight was in Germany in February 2004 at an event headlined by Bellator tournament winner Daniel Weichel.
5. In 2008 he was released by the UFC
This is actually Dennis Siver's second spell with the UFC. His first saw him take just one win from four bouts, which resulted in him getting the chop. But after picking a good win on the regional circuit, he was re-signed and returned to UFC action in January 2009 — at UFC 93 in Dublin.
6. He has five first-round losses on his record
Conor McGregor believes he'll finish Siver tonight inside two minutes, but he wouldn't be the first man to do so… or even the second or third. In total, Siver has been stopped five times in the opening frame, including losses to Melvin Guillard (after 36 seconds), Fabricio Nascimento (47 seconds) and Jess Liaudin (1:21).
7. He's caused big upsets in the past
Being smothered by McGregor-mania this week probably seemed familiar to Dennis Siver. In February 2011 he travelled down under to face much-hyped Australian star George Sotiropoulos at UFC 127 in Sydney. Sotiripoulos was on a 7-0 run in the UFC at the time and was being spoken of as a title challenger, but Siver upset the home favourite by grinding out a unanimous-decision win.
8. Last year he was fined and suspended for failing a drug test
Siver tested positive for HCG after his UFC 168 win over Manny Gamburyan, which was subsequently declared a 'no contest'. He was fined $20,000 and banned for nine months. Earlier this week, Conor McGregor vowed to punish Siver for "cheating".
9. Tonight's bout will be his first UFC main event
Nineteen fights in to his UFC career, Dennis Siver is finally in a headline bout. For McGregor, it's his second top billing in just five outings. In fact, the pair will make history as the first all-European UFC main event on US soil. It's a big change for Siver. His last bout was an untelevised prelim.
10. Win or lose, he always entertains
Given their track record, tonight's fight is unlikely to be dull — how ever long it lasts. Siver has been in some thoroughly entertaining bouts over the course of his UFC career, winning seven event bonuses: four for Fight of the Night — including his last bout against Charles Rosa – two for KO of the Night and another for Submission of the Night.
Conor McGregor and Dennis Siver are likely to enter the octagon tonight at around 4.30am (Irish time). Click here to find out how to watch all the action at home.
Niall Kelly is at the TD Garden for The42, and he sent us this report…
Source: The42 Video/YouTube