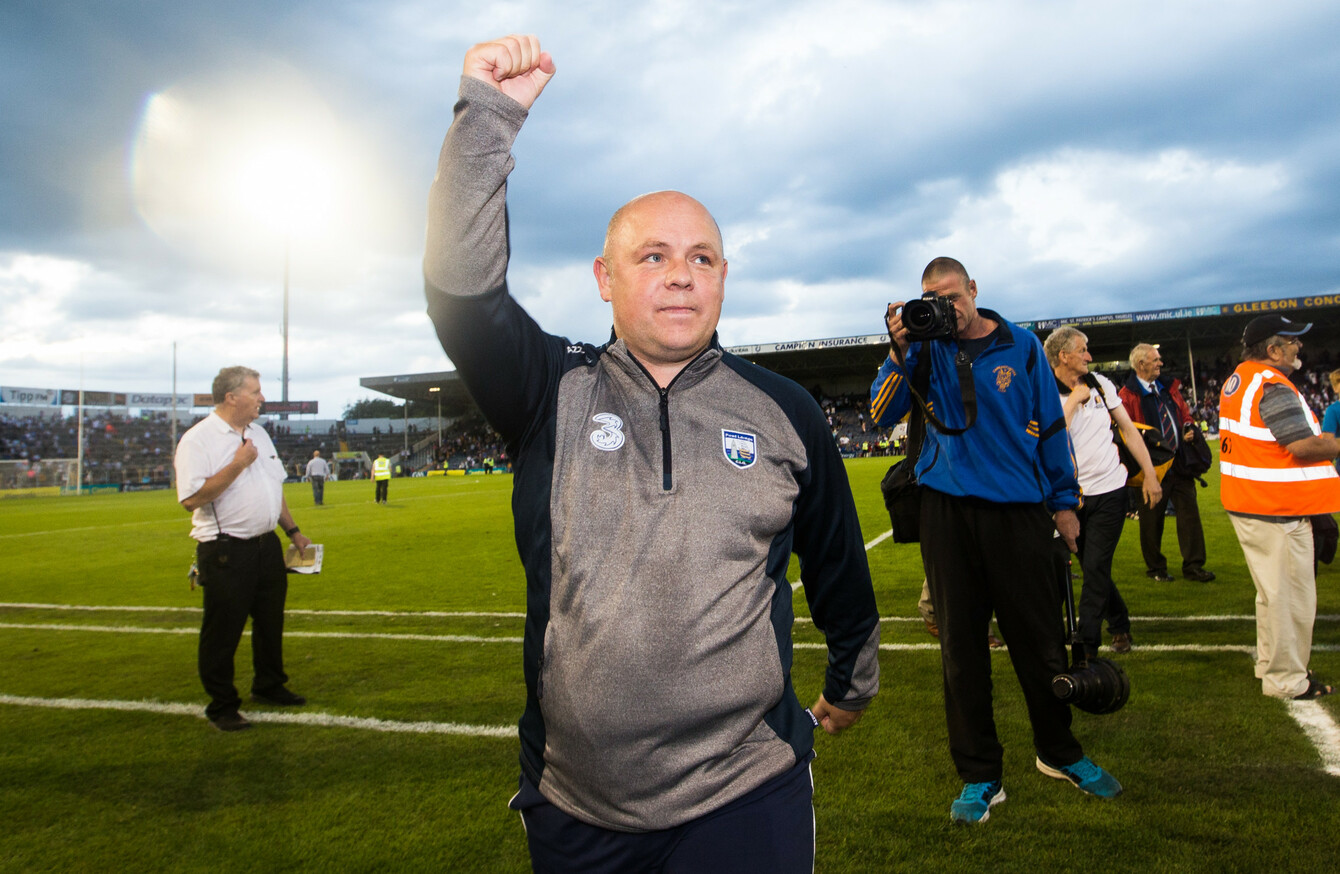 Derek McGrath after the summer's victory over Kilkenny.
Image: Tommy Dickson/INPHO
Derek McGrath after the summer's victory over Kilkenny.
Image: Tommy Dickson/INPHO
AFTER SEPTEMBER'S ALL-Ireland final, Derek McGrath was crestfallen and emotional after seeing his Waterford team fall three points short of delivering the breakthrough the county has yearned for in hurling since 1959.
It was put to McGrath that they should harbour no major regrets over the nature of their performance, they had taken Galway to the wire and were just undone by their opponents superiority in picking off points.
The sense given the age profile of their team was that Waterford were certain to be back in September showpieces and that McGrath would not be departing.
With pain of defeat still acute, he wasn't willing to firmly nail his colours to the mast.
"It's an expectation but it's just so hard because automatically you would be thinking other teams will come to the table as well.
"That would be an expectation, but it's not definite."
Since then there was no white smoke about McGrath's intentions but last night the doubts were finally dispelled.
65 days had passed since their 2017 season concluded before a succinct statement dropped from the Waterford county board to announce that the De La Salle man would fill the hosteat for a fifth straight season.
It ends a spell of uncertainty, fueled by selector Dan Shanahan's revelation last month that deliberations were ongoing with the county board as the management considered whether they would have the proper support in 2018.
McGrath's commitment for another year will be welcomed in Waterford hurling circles given the upward trajectory of their performances since the difficulties and turbulence they encountered in their opening salvo in 2014.
All-Ireland semi-finalists in 2015, an All-Ireland semi-final replay in 2016 and All-Ireland finalists in 2017, indicate an emerging team have stockpiled plenty experiences.
McGrath has delivered a league title in 2015, guided them to a pair of Munster deciders and has been boosted by an underage team of sublime talent claiming the All-Ireland U21 crown in 2016.
Individuals have taken their games to new heights under his watch as evidenced by Tadgh de Búrca, Maurice Shanahan, Jamie Barron, Austin Gleeson and Stephen O'Keeffe all winning their maiden All-Star awards in recent seasons.
The presence of Noel Connors, Kevin Moran and Michael 'Brick' Walsh on the All-Star hurling team honoured last Friday was further affirmation of how that experienced trio remain so important to the Waterford hurling project.
The 2017 season showed a new side to Waterford in their mental resilience as they responded to a major setback in Munster and managed to hold their nerve to claim a long-awaited win over Kilkenny in the championship arena.
But for all the progress and achievements, McGrath will have been keenly aware when weighing up whether to go again next year, that the expectations and the demands will only escalate.
Waterford's presence as one of the last two standing this September will mean that an All-Ireland title must be the prize in their sights when the 2018 action commences.
Finding those extra ingredients will be the requirement in what looks set to be a highly competitive race for honours.
The changes to the hurling calendar will force McGrath to reconsider his strategy as well. There will be an earlier start to a league programme that is set to be more condensed, along with the introduction of a round-robin format in a Munster championship that will be fiercely contested.
Waterford's players have had a long and testing 2017 with no sign of it slowing down for some of them. A Ballygunner victory in Sunday week's Munster senior decider will see players like the Mahony brothers, O'Keeffe and Barry Coughlan remaining in a club environment until next spring.
The prolonged nature of this year's Waterford senior football championship means the likes of Jamie Barron, Conor Gleeson, de Búrca, Brian O'Halloran and Walsh remain immersed in club activity as the winter draws in.
Trying to coax the veteran Walsh into giving his all again to the Waterford cause next year will also occupy McGrath's mind.
He will also consider where he can find additional spark for his squad. As this summer wore on, the impact of players like O'Halloran and Tommy Ryan became more pronounced in supplementing their attack.
Stephen Bennett and Patrick Curran would look to possess scoring potential that has yet to be fully tapped into. The possible availability of Tom Devine, based in the United States this summer, could offer their forward line an extra dimension.
Those are the set of issues McGrath now faces in early November as the plotting and planning for 2018 begins in earnest.
He has always been a manager that has invested a huge amount of himself in this role, helping Waterford to make rapid progress over the past few seasons.
Another year of mammoth effort beckons as Waterford strive to take that last major step.
Subscribe to The42 podcasts here: