PROFESSIONAL ATHLETES DON'T make the best spectators at the best of times, but when their team-mates are making basic errors and getting roundly beaten it increases the wince factor even further.
Devin Toner didn't travel to Glasgow for Leinster's 22 -20 loss, but he sat down to watch an afternoon of rugby from the comfort of his own home. First, he ran the rule over his own first opponents of the season, Scarlets, then his teammates.
"Watching it," says Toner, "you're itching lads to get back into it. And it is quite frustrating when you see them go 19 – 0 down. It's just hard to watch it at home."
He adds: "The attitude was there, it's just a bit of technique that made us fall off a couple of tackles. Coming up against the Scarlets, that's an easy thing to fix: we just can't sit on our heels we need to get up off the line and into their faces."
Toner is available to put his sizable frame in to those faces on Saturday at the RDS. And after his best season to date, Toner gives the sense of a man that is champing at the bit to get going again.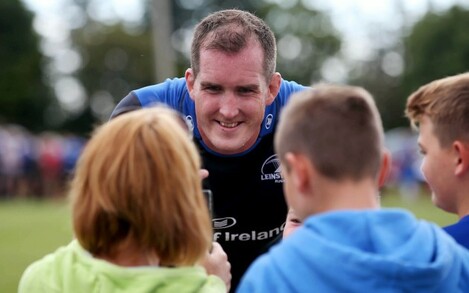 Source: Donall Farmer/INPHO
"I feel good, I'm raring to go. I've a good eight weeks under my belt and I'm the heaviest I've ever been, I'm doing pretty well in they gym so I can't wait to go."
The heaviest he's ever been is 127 kg (fractionally under 20 stone), so after the second row is called away to a team meeting we're left to let our imagination run wild at how heavy 'pretty well in the gym' might be.
Just over a month after his 28th birthday, Toner has long gotten used to the feeling of fulfilling potential and delivering what his imposing figure promises. This season, as he moves further into his prime with a slowing metabolism allowing him to maintain weight and grow stronger, he's planning on giving Leinster and Ireland more of the same:
"I think I stepped up last year and did a lot of calling. But I think I've got to step up in leadership terms with the team and have another voice there.
"This is the first year I've felt that I'm one of the older squad members. So, it is a bigger responsibility coming into the season."
"We've got a fair few pitch session under our belt now. Matt's really starting to nail down his philosophies and lads are starting to buy into it and it's time to translate that into performances on the pitch now."
He won't have to watch and worry this weekend. Time to go back to work.