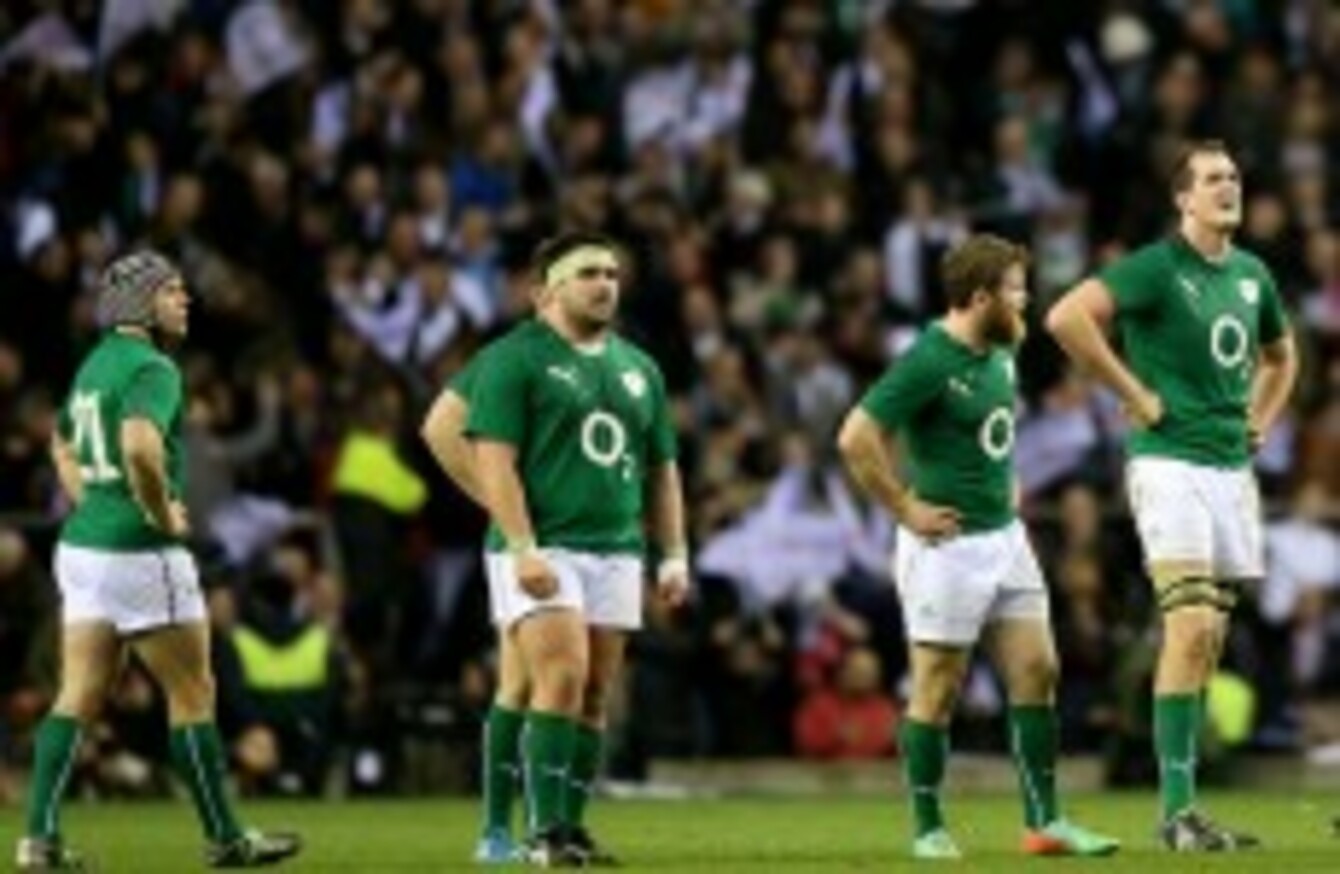 Image: James Crombie/INPHO
Image: James Crombie/INPHO
THE MEMORIES ARE still quite vivid for Devin Toner.
"Our performance was quite good, we just didn't get over the line, close it out. I think with 50 minutes gone we were 10-3 up and we should have been able to close it out. We didn't, so that's something we have to focus on."
Last February's defeat to England didn't spoil the Six Nations party for the Irish team though it's sure to have been referenced by Joe Schmidt and the rest of his coaching staff in the build-up to Sunday's showdown.
And while Toner believes the same mistakes can't be repeated this weekend, he does feel the 13-10 loss at Twickenham was something of an education.
"It's hard to say between then and now, but I think we have grown as a squad. We probably would like to think that we wouldn't give it (the lead) up now. I think we have grown and learned stuff, so I'd like to have the confidence that we wouldn't give it up."
Schmidt has made one enforced change for the clash with Jordi Murphy coming in for club-mate Jamie Heaslip. Toner is full of praise for the 23 year-old and says that even though a new face ensures some minor changes, the Barcelona-born back-row will bring his own uniqueness to the position.
"He's a very intelligent footballer, he runs a lot of very good lines and he does the little things right. I think he's a very good ball carrier, he always gets over the gainline. So I think if he brings that to his game, it'll be positive this weekend.
No player is like for like, are they? Every player has their own little nicks and nacks. Jordi is going to try and implement his own game plan. I suppose he's picked for a reason and the coaches have a lot of confidence in him. He's not the exact same as Jamie, and they have very different effects around the game, but I think he'll try and stamp his own game on it."
Prior to the tournament getting underway, much was made of the injury problems the English camp had suffered. But, after two successive wins against Wales and Italy, the replacements certainly haven't done too badly. Despite Stuart Lancaster's side being without their first-choice second rows, Toner feels the recent performances of Dave Attwood and George Kruis is proof that there's immense strength to the England squad.
"I've heard it before, people are saying it's not their first-choice locks. But I think Attwood and Kruis have done fantastically well in the first two games. I think they're two very good players. They're very physical and Attwood's got a knack of getting over the gainline when he gets on the ball, he's been controlling that lineout very well so far. I think their set-piece and lineout has gone really well, so I don't see it as a negative [for England], to be honest."
One major positive for them is Billy Vunipola. The No8 cleverly touched down against Italy after a smart play from close to the line and Toner is wary of such an imposing figure. The Irish focus in training this week has been on scrummaging and mauling – the key areas England will try and gain a foothold.
"That shows how dangerous Vunipola is as well. He's a big unit and he's very powerful in the legs and upper body. I think it's just physicality and trying to tackle him low. If you go up high on him, I think you know he's got a massively strong upper body. If you go low and early, I think you might be able to chop him down."
"If you look at any team, when they get to five metres out they're always going to have something up their sleeve to go around the front or around the back. But we're going to have to have our wits about us around that time. One of the main things we have to do is try to get our physicality up in that area of the field."
One element of the Irish defence that has cropped up in recent days has been the choke tackle. Wales assistant coach Shaun Edwards called it a 'blight on the game', suggesting the tactic encourages players to tackle high. Toner says Ireland don't obsess over it and that the key focus is getting possession of the ball as quickly as possible.
As a team, we're not focused on choke tackles. I think it's an organic thing, if it happens, it happens. If the opportunity is there, you'll go for it, but I don't think we go looking for choke tackles. Our main focus is to get the player on the deck as quick as we can to be honest, that's how you get the ball back really."
With this fixture being billed as a championship decider, there's the added intrigue of Ireland having struggled against England in recent seasons.
"I think we've lost four in a row now, this could be five. No one wants that and going into the game, we're going to have to really front up against them."
Additional reporting by Murray Kinsella