MONAGHAN HAVE SPENT a year as Ulster champions, but the extra weight of expectation has not prevented them from building on that success.
SuperValu, proud sponsor of the GAA Football All Ireland Championship, teamed up with Monaghan's Dick Clerkin to create 'GAA Winning Tastes of Summer' Source: James Crombie/INPHO
This afternoon the Farney Army take on Donegal in a repeat of last year's provincial final. They couldn't have plotted a much harder route back to the decider. Three games against Tyrone and Armagh would historically have seen Monaghan retreat across the border to lick their wounds leaving other counties to do battle in St Tiernach's Park in the height of summer.
That history though is what captain Dick Clerkin is in the middle of re-writing. And the past two Championship games against Armagh are the perfect illustration of how far his side have moved on.
"More so the drawn game, we had an awful lot of men that didn't play well that day," Clerkin told TheScore.ie this week.
"In days gone past it would have been a case that [for] Monaghan to win games like that, or any big Championship games, we had to play well to win – even at that it wasn't a guarantee.
"There were a lot of games we would have lost with, what you might call, 'moral victories' which are no good to anyone. To draw that game against, what now looks a very formidable Armagh team, playing poorly by our standards was definitely a good sign that, as a team, you can endure an off day which – let's call a spade a spade – the top teams need to do.
"You look at a lot of teams who have  been successful over the years. Look back through their season and you'll easily find a few days when they weren't at their best, but they done enough to survive. To have that quality in a team is very encouraging."
As satisfying as that result must be. It can only be viewed with a positive light in hindsight. Clerkin led his side out in the quarter-final against his real bogey team:  Tyrone.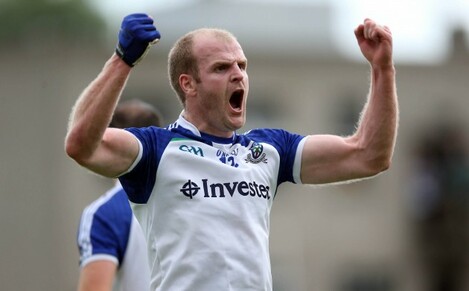 Source: Donall Farmer/INPHO
June 15 marked Monaghan's first win over the red hand county since the 1988 Ulster final.  Tyrone's Indian sign over their neighbours to the south extended through finals in 2007 and 2010, and right up to last summer's All-Ireland quarter-final.
"It was probably more of a milestone for the older players. The younger players coming in, it wasn't such a big thing. A lot of them might have beaten Tyrone schools level or whatever.
"[The older players] would have suffered more so in Ulster final and qualifier defeats over the years. So maybe it was more of a personal thing for the older players, but definitely Malachy [O'Rourke, manager] and the younger players didn't carry the same weight of it. Malachy was very good in trying to measure that burden… or perceived burden."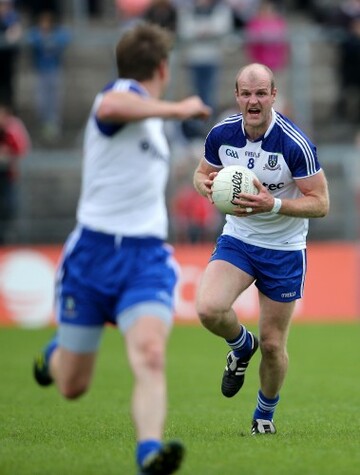 Source: Cathal Noonan/INPHO
Donegal don't quite flare up the same sort of deep-rooted pain within the Monaghan psyche. However, the 2012 All-Ireland champions are that most dangerous of GAA animals, the wounded.
12 months ago, the country assumed Jim McGuinness' men were simply warming up in the early rounds of the Championship before Monaghan gave them a cold hard dose of reality in a Clones final. Donegal never recovered.
This time around, Clerkin notes the difference in the north west county's path to the final but, reading between the lines, you might think that the midfielder is hell-bent on injecting Donegal with a repeat dose.
"They've been very impressive in their early championship games, very comfortable.
Be part
of the team
Access exclusive podcasts, interviews and analysis with a monthly or annual membership.
Become a Member
"Their victories never really looked in doubt. Derry pushed them for large parts of the game, but they won it relatively comfortably and only really had to play well for 10 – 15 minutes. That, effectively, was enough to win the game."
Source: SuperValuIreland/YouTube
(Can you tell who this Mystery Footballing chef is? Tweet your guess with #SVwinningtast)
On his side of the fence, though, Clerkin maintains that becoming a champion hasn't changed the collective psyche. There is a difference between the mindset now and in 2013, but Clerkin admits the exact variations are difficult to point out while he is still braced for battle in the Championship summer.
One plus he can pick from the hoisting of the Anglo Celt trophy, however, is that reassured this golden Monaghan generation that they are on the right track.
"One of the key ingredients to playing Donegal last year, the way we played was 'no fear'. We just went out and  played and it worked for us on the day. That's the way we like to play.
"Both teams know each other very well in terms of strengths and weaknesses. I can't imagine either team playing a whole pile differently on Sunday. We have very similar styles of play and I don't think there's going to be too many surprises in terms of how the game pans out.
"It's just going to be  a case of who takes their opportunities on the day and can manage discipline in terms of the gameplan."
The same again will do rightly for Clerkin and Monaghan.
SuperValu are calling on GAA fans and foodies alike to tweet a pic of their favourite summer meal using #SVwinningtaste to be in with a chance to win fantastic prizes throughout the Championship. For more information visit www.supervalu.ie