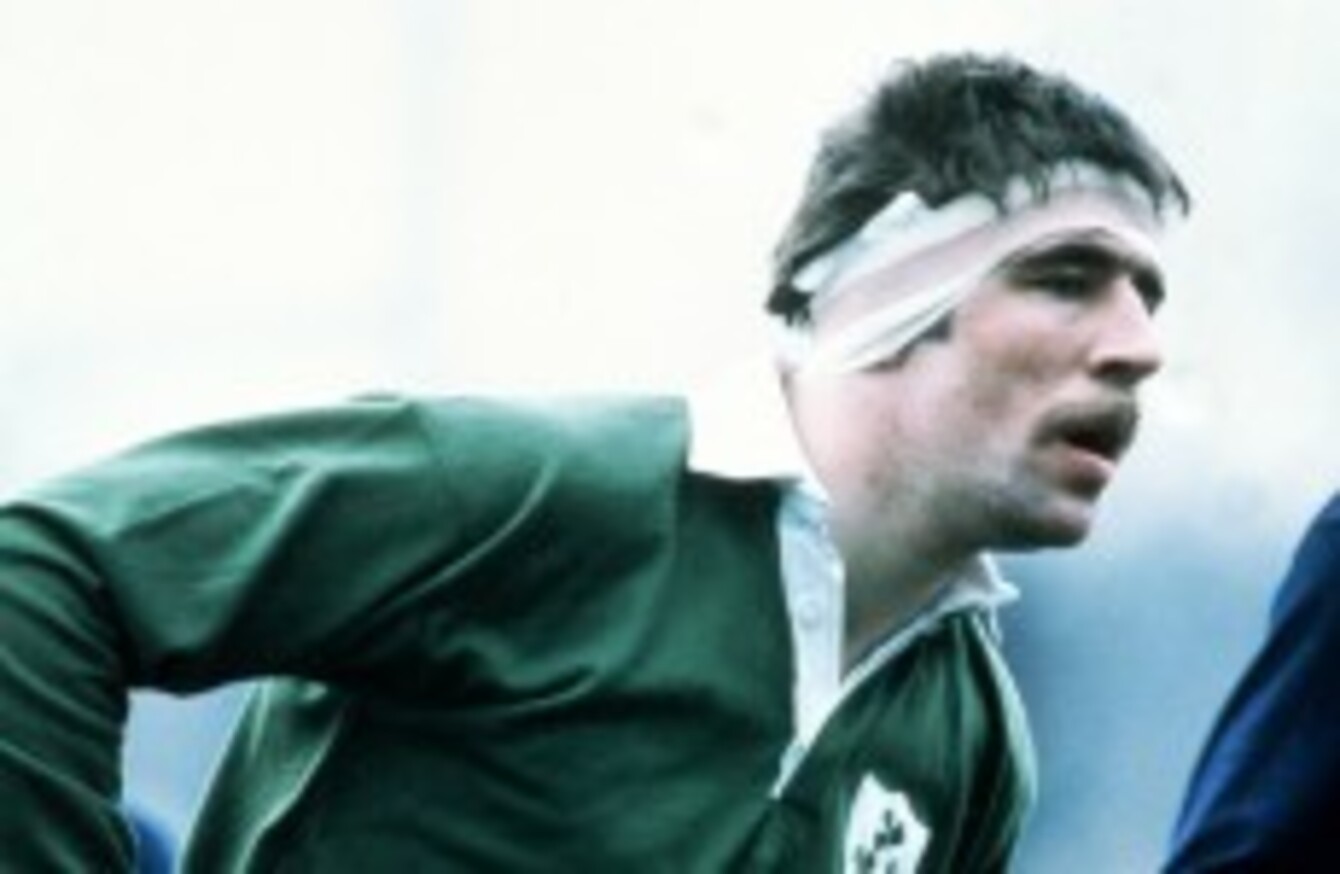 Lenihan awaits a line-out delivery during the 1982 Five Nations.
Image: ©INPHO/Billy Stickland
Lenihan awaits a line-out delivery during the 1982 Five Nations.
Image: ©INPHO/Billy Stickland
DONAL LENIHAN HAS captained Ireland at international level, been selected for three Lions tours and travelled to the World Cup as both a player (1987) and coach (1999).
In the decade since his retirement from the game, the Cork native has lent his unmistakable voice (and moustache) to broadcasters in his role as a co-commentator and studio analyst. A clear-eyed and engaging reader of the game, he'll be spending the World Cup with RTÉ as part of the broadcaster's revamped tournament line-up.

TheScore caught up with the Munster legend prior to the national side's final warm-up game with England and found him surprisingly upbeat about their chances in New Zealand.
Most pundits have been predicting a victory for the hosts in the World Cup, but you're tilting more towards Australia. Why is that?
They have a huge amount of quality within the squad. They've a mix of quality backs who can play in a variety of positions, and if they can get quick ball, they'll wreak havoc. There's also the fact that they've a number of players from Queensland, who won the Super 15 this year– the first time since 2004– and I think that's given them a huge confidence boost.
The risk factor, of course, is their front five. The front row, in particular, is vulnerable.
Plus, Australia have no fear of playing the New Zealanders, and that's a big point in their favour.
I mean Australia are, by nature, a confident race [laughs]. They expect to win it. That certainly gives them an advantage. Plus, I think the fact that it's in New Zealand, it won't faze them– they'll still carry big support. So, I think they have a lot of things going for them, but having said that, they just need to get their set piece right.
They're going to be Ireland's big pool-stage challenge. How do you see that contest going?
It's funny: look back over our history and you'll see we've never had any inhibitions about playing Australia. That is why I give Ireland a great chance of winning it. There is a psychological barrier, for whatever reason, when Ireland play the All Blacks. There's an expectation that they'll do well, but not get over the line. That isn't there with Australia.
If they can manage to beat Australia, I think they've a route right to the final.
They could end up playing either Wales or Samoa in a quarter-final; they could end up playing either France or England in a semi-final. They play those every year. It opens up all sorts of possibilities. Go the other route and you could end up facing South Africa. The way they're going at the moment, I'd certainly give Ireland a chance, but the problem is that on that semi-final side you'd have New Zealand.
So, I think that Australia game is key, from that point of view.
Too hot to handle: Australia's James O'Connor dodges another tackle during this year's Tri-Nations.
Are Ireland's set-pieces, particularly the scrum, going to prove a weakness?
Not so much when everyone's available.
I thought Cian Healy was outstanding against France, in all facets of play; Mike Ross has been outstanding since he's come in; but the thing is, you can't pick them to play in every match– you don't want them to play in every match!– and it's about getting the balance right there. I also think Jerry Flannery coming back into consideration in that area is huge.
So, I'm not worried about our scrum when everyone is available. Plus, the fact that the big side– our big Southern Hemisphere side– is Australia, who never go out to dominate a scrum, anyway. They only want to play off a scrum.
I don't think the scrum is going to be as big an issue as people make it out to be, particularly if our front three players are all available for the big games.
What did you make of the whole 'O'Driscoll to 12′ debate?
That's an option that's that's there, but it happens in games anyway. I wouldn't be too worried about the number that's on his back. You go back fifteen years ago and guys played left and right in midfield, there wasn't always an outside centre; they were interchangeable. And now, there are certain moves where O'Driscoll's passing is utilised from 12.
I would love to see O'Driscoll playing with Tommy Bowe in the centre. I think Tommy Bowe could be a revelation at 13.
He's played there for the Lions in a Test game against South Africa and he's played a lot of rugby there for the Ospreys in the Magner's League, as it was, so I think we've a lot of options there.
For Declan Kidney, it's all about maximising the talent that's available to you, but it would be great if Gordon D'Arcy was available for the big ones.
Tommy Bowe: Ireland's future 13?
What went wrong in 2007?
They were overprepared.
Because they were in a pool that included France and Argentina, who were physically much bigger than the Irish players, Eddie [O'Sullivan] felt that the only way they could compete properly was to get to the physical pitch those sides were at. The problem was, when you overcompensated on one side, things like match fitness and skill levels were compromised.
There was a recognition of that, certainly by the time they played Italy, but even in the game against Scotland. An element of panic set in.
You know, it's very hard when things begin going wrong and there's a recognition in the group that you're behind where you should be. It difficult to rectify the situation; the tone is set. It's like trying to change things in the middle of a game.
What did Ireland's warm-up games with France tell us about where Les Bleus are, in terms of their preparation?
I think France at the moment are a product of their management set-up: it seems to be all over the place. I can't for the life of me understand how the like of Poitrenaud, Jauzion, Malzieu, even Bastareaud, for all his– well, he's overweight– were ruled out of contention for the World Cup last June. It seems crazy to me.
They've had 32 or 33 people training. If they have four or five guys who don't make it, they're going to be bringing guys in from the outside who haven't been involved in the squad for the last three months. So that type of preparation militates against them doing well, except [shrugs] they're France.
How is that sort of incompetence allowed to persist?
You have to look at how Lièvremont was put into the job in the first place. He had one year with Dax, who were a second division team. Okay, they got promoted, but you had Guy Novès, who's proved himself with Toulouse year after year after year, Galthié who's done such a good job with Stade Francaise…
There was other reason, I think, why Lièvremont got the job, in that there was a fear in French rugby at the time that all the players were going to the top three or four teams.
He went in and picked over eighty players in his first three years, deliberately picking players from the lesser clubs, as part of a move by the Federation to show that you don't have to play for the big clubs to be an international.
If France prepared for the World Cup or the Six Nations the way Ireland do– certainly the Six Nations– they'd win every time, but their whole club structure flogs the players to death. They're always going to be at 70% or 80% of their capacity, whereas we're always maximising the return that we get from the players we have, which I think stands as a credit to the IRFU and the provincial structures here.