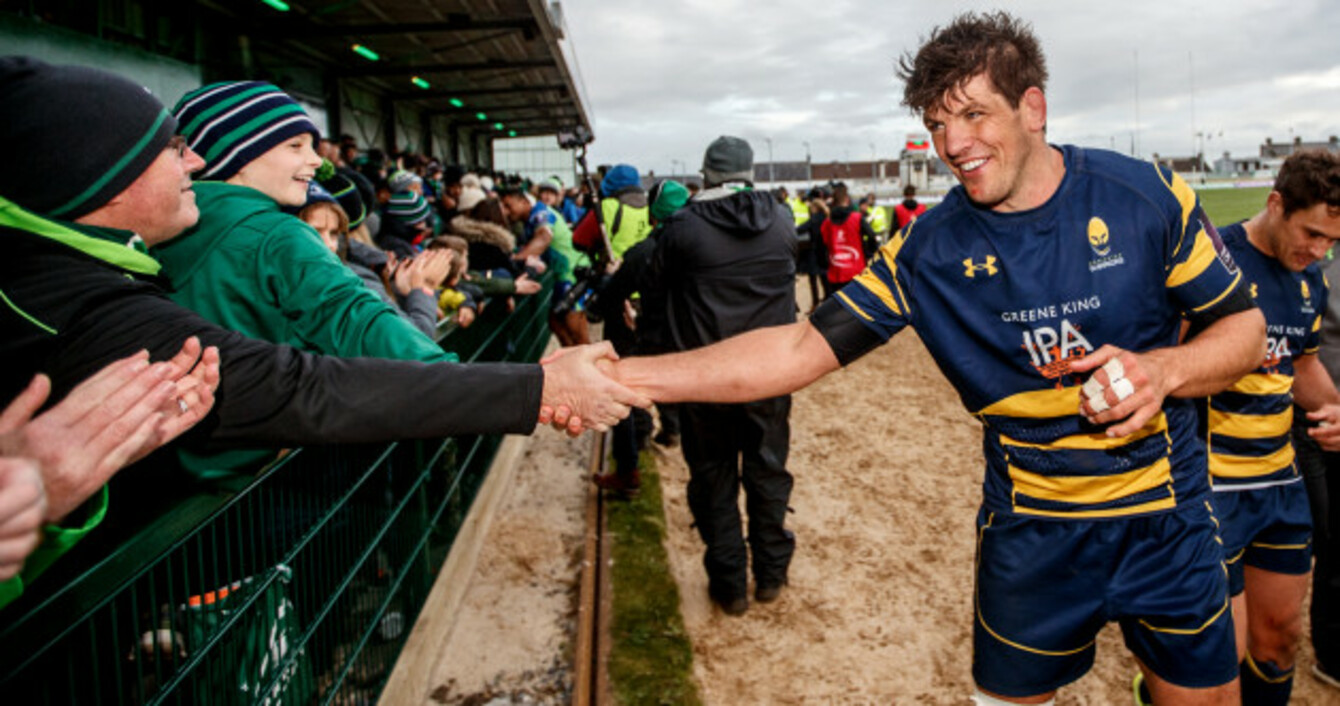 Donncha O'Callaghan acknowledges Connacht supporters after Worcester's Challenge Cup game at the Sportsground earlier this season.
Image: James Crombie/INPHO
Donncha O'Callaghan acknowledges Connacht supporters after Worcester's Challenge Cup game at the Sportsground earlier this season.
Image: James Crombie/INPHO
FOLLOWING AN ILLUSTRIOUS 20-year career which delivered an abundance of success at both club and international level, Donncha O'Callaghan will play his final game as a professional rugby player this weekend.
Last October, the Worcester Warriors lock announced his intention to retire at the end of this season. Worcester don't conclude their campaign until they travel to face Northampton Saints a week on Saturday, but O'Callaghan has decided to bid farewell on home ground for this Saturday's clash with Harlequins.
"After a career like that you want to play your last game in front of a home crowd and at the club that you have been playing at for the last three seasons," Worcester Warriors director of rugby Alan Solomons told the Worcester News. "I think his choice was 100% right."
Having made his debut for Munster in September 1998, the Corkman went on to win two European Cups and three Celtic Leagues before leaving his home province for Worcester in 2015. A member of the team that won a Six Nations Grand Slam in 2009, O'Callaghan was capped 94 times by Ireland. He also toured New Zealand and South Africa with the British & Irish Lions in 2005 and '09 respectively.
Now 39, O'Callaghan told the local media in Worcester this week that he still feels physically capable of playing on. However, his decision to bring his career to an end is in the best interests of his family life.
He explained: "For me it's about putting priorities in place. I've made massive sacrifices throughout my playing career to miss out on certain things. But I think in the last few years, with everything that's gone on with really close friends, you realise that family is so important.
"I'm starting to miss small things but they're adding up. I'm missing my kids and being there for them and being a proper dad. I need to make my family a priority and stop masking behind sacrifices which are really just selfish moments from me.
"With that said, I've had a great time. I've made incredible friends and picked up values and characteristics from within the game and the people that have influenced me from underage level and up. I've loved it and I'm honestly so thankful to the game; the way it's shaped me as a person and as a man.
"It was important family-wise for them to know I was calling time on my career. That's something I've mulled around with for the past few months. I can easily keep playing but there comes a time when you just have to draw a line in the sand. Body-wise I feel good and I could keep going on, but I think there's a time when you have to prioritise.
"Hopefully I'll be remembered for being a good rugby player but I'd rather be a great dad. My little boy is starting to dress up in Elsa dresses from the film Frozen and hanging around with princess outfits, so I think he badly needs a male influence around the house!
"Every time I go back to Ireland I'm quite glad my clothes aren't out in the front garden! I've been at Worcester for three seasons now so there'll be a bit of a transition with me going back. I've loved it and I'm grateful to my family and especially my wife Jenny.
"You have to be selfish to be a top-end sportsman. You have to be so focused for yourself and she's allowed me to do that because she knows how much I love it, so I'm thankful to her and the family for backing me and that's led to me having a decent enough career of it."
Through his work in the print and broadcast media, O'Callaghan has already proven himself to be a knowledgeable and respected rugby pundit. However, a move into coaching seems unlikely.
He said: "I don't think coaching is a role for me. It's tough. I don't know how they do it. If you go into any top-end club you'll notice the first in and last out are the coaches. The game changes so quickly that they constantly need to up-skill, get better and improve. Not that I'm afraid to work like that but over the past few years I've given all of myself to rugby and I need to prioritise towards my family.
"The academy is certainly an area I'd like to get involved with. You have to make sure that you're adding value in a role though. I think that working in that age group is something I'd be massively excited with as I remember at that age you're a sponge."
While Saturday's game at Sixways will be a special occasion for O'Callaghan, the Worcester Warriors captain's only concern is making a contribution to their bid for a positive result.
"I don't know how I'll feel," he said. "I'm thinking 'should I get emotional about all this?' but I'm not an emotional person. I have team-mates that would bawl their eyes out at Disney movies but that's just not me. I promise my singular focus with the match is performance. I don't want to treat this game any different.
"When you have quality opposition in the Premiership, if we don't bring our best performance, if we don't max out and play beyond ourselves, we won't be in with a chance. So that's all I'm focused on.
"It's about channelling emotions in the right way. I actually use emotion as a fuel for me. I need to be emotionally invested in the game. There have been plenty of games where I've looked back and thought 'who's that lunatic?' but that's because I need to get to that level. If you don't channel it right, I know from myself I could rack up 20 penalties in the first three minutes. So I need to get that right."
Worcester boss Alan Solomons paid tribute to O'Callaghan ahead of his 63rd and final appearance for the club: "He has had the most incredible career and to still be playing at 39 is unbelievable, so I really hope that we can produce a performance that befits the occasion.
"Donncha is an intelligent, level-headed bloke and will settle back in his hometown of Cork. I think he will make a success of whatever he turns his hand to. But he has been a wonderful servant to the game and has done fantastically well for this club over the past three seasons.
"It has been an absolute pleasure and privilege to have coached him."