DURING THE INFAMOUS unveiling of the Miami Heat's 'Big Three' in July 2010, LeBron James sat on stage with his new team-mates Dwyane Wade and Chris Bosh.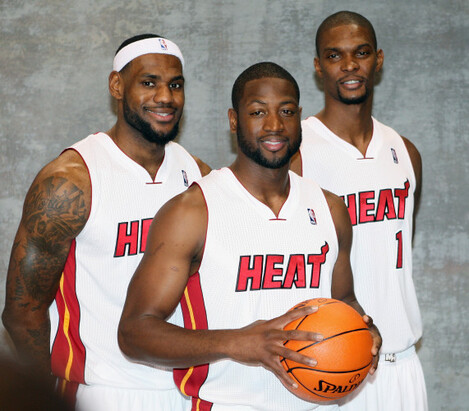 Source: El Nuevo Herald
In what's known as a 'pep rally' in the States, LeBron was asked on stage how many championships his new team would win. He uttered an immortal line that would stay attached to him like a tattoo for the duration of his career in Miami.
"Not one, not two, not three, not four, not five, not six, not seven…When I say that, I really believe it."
The crowd went wild.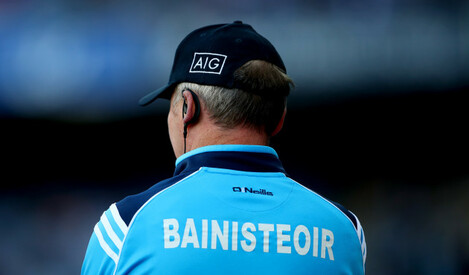 Source: James Crombie/INPHO
Before Jim Gavin took charge of the Dublin senior football team in 2013, he approached Fergus Connolly to come on board as a consultant.
On a recent interview with Off the Ball AM, Connolly recalled how Gavin was determined to achieve mutiple All-Irelands. But you'd imagine he wasn't quite as brash as LeBron's prediction on that Miami stage three years earlier.
"The goal is not success, it's not to win one All-Ireland," said Connolly. "The goal is to have sustainable success to win All-Irelands. That is the goal. It should always be the goal to win more than one, not just one.
"To absolutely dominate. There's no other way to win. It's a mindset."
Paul McGinley, who was speaking in Croke Park at the GAA's Games Development Conference last weekend, got a similar vibe off Gavin. Domination was his ultimate goal.
McGinley said: "I really admire Jim Gavin. He's on a trajectory to try get five in-a-row and that's probably what's driving him more than anything else.
"He came to the Ryder Cup as my guest, and I consider him as a guy I really admire. What he has done with Dublin – the clinical approach, the respect that the players gave him, the way that the players behave.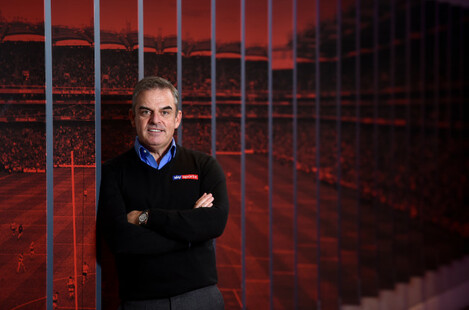 Source: David Fitzgerald/SPORTSFILE
"The forensic approach he has taken is mind-blowing. You listen to and meet the players, I did a fundraiser with them 18 months ago and it was quite incredible when you're around them to see the humility they have. There's no doubt Jim has created something very special there and it's going to take a lot to knock them off their perch."
Rather than coming in with the aim to lift Sam Maguire once, Gavin wanted to create a culture where they could win multiple All-Irelands. So far it's worked.
They haven't lost a championship game since 2014 and appear to have a production line of young talent waiting patiently in the wings for their chance. Con O'Callaghan is the latest superstar to emerge.
In the past, star players like Bernard Brogan, Diarmuid Connolly and Paul Flynn would have been seen as once in a generation talents, but now they're being phased out of the team and Dublin keep on winning.
In a similar fashion to Leinster shedding the 'ladyboys' tag to win three European Cups, Dublin have become the poster boys for humility and continued excellence.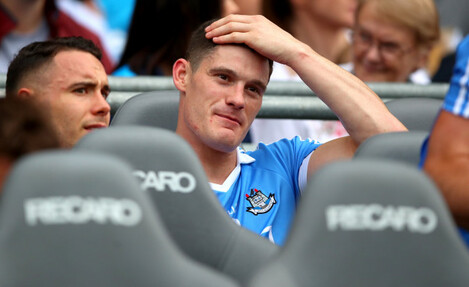 Source: James Crombie/INPHO
The four in-a-row has been been completed just three times in Gaelic football history. The last was Kerry's victory over Offaly in 1981, but for Dublin to achieve that in the ultra-competitive modern era would be remarkable.
Of course, there are enormous advantages at play for the Sky Blues. Their huge playing numbers, 70-odd full-time coaches and financial power have all been well-documented, but Gavin's role in cultivating a winning dressing-room must not be overlooked.
Humility is a central part of Gavin's philosophy. It's what makes winning sustainable.
As strongman, strength and conditioning coach, motivational speaker and world record holder John McGrath put it at the conference: "Stay humble or you"ll get humbled."
Be part
of the team
Access exclusive podcasts, interviews and analysis with a monthly or annual membership.
Become a Member
Or as Tippeary goalkeeping legend Brendan Cummins said the same day: "The fear in our sport, or in life is once you start feeling you have arrived you are dead because there is always someone chasing you."
Source: Bryan Keane/INPHO
At the end of July, Michael Fennelly was on a night out in the capital when he bumped into a Dublin footballer. The player told Fennelly that Gavin's squad were striving to build the sort of environment and culture that allowed Kilkenny dominate the hurling landscape for the last two decades.
Tommy Walsh outlined at the conference how Brian Cody made Kilkenny such a formidable beast during their pomp.
"You weren't afraid of Brian Cody but I was afraid he was going to drop me," Walsh said.
"People ask 'how has he [Cody] never had a psychologist with Kilkenny?' Sure he was a psychologist. He was the greatest psychologist probably ever, he was absolutely brilliant at it.
"It came from the top. It didn't matter if you were there five years or ten years, if you weren't doing your stuff, you were gone. If you were messing or doing things that were taken away from the team, you were gone.
"You weren't picked. And if a young lad came in, 18 or 19, or a guy of 27 or 28 who never played but came in and was playing well, then he was picked. So that kept everybody on their toes. Say we went back training in January, nobody spoke about the All-Ireland the previous year. It was about this training session – 'Tommy you're marking TJ [Reid], you're marking Richie Hogan, you better be the man today.'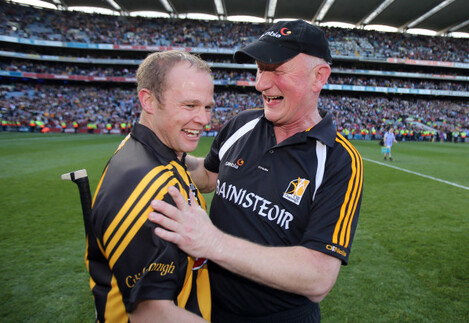 Kilkenny manager Brian Cody celebrates with Tommy Walsh after the 2012 All-Ireland final replay Source: Cathal Noonan/INPHO
"If we were playing a Walsh Cup game against Offaly or Laois or Wexford on the Sunday, it was a case of 'we want to win this.' So it was always the next day – it wasn't three months down the line or six months down the line. It was always the next day, you want to be the best player and the best team then, that's what kept everybody grounded.
"Young lads then were given their chance. Too many times with some teams you see a lad, maybe he was man-of-the-match in last year's All-Ireland final, going through a bad spell. But he's left on the team, left on the team. Meanwhile there's a young lad bursting his gut, playing out of his skin and he's not being picked. How does that motivate anyone?
"Whereas in our set-up the young lad was picked and on he went. And that not only drove on the young player, but also the player that was going through a bad spell. Walter Walsh, All-Ireland final replay is an example of that, so he backed it up. That's how he kept us grounded."
Kilkenny's success and insaitiable hunger propelled more success. It's the same in Dublin.
Gavin was on the receiving end of flak from some quarters for a lack of emotion he showed back in September when the final whistle crowned them All-Ireland champions.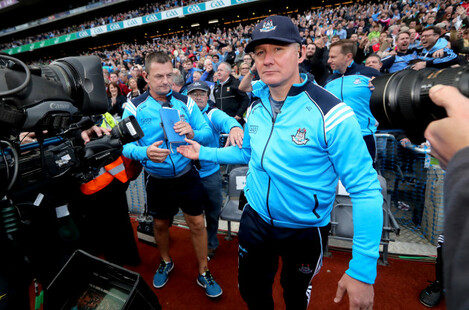 Source: Ryan Byrne/INPHO
McGinley, who is a close confidant of Gavin's, said his low-key reaction is just part of his make-up.
"He is like a pilot, he is trained as a pilot and a military man," said McGinley. "To a lot of extent, you have to leave your emotion aside.
"The criticism he got about not having emotion – I can understand that. But on the other side, any time when I was captain, I realised that you have to leave that emotion aside. Because how can you make cold, calculated decisions when you are emotional?
"Tiger Woods talked a lot about lowering his heart-beat, and any time he did get excited, the first thing he did was lower his heart-beat.
"Jim put himself in a space where he needed to be, and maybe he was so good at it, so driven to that mindset that he needs on the line – the cold calculated mindset that he had immediately after the final whistle.
"You are in that complete mindset, that – less emotionally involved that I was, the better coach I was going to be."
Gavin has created the winning formula, it's up to the rest of the country to stop him.
Despite his boasts in 2010, LeBron delivered just two championships during his time at Miami. Gavin on the other hand, still has immortality within his grasp.
The42 has just published its first book, Behind The Lines, a collection of some of the year's best sports stories. Pick up your copy in Eason's, or order it here today (€10):