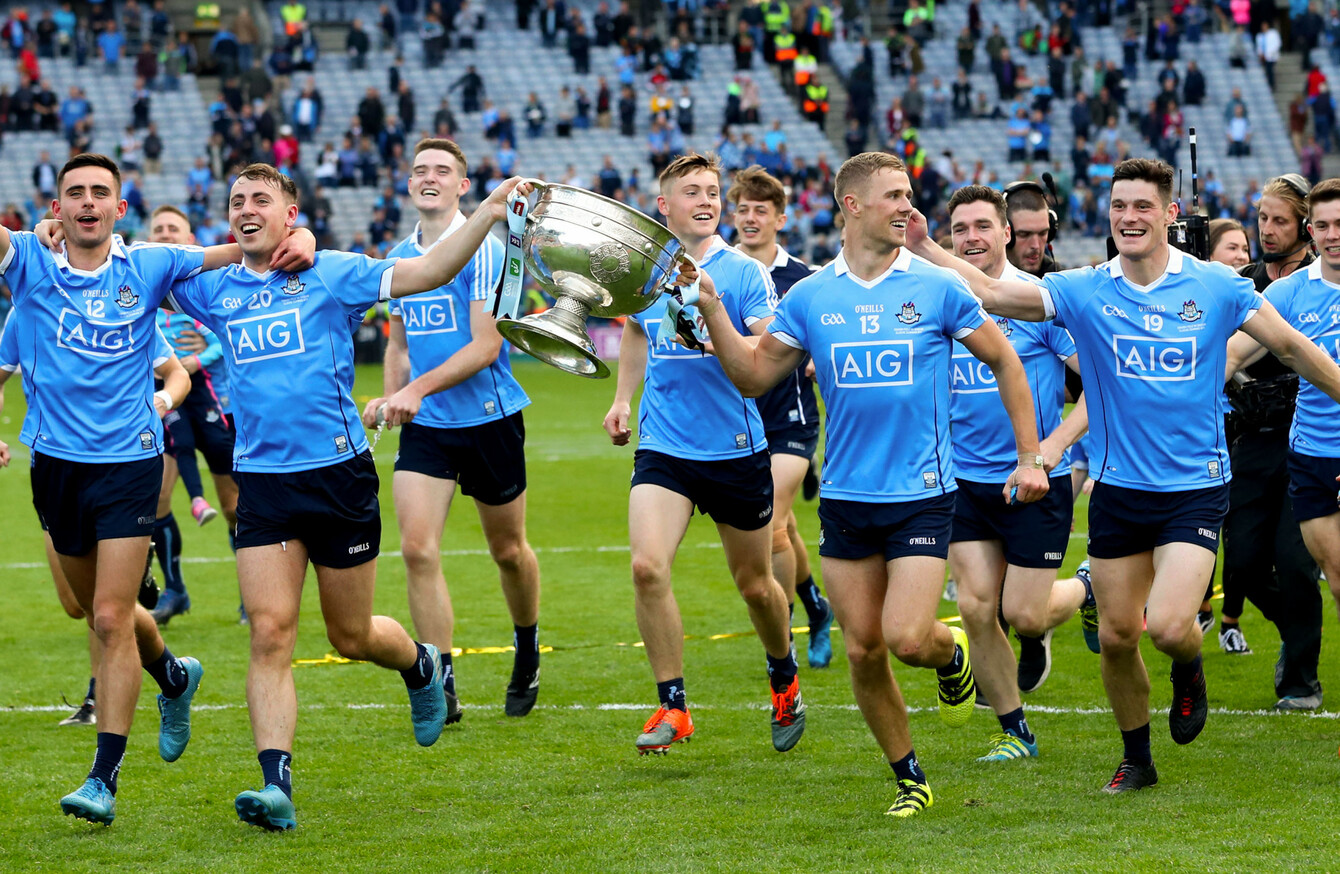 Image: James Crombie/INPHO
Image: James Crombie/INPHO
DUBLIN SELECTOR DECLAN Darcy has praised Jim Gavin's charges for the heart and determination they've shown to win three successive All-Ireland titles.
It is an incredible feat that was previously achieved by Kerry in 1986, and Dublin were pushed to the very end by a resilient Mayo side, on their way to equaling the record.
A replay appeared to be on the cards during the latter stages of the game, before a Dean Rock free in the 76th minute proved to be the decisive score.
Darcy praised the resilient character that Mayo brought to the contest, but said Dublin deserve huge credit for prevailing in their search for another All-Ireland crown.
"Their attacking half-back line caused us problems. There was nothing we haven't seen from them before," he said on Sunday.
"They're quality players. We've seen it before from them and that was the dynamic that played in the game. But we had our moments as well, in fairness. You have to give our lads great credit as well.
"It didn't look like it was there for them and yet they were able to find a way. The resilience of Mayo has been highlighted a lot but the resilience of our lads has in fairness been great too.
Last year everyone said there was no way you could get another title and the hunger was questioned. Again, in 2017, we get another title so it's fantastic.
Dublin's substitutions made a significant impact on the tie, with Diarmuid Connolly and Kevin McManamon chipping in with vital scores after their second-half introduction.
Bernard Brogan, Cormac Costello and Niall Scully came on later in the game to strengthen the force in attack.
Darcy says that Gavin and his management team took great care in how they utilised the bench, in order to maximise their influence on the game.
"I think with the bench that we had, we needed to play them quickly because obviously they're all quality players.
"It was no problem, we talked about taking them on before half-time even. We needed to play to our strengths and obviously a key strength was our bench.
"At this level of competition, you can see the fatigue of players. High level players breaking down in the last five minutes. Who's going to break first? I suppose we just have that level of quality on the bench.
They have quality too but we have some very strong players and it was a key asset for us going into the game and it was how we were going to play that card was going to be really, really important when it comes to the outcome.
"Because it's very fine lines. Niall Scully came on as the last sub and was fantastic – we needed legs and he was that dynamic. The panel has been a key strength for us this year."
Holding Connolly in reserve was a huge talking point in the build-up to the game, after he had earned some game time at the end of Dublin's All-Ireland semi-final victory over Tyrone.
But Gavin elected to start Eoghan O'Gara ahead of the St Vincent's man, with Paul Flynn getting the nod as the first substitute to come into the action, as a replacement for the injured Jack McCaffrey.
According to Darcy, O'Gara duly earned his jersey on the training ground.
We just watch and see what's in front of our eyes. And if Diarmuid Connolly is playing well he gets a slot and if he doesn't, he doesn't. We don't play to the reputation.
"We watched what we see and if Diarmuid is producing the goods, we play Diarmuid Connolly.
"So, that's the honesty we have within the group. Niall Scully got the slot the last day, Paul Flynn was in early today, Eoghan was playing really well in training so it was a different challenge we went with up front.
"That's the way the group operates. It's an honesty kind of a thing and the performance piece is really import. How your attitude is coming up to training reflects in whether you get the slot or not."
Subscribe to The42 podcasts here: