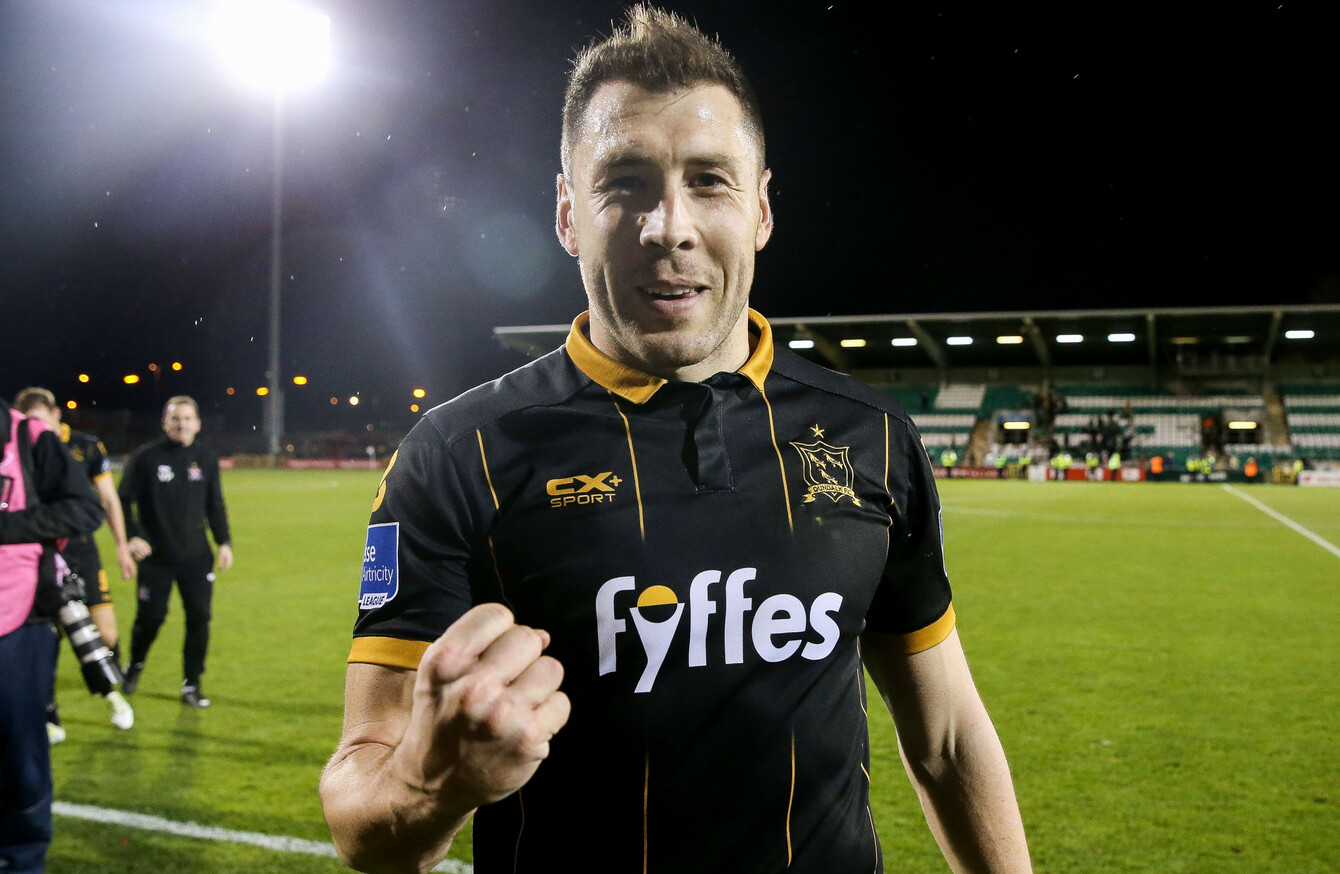 Gartland celebrating the FAI Cup semi-final replay win in Tallaght.
Image: Gary Carr/INPHO
Gartland celebrating the FAI Cup semi-final replay win in Tallaght.
Image: Gary Carr/INPHO
AS A CLUB, DUNDALK have set the bar incredibly high for themselves during the Kenny era.
The story has been told, but it is nevertheless worth revisiting. Days after narrowly avoiding relegation to the First Division in 2012 thanks to victory in a two-legged play-off with Waterford, the Lilywhites handed their current manager the reins.
A remarkable turnaround saw the Louth outfit finish runners-up in the league the following season and, in the four-year period since then, their trophy haul includes three consecutive Premier Division titles, two EA Sports Cups and the FAI Cup.
Not to mention their exploits in last year's Europa League group stages.
2017 witnessed rivals Cork City finally shake off their tag as perennial nearly-men in the title race thanks largely to a frightening run of form in the first half of the campaign. Dundalk eventually finished seven points back in second place, but they now have the chance to prevent the Leesiders from securing the double at the Aviva Stadium tomorrow afternoon.
"If we go on and win on Sunday, it will go down as a successful season," says defender Brian Gartland, who is with the club since 2013 and recently signed on for two more years.
"People will say 'Oh, you didn't win the league' and that. We didn't, but they wouldn't be saying that if we hadn't won it consecutively over the past three years.
"We've had a big turnover of players this year and you've got to remember what Cork did in the first half of the season, which was phenomenal. They won 21 out of 22 games and if they hadn't put that run together we'd have been well in the race come the last couple of weeks.
That's just the way it is. We came second, having blooded in a new team with a lot of young players who are coming to the fore now. They look absolutely brilliant. So if we end up with two [three, including the EA Sports Cup] trophies it's going to be a very good season."
While Cork have two wins, two draws and a defeat in their last five fixtures, Dundalk can boast four victories and a loss during the same period. Gartland believes that matters little for a one-off game like this, however.
"I think everything goes out the window in a cup final," he explains. "I suppose it depends on the team, your mentality and the way you look at it. You can only look after yourselves.
"You could have said the same going into the game down at Turner's Cross when they had lost four out of six before that, but they went one up [in a 1-1 draw].
"Listen, that's why everyone loves cup football and that's the beauty of it — particularly when you're not involved. It's on the day that counts and anything can happen."
Of three league meetings between the clubs this year, Cork are unbeaten thanks to two wins and a draw. That's not a statistic that has been lost on the Dundalk boss, and he's well aware that they are yet to get the better of City in 2017.
"We had the upper hand, winning the league here [Oriel Park] in 2014 with a big epic finale," Kenny said this week. "Then we won the double in 2015 and last year we won the big game here to claim the league thanks to Daryl Horgan's two brilliant goals.
"This year it's been different. Cork have taken seven from nine in the three games and we haven't beaten them so it's a big challenge for us to try and do that."
With Horgan and Andy Boyle departing for Preston North End a year ago and Ronan Finn opting to rejoin Shamrock Rovers in the off-season, there was a major shake-up of the squad ahead of their opener back in February.
"I think we brought a lot of young players in this season and they took a little bit of time to settle," admits Kenny. "But some of them have been really good. In the cup replay against Shamrock Rovers, we played five young players who came in this season — Michael Duffy, Dylan Connolly, Jamie McGrath and Sean Hoare are all 22 or under. Then there was Niclas [Vemmelund] as well.
"That's quite a radical change as it's half your team. Compare that to the interim period going from 2015 to 2016, when we only signed two players — Patrick McEleney and Robbie Benson."
12 months ago, Dundalk had a far more hectic week in the run-up to the final as they faced Zenit St Petersburg in Russia just three days out. Asked if Kenny feels they need to reclaim the FAI Cup to appease Lilywhites fans, he replied:
It's not really like that. There's a lot of goodwill towards us. I think people feel that this has been an extraordinary period and there's a whole new generation of supporters. There's not that level of cynicism about it and I think people feel this is a wonderful journey.
"It's great as a provincial town to be be able to empty out trains and buses en masse and there's that great camaraderie going into the stadium. So I don't think we must win to save face or anything like that. They'll be hoping that we're victorious though.
"It's a different build-up to last year as we were coming in from St Petersburg on the Friday so we missed out that little bit. Fans understand there has been changes as we lost some good players.
"They've seen really positive signs in the second half of the season and we won the league cup final in Tallaght 3-0 [against Shamrock Rovers], which you don't really do in a final. It's unusual to win it like that. Now we're going to the Aviva Stadium against our main rivals, who have had a great season, so we've got to go and try to win it."
Subscribe to The42 podcasts here: