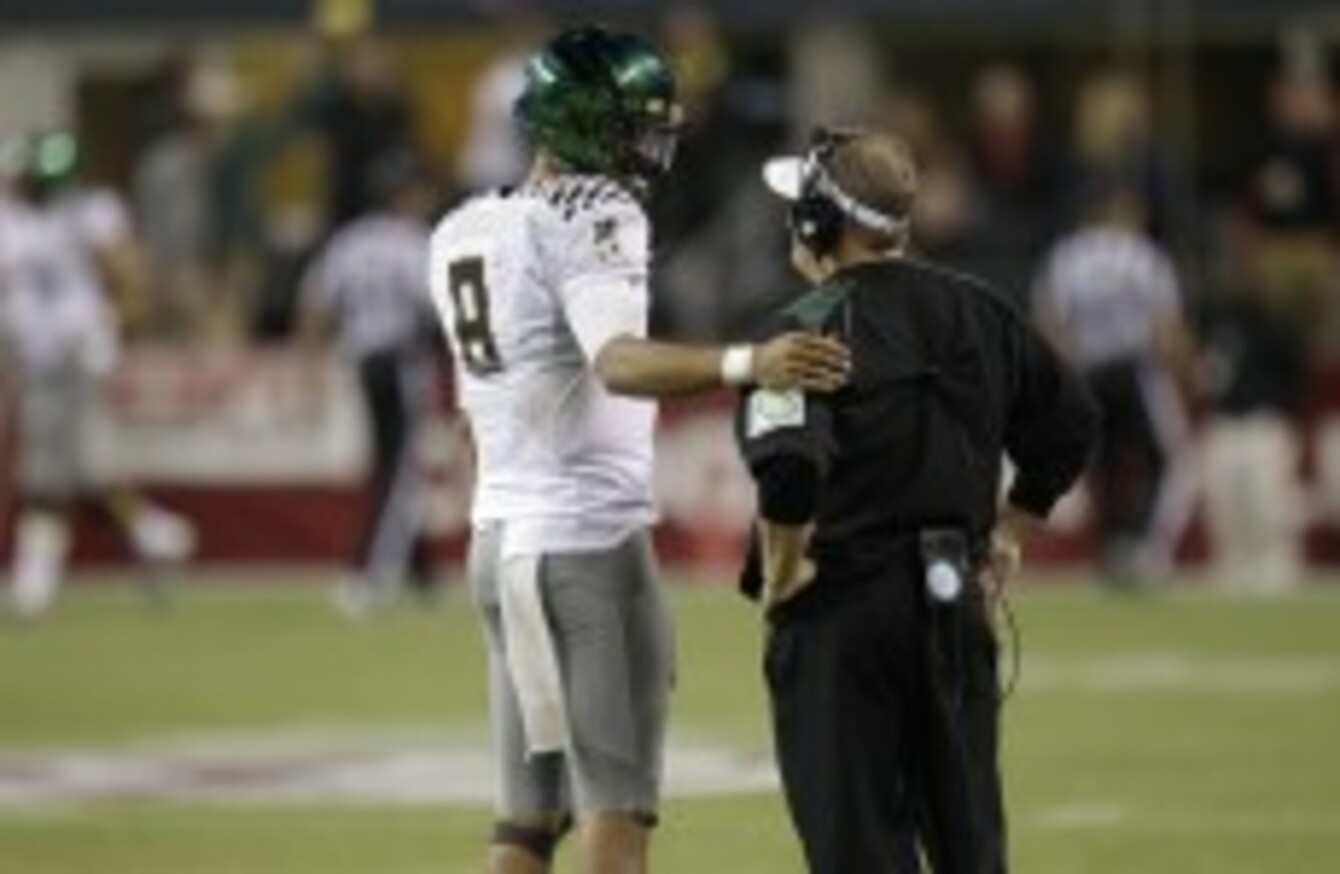 Will the band get back together?
Image: Ted S. Warren/AP/Press Association Images
Will the band get back together?
Image: Ted S. Warren/AP/Press Association Images
WE'RE JUST ONE week away from the 2015 NFL Draft and — barring some dramatic turnround — it's almost certain Jameis Winston is the player the Tampa Bay Buccaneers will select with the first overall pick.
However, while the quarterback may be locked in, the status of the number two pick is still shrouded in mystery.
The Tennessee Titans currently occupy that spot and if they stay there, the likelihood is they will draft Oregon's highly-rated quarterback Marcus Mariota.
The chatter among an increasing number of NFL 'insiders' though, is that the Philadelphia Eagles — coached by former Oregon coach Chip Kelly — are very, very keen to get the band back together.
However, the Eagles are currently scheduled to pick at number 20 and don't want to give up the king's ransom it would require to move up 18 spots.
For reference, it cost Washington their first-round picks in 2012 (#6 overall), 2013 (#22 overall), and 2014 (#2 overall), as well as their second-round pick (#39 overall) in 2012 to move up just FOUR places to draft Robert Griffin III in 2012… and look how that one worked out.
Source: Lup Da Lup/YouTube
However, there may just be a way of of making it happen which could explain why Philadelphia have been accumulating an abundance of quarterbacks in the NFL off-season.
The supposed starter right now is Sam Bradford, acquired in March from the St. Louis Rams in a shock trade involving Nick Foles. Backing him up is Mark Sanchez, Matt Barkley and the recently signed Tim Tebow.
With no team keeping more than three quarterbacks around the practise field at any one time, adding a fifth doesn't make any sense, unless of course there was another team with significant interest in at least one of your current crop of quarterbacks.
Enter the Cleveland Browns who, it seems, have already moved on from Johnny 'Football' Manziel and are willing to give up their first round pick this year — number 12 overall — for Bradford.
This would give the Eagles two first round picks and, with maybe the addition of an late round pick or two, that could be just enough to tempt the Titans out of the number two spot.
All of a sudden, Mariota and Kelly are reunited and almost everyone — especially those of us who have watched Draft Day far too many times and love a good trade — is happy.
Of course, a wrinkle to all this is that the San Diego Chargers may just have designs on Mariota themselves and it wouldn't be at all surprising if they traded away Philip Rivers and their #17 pick to get Mariota in second spot.
But is Mariota worth all this attention. The short answer is yes, the long answer can be found in our in-depth analysis of both the Oregon quarterback and Winston in the coming days.