DESPITE OVERCOMING CORK by ten points in today's All Ireland semi final, Eamon O'Shea still thinks his forward line can produce even more against Kilkenny.
Seamus Callanan grabbed two goals against Cork but his manager said the forwards still weren't fully satisfied.
"The performance has been building a bit. I disagree a little bit with the performance today because I think we lacked a little bit of fluidity in the forwards. Our forwards are disappointed at the moment." O'Shea said.
Tipperary only led by two points at the break but held Cork to 1-3 in the second half to win 2-18 to 1-11. But despite winning by double digits, O'Shea thought the test today was a tough one and an encounter that the Premier County would have won even if Cork had played better.
"In the second half we worked our way to the win. I think we ground out a win today. Even though we did finish up with a ten point win there was no doubt in my mind that we really wanted to win it. Whatever way the game would have turned, we would have won it." O'Shea said.
The championship didn't start well for Tipperary as they were dumped out of the Munster championship by Limerick but they battled back into the semi final with wins over Galway, Offaly and Dublin. The tribulations the team has been through stood to them in Croke Park, according to O'Shea.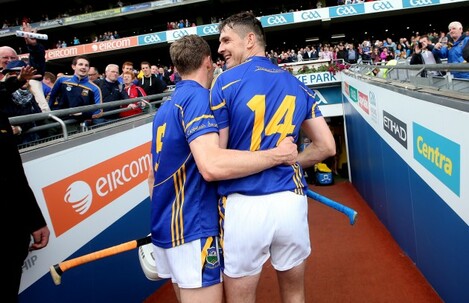 O'Shea thinks Seamus Callanan and the other Tipperary forwards have room to improve Source: James Crombie/INPHO
"We worked really hard and this team has been through a lot. They are not novices. Most of them had been together for six or seven years and the young players have come in now and given us a bit of a bounce. I think it was a victory for the character and the resilience of the team. You don't get as many knocks as we did this year without coming out of it with something." O'Shea said.
O'Shea said that the reason for Patrick Bonner Maher's switch into corner forward in the second half was due to an early injury picked up by the forward. After the move, which saw Noel McGrath go to centre forward, the Tipperary forward line seemed to improve, something that pleased O'Shea.
"Bonner  was carrying an injury from around the tenth minute and he was heroic today. He played for a lot of that game in pain. We were trying to give him a bit of protection but we wanted Noel [McGrath] out there in any case. I can't pay enough credit to Bonner with his industry. He is an example to all players as to how to play this game."