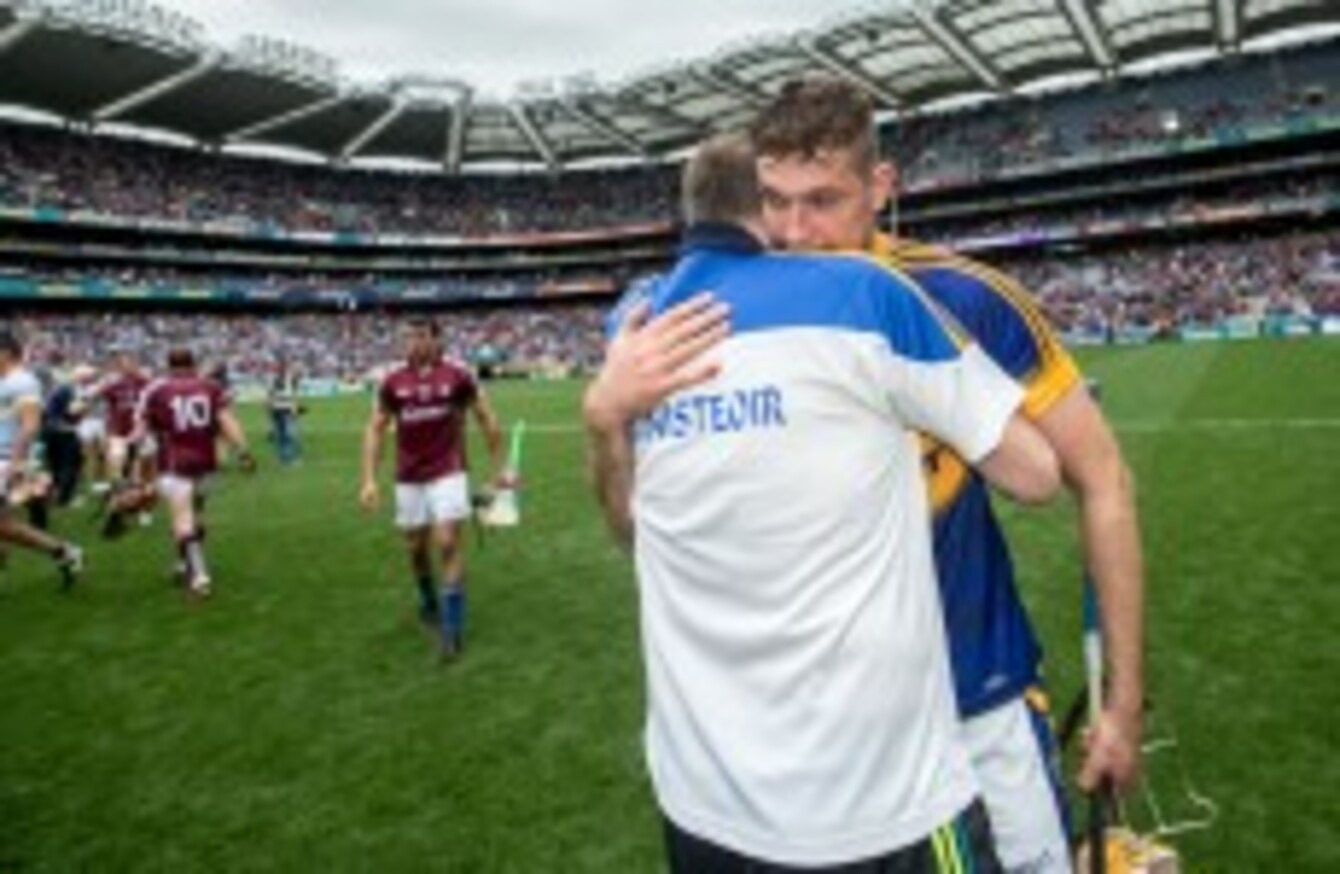 Eamon O'Shea and Seamus Callanan bid farewell to each other.
Image: James Crombie/INPHO
Eamon O'Shea and Seamus Callanan bid farewell to each other.
Image: James Crombie/INPHO
EAMON O'SHEA has packed away his fireman's suit and returned to life as a full-time Professor of Economics at NUI Galway.
He was one of the men who answered an emergency SOS in 2007 and in the three years he served as coach alongside manager Liam Sheedy, O'Shea helped to fan the flames that engulfed the Premier County following the ill-fated second coming of Michael 'Babs' Keating as manager.
O'Shea helped to lift spirits and revive careers and his coaching was identified as one of the main reasons why Tipp lifted the Liam MacCarthy Cup in 2010.
The Kilruane MacDonagh's man exited stage left along with Sheedy and Michael Ryan at the conclusion of that campaign.
It was a shock move as Tipp looked set to build on that success of five years ago and become a dominant force.
But the next two seasons saw stagnation set in and standards drop.
True, two Munster titles were annexed but by the time Tipp reached Croke Park in August 2010 for an All-Ireland semi-final against Kilkenny, they were a busted flush again.
The Cats won by 18 points, signalling the end for Declan Ryan as manager as Lar Corbett chased Tommy Walsh around GAA HQ, one of the more bizarre episodes that the famous Drumcondra bowl has ever played host to.
The story goes that O'Shea watched the game through his fingers, head in hands.
What had what he helped to create become? And so he answered the call and came back, this time as manager.
Some players probably felt that all that was required was for O'Shea to flick a switch and, hey presto, they would be winners again.
But the road to redemption proved difficult. Rumours of off-field indiscipline continued to bubble beneath the surface but O'Shea remained loyal to his foot-soliders and they slowly turned their fortunes around.
There was relatively little in the way of collateral damage squad-wise and six players who featured during Sheedy's first championship game in charge in 2008, against Cork, were involved again last Sunday against Galway.
Four of them – Conor O'Brien, James Woodlock, Shane McGrath and Seamus Callanan – started while Lar Corbett and Conor O'Mahony, starters seven years ago, came off the bench.
O'Shea allowed some big names to depart on their own terms, rather than pulling the curtain down on their intercounty careers.
That sense of decency might cut no ice with more ruthless managers but Tipp's players were desperate to reward O'Shea's faith in them with silverware.
Year one was all about being competitive again after the horror of August 2012.
Tipp lost the Munster semi-final to Limerick but played their part in an epic Nowlan Park qualifier against Kilkenny.
Last year marked further progress as Tipp went all the way to an All-Ireland final, denied victory by inches when John O'Dwyer's late free was given as a wide by HawkEye.
Kilkenny learned the lessons from the drawn game, flooded their defence and shut down space in the replay.
Tipp lost another close game and it's been a recurring theme for a number of years now.
The 'nearly men' tag is one that Tipp won't shrug off until they climb the Hogan Stand steps again on a September Sunday.
Galway last weekend was another hard luck story. Close but no cigar. Tipp struggled on their puckouts and having gone the short route with success all summer, there was no plan B when the Tribesmen figured them out.
Michael Ryan is the new man in now but with plenty of backroom experience. He was a selector with Sheedy, again alongside O'Shea, and is now the main man.
Does he stick or twist? Does he tell some players that they're surplus to requirements or trust them to make their own decisions?
Be part
of the team
Access exclusive podcasts, interviews and analysis with a monthly or annual membership.
Become a Member
One thing's for sure, Tipp need a shake-up not only in the backroom, but on the pitch.
New blood must be infused but Tipp can call upon young talents like the Loughmore-Castleiney pair John McGrath and John Meagher next year. A fully-fit Michael Cahill and Denis Maher would be added bonuses.
The wisdom of announcing that Ryan would be O'Shea's successor last year is a decision that can only be judged in the fullness of time.
If Tipp had bowed out early this summer, Ryan would have carried serious collateral damage into next year.
He still has a huge task on his hands attempting to rouse spirits again but there can be no excuses in 2016.
Ryan has had time to prepare and Tipp's players must take a degree of ownership of the situation themselves.
A core group will carry the team forward – captain Brendan Maher, Pádraic Maher, Patrick 'Bonner' Maher, Noel McGrath, Cahill.
But as has been noted so many times since last Sunday, it's time the nearly men became men that can close the deal on big days.
O'Shea believes there's enough talent and ability still there to reach the Promised Land.
Standards, on and off the pitch, cannot drop. History has taught us that when that happens, Tipp struggle.
O'Shea tried desperately hard to ensure that it wouldn't happen under his watch. He couldn't live with his players 24/7 and monitor their living and social habits, of course, and now, it's very much up them to decide the future course of Tipperary hurling.
They'll make him happy if they choose the right path but first and foremost, they must do it for themselves.