WHAT PLEASED EAMONN Fitzmaurice the most after today's All-Ireland semi-final win over Mayo, other than booking a place in the final, was that his squad might now get the national recognition he feels they deserve.
Kerry might not have the same amount of marquee players that they used to, but Fitzmaurice is adamant that his squad is still one that should receive the utmost respect.
"We have a very strong squad. I think maybe that isn't nationally recognised because our young guys might not be national names. But we have some guys who weren't involved in the match today who have trained all summer and they are serious players as well. Nationally, maybe people are starting to realise that we have a strong squad with very good players," Fitzmaurice said.
Kerry emerged victorious over a two-game saga than finished after extra-time. It was put to Fitzmaurice that his young squad might be tired after such strenuous exertions but the Kerry manager thinks the experience will stand to them and add to their desire, like it did to him when he was a young player.
"In 2000 we had a semi-final replay against Armagh and it brought a lot of us on in terms of experience and playing in games of that intensity. You can't buy that in terms of training. A lot of our younger guys don't have any All-Ireland medals at any grade so there is massive hunger in the group. There is great spirit and I think that was visible today," Fitzmaurice said.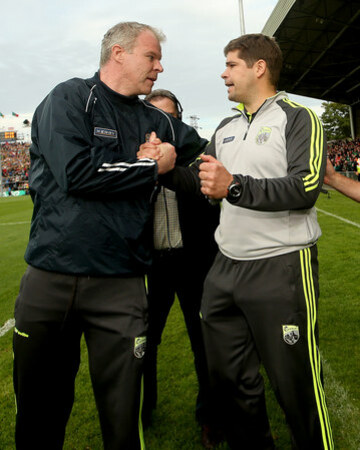 Fitzmaurice has guided Kerry to their first All-Ireland final since 2011.
Fitzmaurice also commented on how little there was between the teams in a game where momentum was gained and lost in the time in takes to click your fingers.
"There was composure from us at times but at the end of extra time we lacked a bit of composure when we were coming out of defence with the ball three points up. We turned the ball over a few times and they almost got the goal to send it back to Dublin," Fitzmaurice said.
One big decision Fitzmaurice made pre-match was dropping Marc O'Se to the bench in favour of Killian Young. It hurt Fitzmaurice to drop a friend and former playing colleague, but he knew he would get an inspired performance out of O'Se as a result.
"I know Marc well and I knew when I took the job that it would be difficult if I had to leave out players that I played with. I know the stock that Marc comes from and I knew there would be a severe reaction when he came on the pitch today and I think that was visible for everyone to see," Fitzmaurice said.